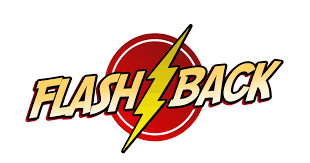 Lucky but still too late
Lucky us! Through a combination of good timing and strong familial connections, we landed in awesome Tibet. Still too late, however, to experience this fascinating country and its cultural richness and people before a complete Chinese infiltration.
The name Tibet is derived from the Mongolian Thubet, the Chinese Tufan, the Tai Thibet, and the Arabic Tubbat.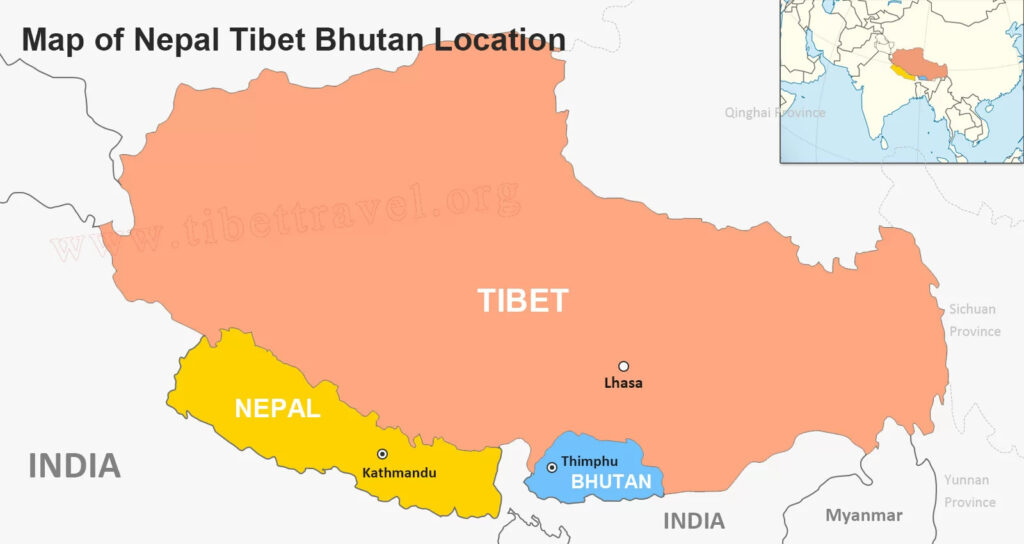 Lhasa about 20 years ago
We arrived in Summer, 1999. Our goals: to experience and explore the legendary Tibetan capital city of Lhasa, including the surrounding countryside. To learn local religious rituals. View holy artifacts. Meet the people of the land. Engage in the country's mystery.
Dalai Lama
Most identifiable figure for Tibet is the Dalai Lama who was forced to flee in March, 1959. Tireless in his efforts to help his country, the 14th Dalai Lama is now 85. He sought refuge in India after his escape. For six decades now, he has been living in exile in Dharamsala along with some 10,000 Tibetans.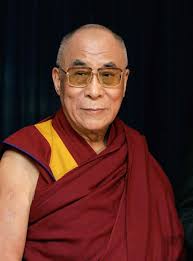 Thin Air
Stepping from the airport outside Lhasa, we endured a visitor's most common complaint: breathing difficulties. Thin air. A cloudless blue sky. Dusty brown roads. Cool temperatures. Bright sun. Soon followed by grey, mist-filled clouds as we drove to the city. Passed herds of grazing yaks.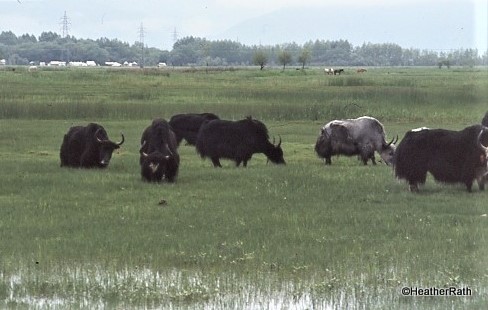 How high? How many?
With an elevation of 3,650 meters (11,975 feet), Lhasa, nestled within the Himalaya Mountains range, is one of the highest cities in the world. A recent population count shows 464, 736 inhabitants.
Oxygen Pillows, Yakburgers
Strolling around the city exhausted us. Foreign sights and smells ambushed our senses. We staggered back to our room.
Fortunately, our hotel supplied oxygen pillows to combat altitude sickness.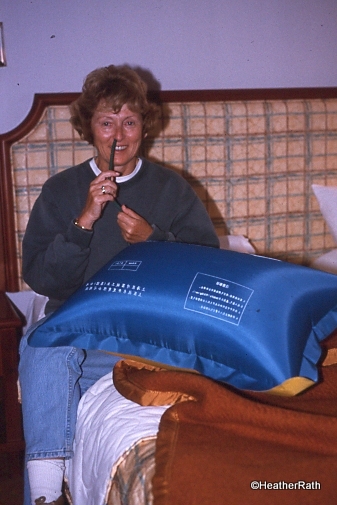 The hotel restaurant served delicious yakburgers. But a little goes a long way. Altitude sickness decreases one's appetite.
The Magnificent Potala—once in a lifetime sight
In one word: magnificent. Thrilling. Unbelievable. Once-in-a-lifetime sight.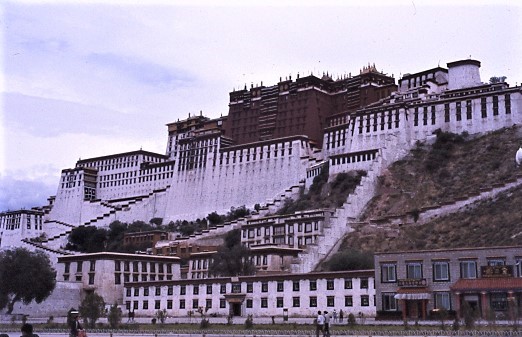 Potala the Beautiful
The Potala is a spectacular giant palace of many houses, towers, chapels. And stairs! Reputed to be the palace at the highest altitude. Honoured as one of the most beautiful architectural buildings in the world.
The Potala, along with the exceptional Jokhang Temple and Norbulingka, summer residence of the Dalai Lama, is recognized as a UNESCO World Heritage Site.
Potala and the Dalai Lama
Potala is the palace of the leader of Tibetan Buddhism who is the Dalai Lama.
Interior
Awestruck, we toured portions of the Potala open to the public. Together with visiting Tibetans, we revered its interior holy shrines honouring Buddha.
Unfortunately, we discovered many artifacts were copies. The originals had been destroyed or removed during the Chinese Cultural Revolution in Tibet.
Jokhang Temple, Barkhor Street, Amazing Maze
Barkhor Street, in downtown Lhasa, remains a popular circumambulation for pilgrims. Plus, it offers a commercial centre.
It is a public square surrounding Jokhang Temple. Total length of Barkhor Street? Over 1000 meters. Connected by different streets and laneways. An amazing maze.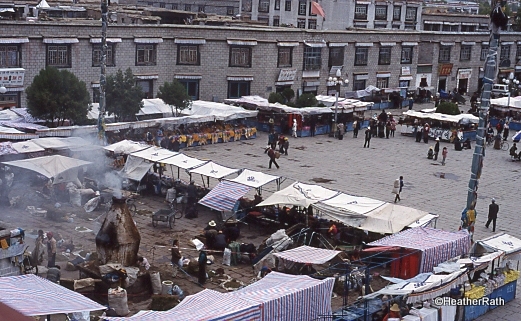 Barkhor aka The Saint Road
The Saint Road, called Barkhor, offered glimpses of pilgrims from all over Tibet. Each wore a different dress and style. Each spoke different dialects. All prayed devoutly. Many proceeded to worship while shuffling along on their knees.
Prayer Wheels
As western pilgrims, we experienced a mystical pleasure: touching prayer wheels alongside chanting Tibetan pilgrims.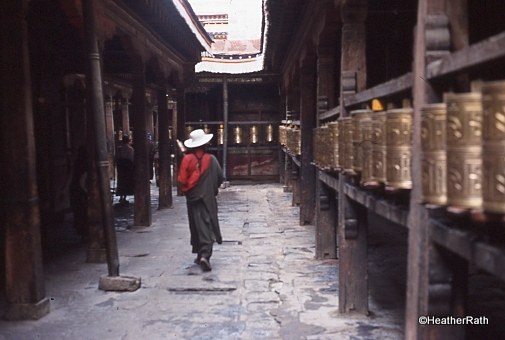 Marketplace: Stores, Shops, Stalls
Barkhor Street also revealed, and continues to reveal, Tibetan material life. This popular marketplace offered—and still does—fantastic stores, shops, stalls along the street. Displayed for purchase are thangkas (a Tibetan Buddhist painting on material, often in the shape of a mandala), prayer wheels, prayer flags, Tibetan styled clothing, yak milk, tea and more.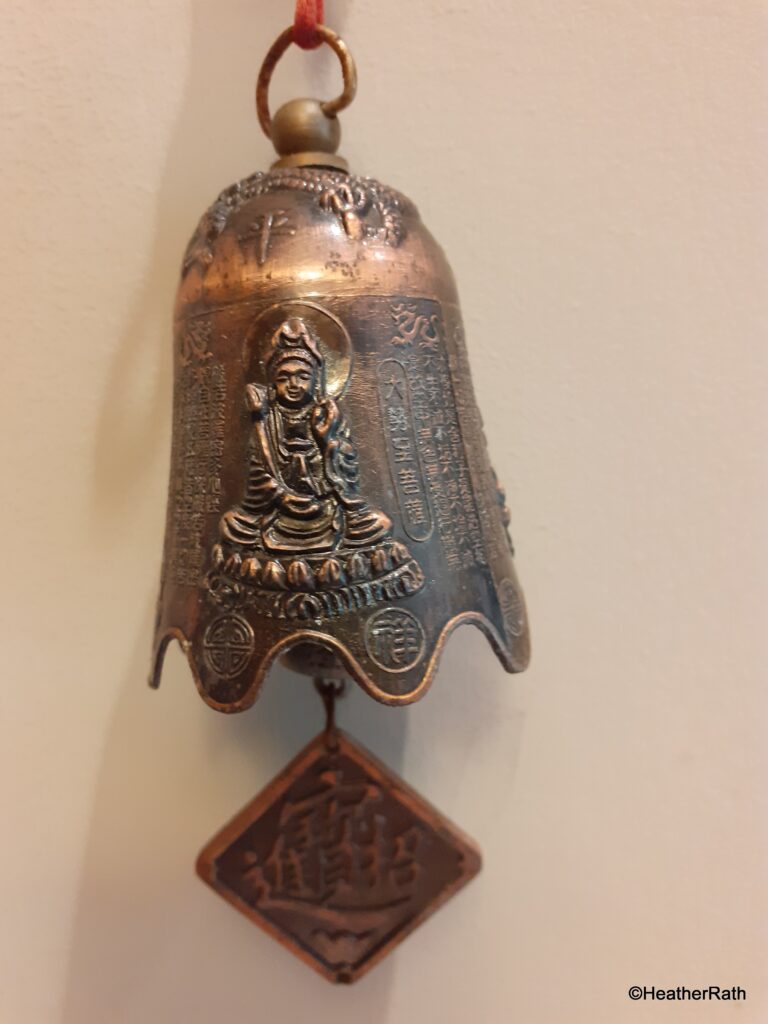 Stunning, Historical Monasteries, Nunneries
Our local guide accompanied us to surrounding monasteries and nunneries. Lhasa is home to 22 stunning and historical temples. About 15 hermitage sites are also located in the hills to the north of Lhasa.
Dalai Lama Summer Residence
The Norbulingka – the Jewel Park – contains the summer palaces of the 13th and 14th Dalai Lamas. These residences feature a spacious walled garden, the main throne hall, an audience hall, the Dalai Lama's private apartment and his mother's apartment. Unfortunately, Norbulingka has been empty since the Dalai Lama fled in 1959. Today, we read the place emits a lonely, ghost town feel.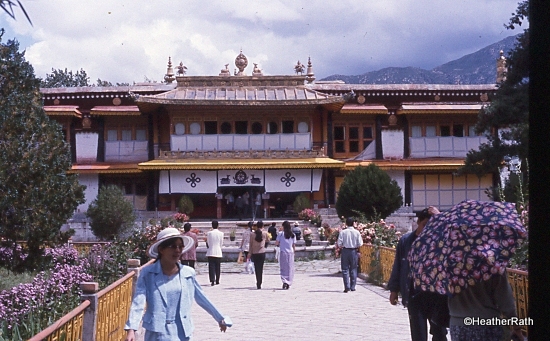 COVID update
It is difficult to determine accurate COVID restrictions in Tibet.
The Los Angeles Times published a COVID story earlier this year by an American photographer travelling in Tibet.
NOTE: A special travel permit is needed to travel to Tibet.
Sights and Sounds of Tibet
https://www.youtube.com/watch?v=eEW2tQLNpGA
Read more posts from Asia
Travelled: Summer, 1999