Hoi An, Vietnam – Falling in Love
Falling in Love in the Rain
The year is 2006. We are touring Vietnam from Hanoi in the north to Ho Chi Minh City in the south.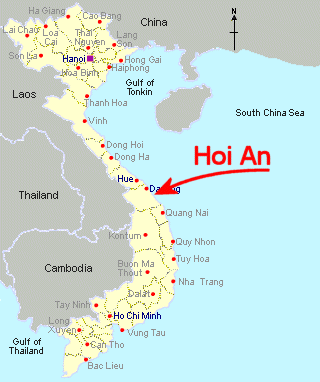 On a rainy, misty night we arrive in Hoi An. Located on the South China Sea, the city lies in the middle of the country, about 30 km south of Da Nang. We instantly fall in love with this culturally rich and charming port city.
2019 – Thirteen years later
Thirteen years later, we return to Hoi An with anticipation and trepidation. Returning to an old love.
Yes, there is change. For the better?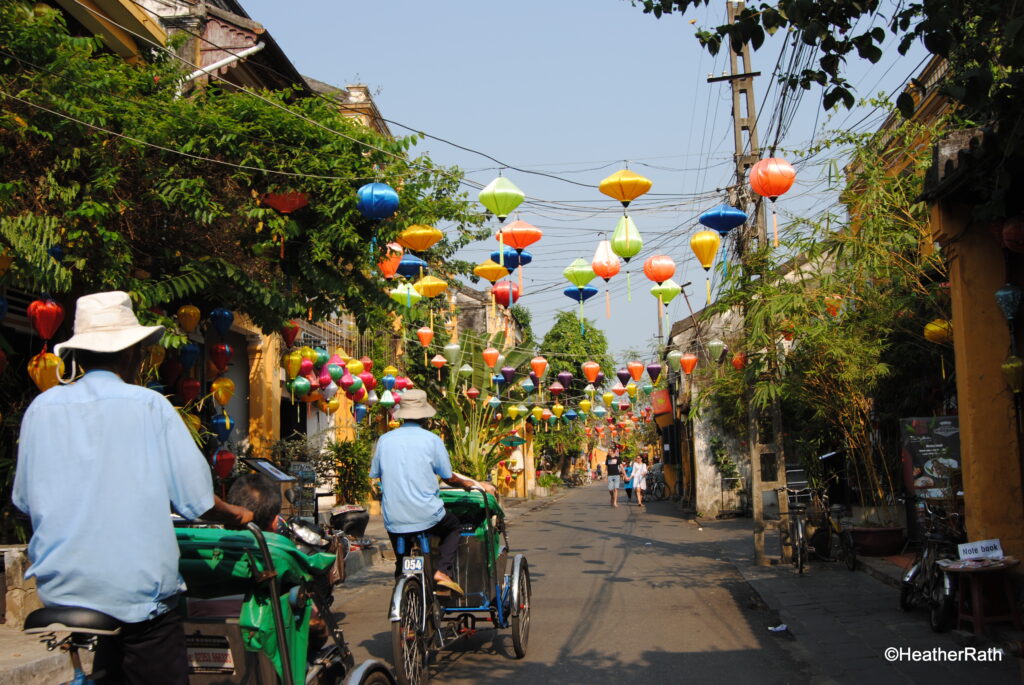 UNESCO designation attracts tourists
In 1999 Hoi An's ancient town — our first love— earned an UNESCO World Heritage Site designation.
Enter fame and tourists. Hoi An is now a major travellers' attraction for Vietnamese and foreign tourists. The vast majority of tourists are Asian.
Tourist information.
The Past of an Exotic, Cultural, Noisy Trading Port
Between the 15th and 19th century, Hoi An evolved as an exotic, noisy, multi-cultural trading port on the Thu Bon River.
Popular products like silk, porcelain, pepper, cinnamon and medicinal plants attracted traders from Japan, China, and France.
As a result, today's city offers exceptionally well-preserved examples of Vietnamese, Japanese, Chinese, and French architecture.
Heritage architecture – Japanese Bridge
One of Vietnam's most iconic attractions, Hoi An's Japanese covered bridge dates back to the 18th century. A stunning historical piece of Japanese architecture.
Created by the Japanese then living in Hoi An, the covered bridge was created to reach the Chinese quarter across the water.
One of the Nguyen dynasty lords (Phuc Chu) opened the bridge in 1719. To commemorate the occasion, he carved three Chinese symbols above the door.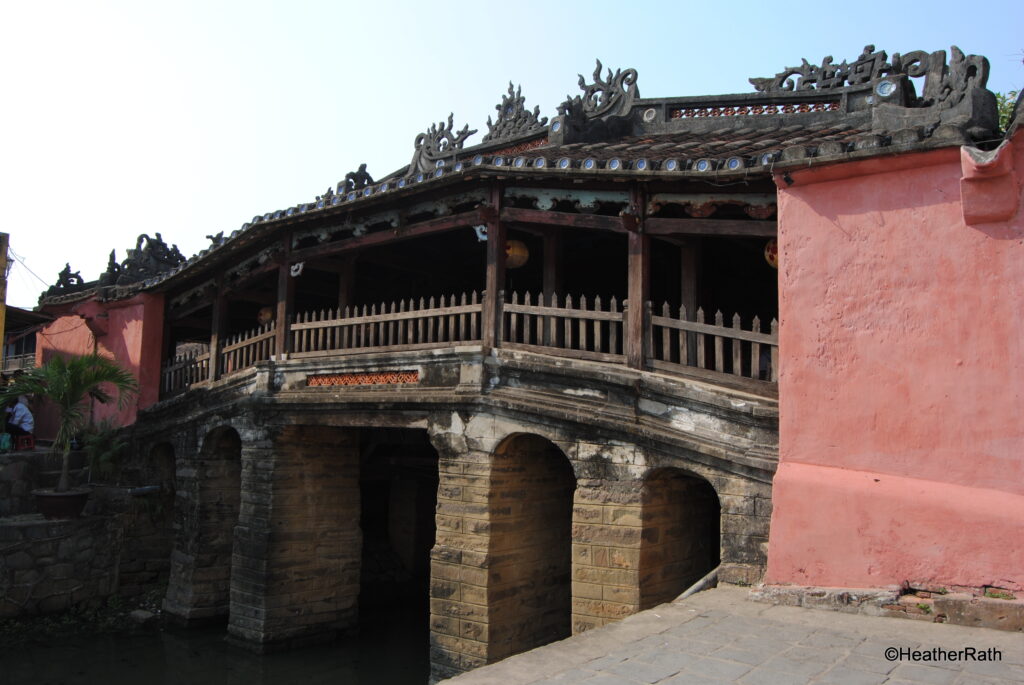 He also added sculptures of two dogs and two monkeys. The animals represent the Chinese years in which important Japanese Emperors were born. They also commemorate that construction of the bridge began in the Year of the Dog with completion in the Year of the Monkey.
Three Entrance Gate
The Tam Quan Gate, or three-entrance gate, is part of a complex known by locals as Ba Mu Temple on the city's Hai Ba Trung Street.
The temple complex was built in 1626 at a different location in feudal Vietnam and then moved to the present position in Hoi An.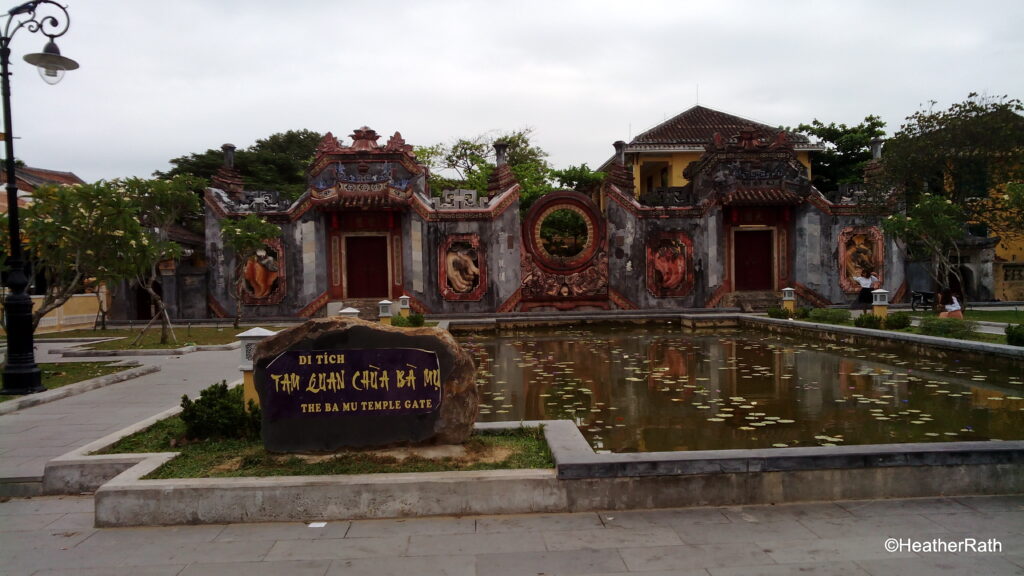 Divine Deities call Ba Mu Temple home
According to folk belief, the complex worships divine deities: a life-protecting god, 36 heavenly protectors, a goddess giving safety and wealth, and 12 midwives involved in creating babies and keeping them from harm.
Hoi An residents visit the temple seeking a life of peace, happiness and health for their children.
Chinese Merchant 17th Century Private Home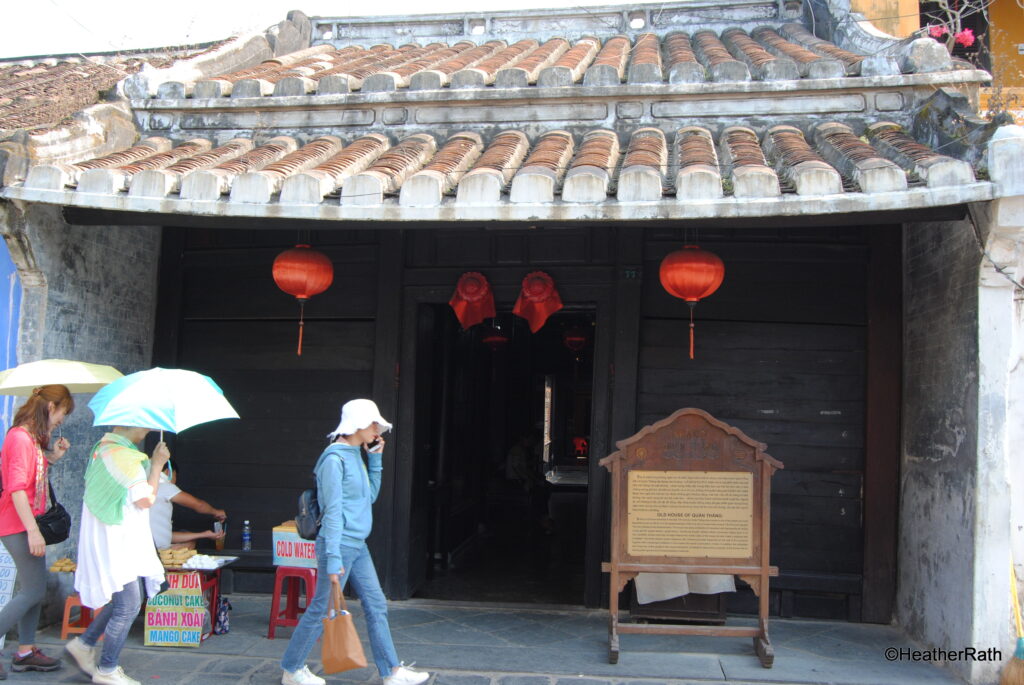 Built in the late 17th century, Chinese merchant, Quan Thang built this perfect example of an early Hoi An home.
Craftsmen of the nearby Kim Bong carpentry village created the fine architecture and sculptures inside Quan Thang's house. Interior arrangement of this furniture remains intact as of old.
Walls surrounding the yard are ornate with beautiful blue ceramic shards.
Decorative masterpieces in the Asian style
The house is most impressive, with artistic work everywhere: on the beams, the auxiliary arched roof, the wattles, shutters, balusters and even on the rafter finials (decorations). All are masterpieces in the Asian style.
Original home turned into a commercial venture
This is an example of an original home, now turned into a commercial venture. When we were here in 2006 these heritage buildings were the only structures to be seen.
But on our return in 2019, newer buildings and renovations dotted the historical landscape.
Vietnamese food…
…is delicious! And cheap!
Pho
Pho, a popular street food in Vietnam, is a soup of broth, rice noodles called bánh phở, a few herbs, and meat, primarily made with either beef or chicken.
Banh Mi
The Banh Mi sandwich is a French-Vietnamese hybrid consisting of an airy baguette, sour pickled daikon and carrot, crisp cilantro, spicy chilis, and a cool sliver of cucumber surrounding any number of protein options, from sweet minced pork to fatty pâté to sardines. Fortunately, Bahn Mi shops are located on nearly every corner.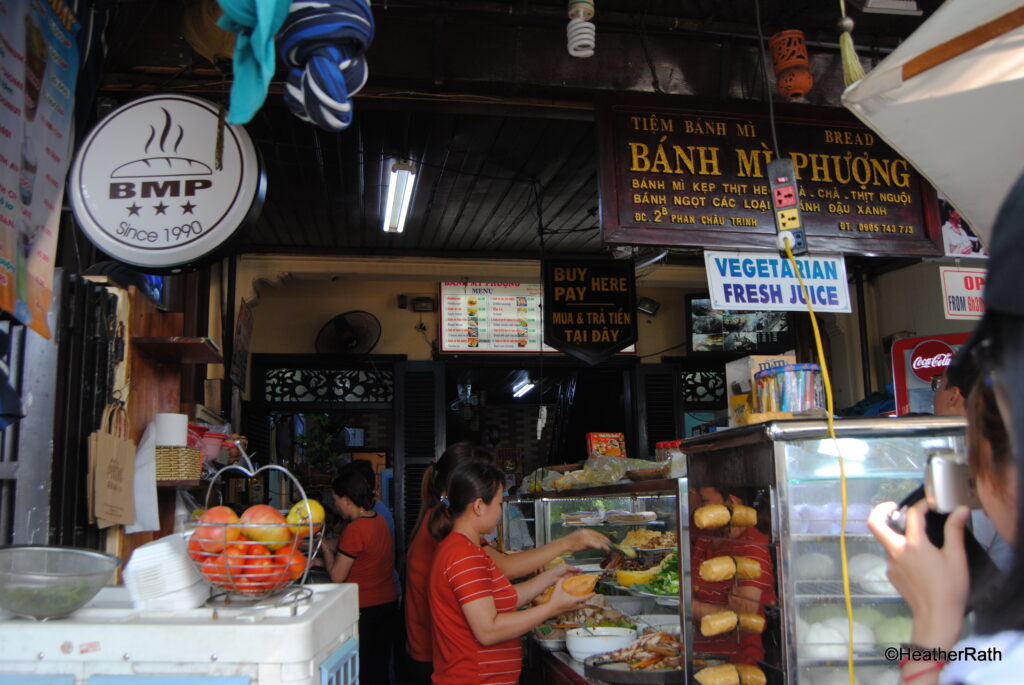 Motorbikes galore
The population of Vietnam is about 97 M with 63M motorbikes!
Or so we were told.
The number is easy to believe. Sidewalks are used to park motorbikes forcing pedestrians to share the road with cars, trucks, bicycles, and more motorbikes.
Current population of Hoi An is about 120,000. More if you count expats and the tourist population.
So, the number of motorbikes is high.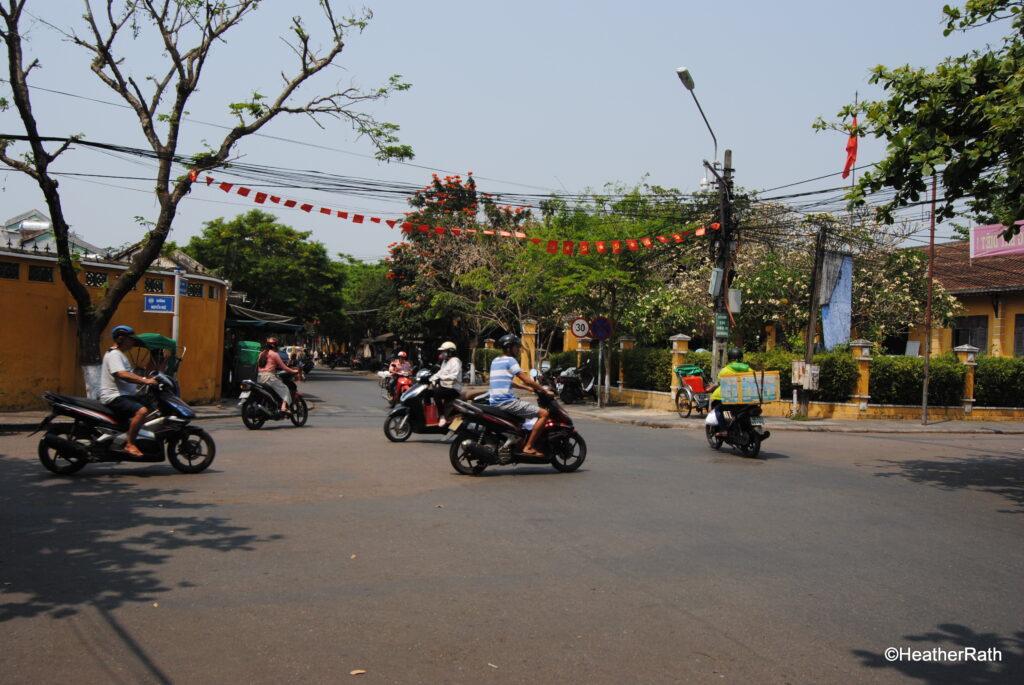 In fact, the constant noise from beeping motorbike riders is exhausting.
Then we heard about interesting traffic light rules. Green light – proceed. Yellow light – proceed. Red light – proceed.
It was true!
COVID

update
Please click here for the latest information.
Sights and Sounds of Hoi An
Travelled: December, 2006; March, 2019
See more of our blogs from Asia