Rhodes Old Town – Best Travel Guide 2023
Going to Rhodes Old Town in 2023?
Here's what you need to know when you visit Rhodes Old Town for the first time. This best travel guide will ease you into the most important sites with confidence.
Rhodes Old Town is a major stop for Mediterranean cruises with a day stop. If this is you, our guide to this Medieval Town will help prioritize your visit with must things to do.
If you have the luxury of a longer visit, this guide to Rhodes Old Town is also for you. Some extra activities are included. Look for our TRAVELLER'S TIPS.
Best Time to Visit
When is the best time to visit Rhodes Old Town? Agreeable weather from April to November but the best time is May-June and September-October (as we did). Not so many tourists and slightly cooler temps.
Best Things to do in Rhodes Old Town
Tourist Information & Map
The very first thing you need to do is visit the nearest Rhodes Old Town tourist office. Here are 3 locations – -Just outside the D'Ambroise Gate on Ethnarchou Makariou Street (across from the Taxi Stand)
-Further down the same street at the intersection with Amerikis street
-Inside the walls on Papagou street near the Arnauld gate, beside the Archeological Museum
If you are coming from a cruise ship, information and maps will be available on board.
Palace of the Grand Master
Built in the 14th century under the command of Grand Master M. de Villeneuve, the Palace of the Grand Master rates high on your must-see list.
This magnificent castle is erected on the foundations of another Byzantine fortress that did not survive repeated Arab-Persian attacks from the 7th century onward. The fortress, surrounded by a 4 km wall, offered an effective refuge for its residents during wars. It also provided safe accommodation for the more than 19 Grand Masters of the Order of the Knights of St. John who lived there.
In 1856, an explosion in an adjacent gunpowder warehouse destroyed most of the castle as well as a big part of the old town. Casualties included more than 900 residents of the settlement. It was restored in the 20th century by the occupying Italians to become a holiday residence for the King of Italy Victor Emmanuel III, and for Benito Mussolini.
Admission is $8 – TRAVELLER'S TIP – buy a combination ticket for the Archeological Museum for $10.50 .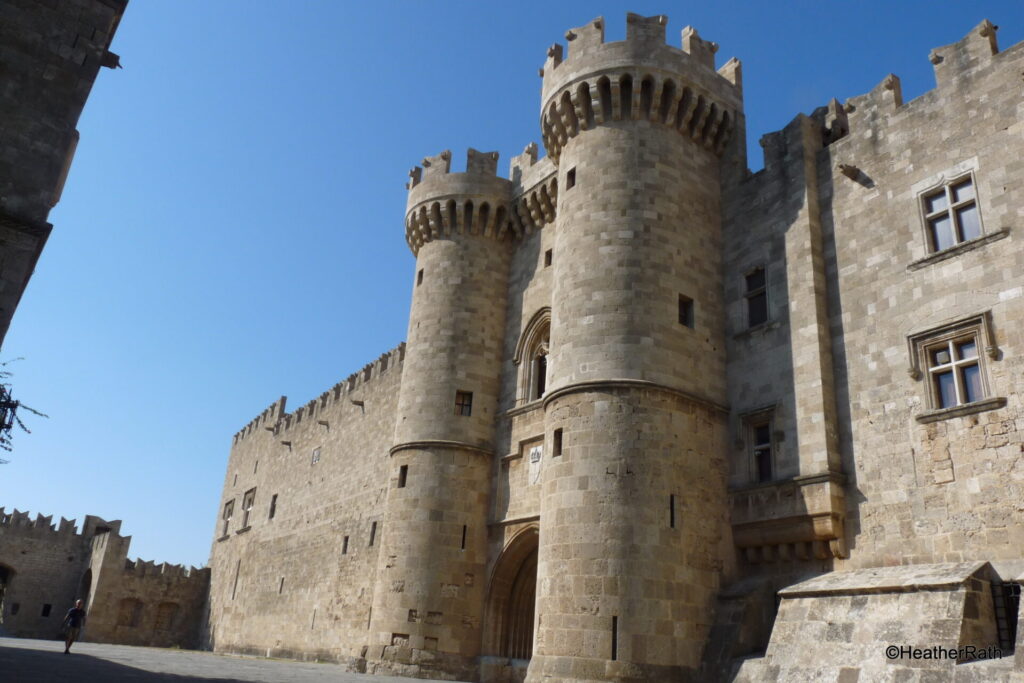 Temple of Aphrodite
Within the Old Town lie the small ruins of the Temple of Aphrodite, dating back to the 3rd Century BCE. In ancient times, Aphrodite was famous as the goddess of beauty and love.
Temples to Aphrodite were mainly built near ports. These locations lead to the belief that she was the celebrated patroness of ports.
The Ionic-style Aphrodite Temple ruins in Old Town Rhodes are small in comparison to others. A statue of Aphrodite, a replica of which is currently displayed in the Archaeological Museum of Rhodes, was probably located there. The copy is modelled from the original statue in 3rd Century BCE.
Today Aphrodite is associated with female sexuality. Her symbols are roses or anything pink.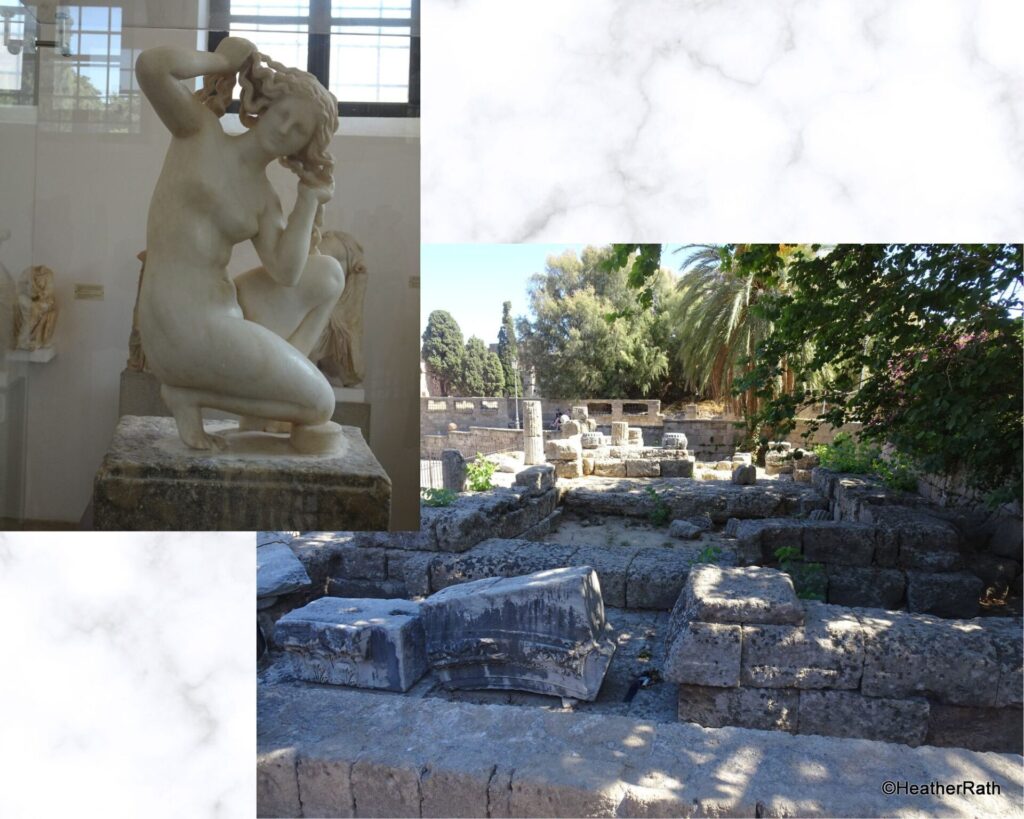 Panagia tou Kastrou (Virgin Mary of The Castle)
The church of the Panagia tou Kastrou (Lady of the Castle) was built in the 11th century and is the oldest and largest church preserved in the old town of Rhodes. It first was an Orthodox church, then a Catholic church before its conversion to a mosque during the Ottoman Empire. Located across from the Information Office near the Archeological Museum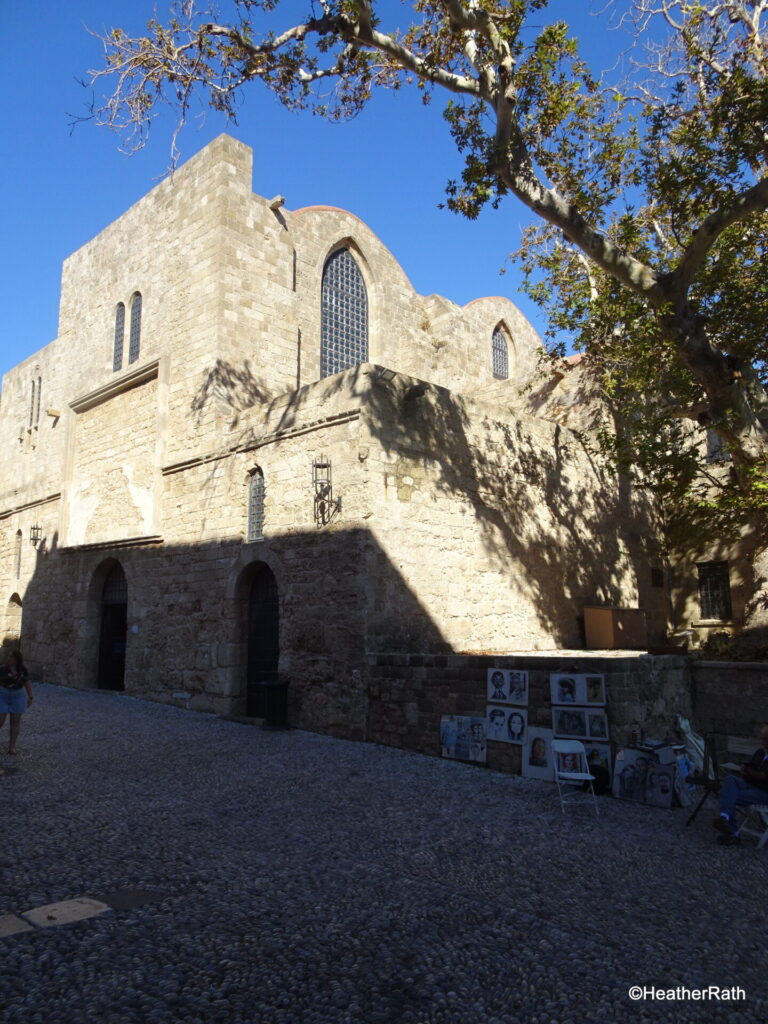 Panagia tou Bourgou
The construction of this church is dated around the 14th century CE. It was a 3 aisle Gothic basilica. Once known as Virgin of the City. Located on Pindarou street just down from Evreon Martyron Square.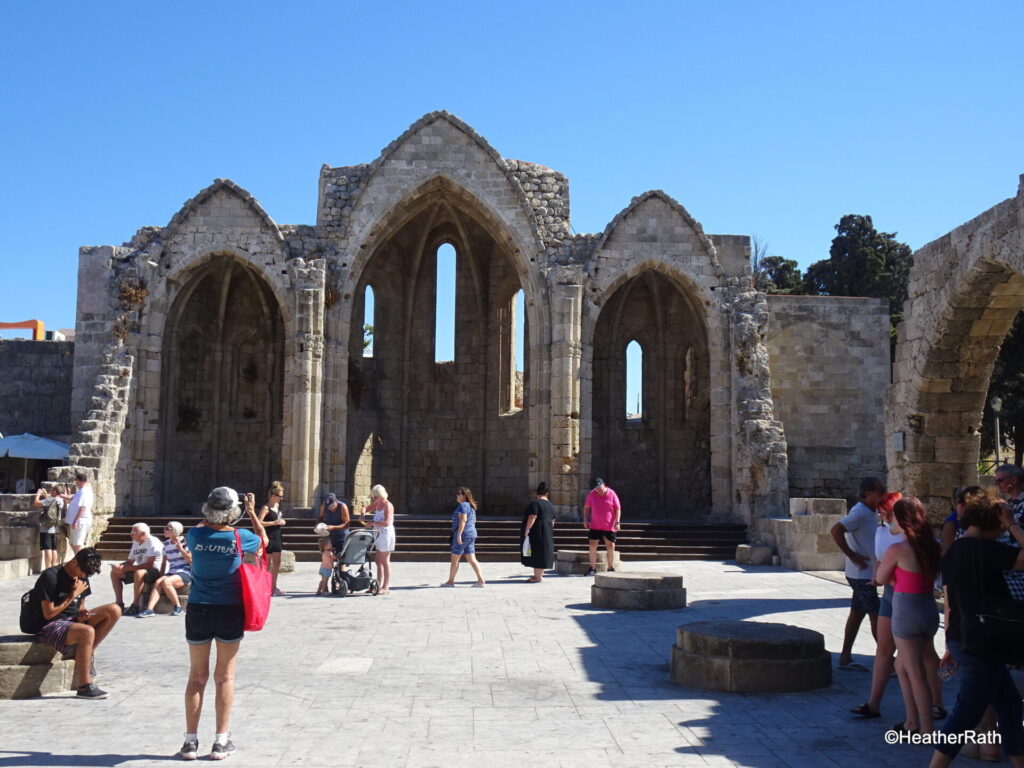 Suleiman Mosque
The Mosque of Suleiman, one of the first built in Old Town, is one of the most prominent landmarks in Rhodes, and remains a popular site for tourists.
Originally built after the Ottoman conquest of Rhodes in 1522, it was reconstructed in 1808; named by Sultan Suleiman to commemorate his conquest of Rhodes. The mosque overlooks Rhodes and has an octagonal plan with three domes, one central dome larger than those at each corner.
The current building is a reconstruction from 1808.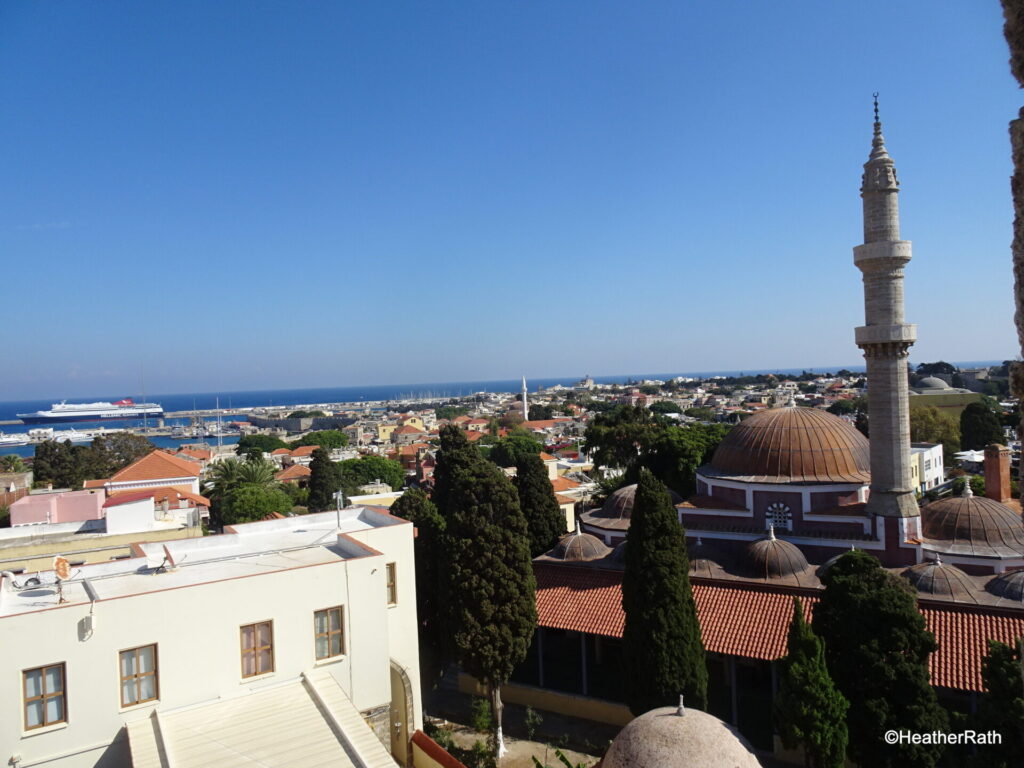 Municipal Baths (Geni Hamam)
The Municipal Baths (also called the Turkish Baths) are housed in a 17th-century Byzantine building. One of the few places in Greece where you can experience Hammam (Turkish word for "baths").
The Baths are open from Tuesday to Saturday. Their low cost attracts both locals and visitors. There are separate entrances for men and women.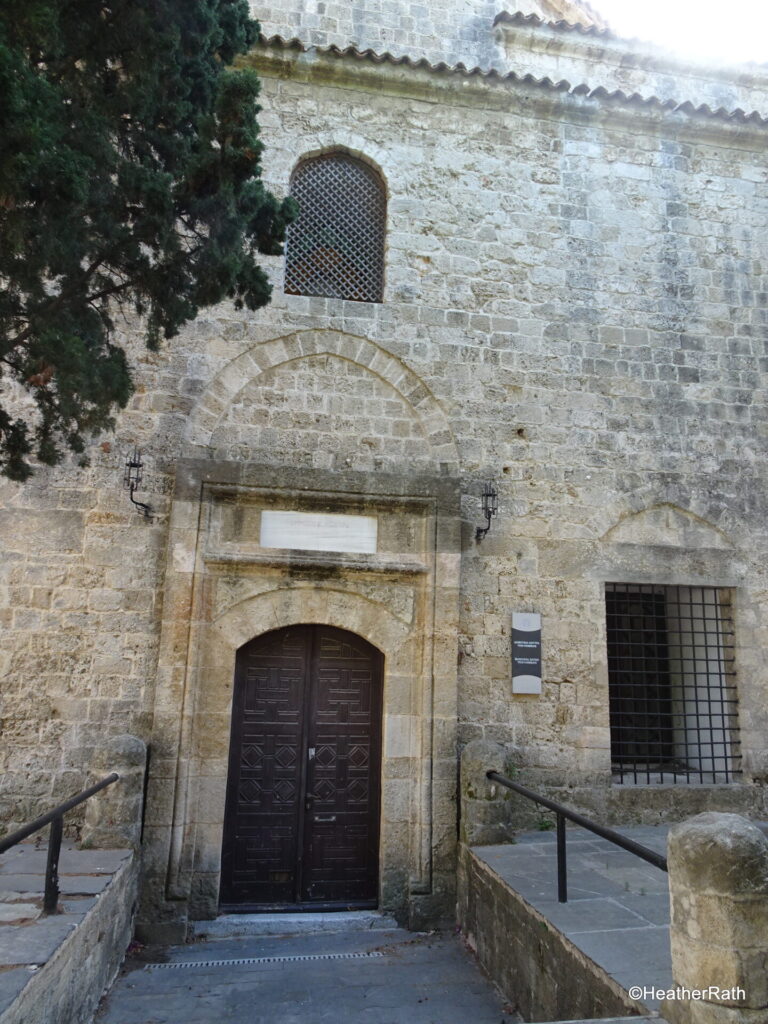 Ruins of the Church of Ag Ekaterini
Located on the south part of the Jewish district inside Old Town, it is a three-aisled basilica type church, built in the 14th century. A study of the building and its fresco phases indicates it was once a one-room church. More aisles or chapels were added through the passage of time.
Soon after the Ottomans invaded the city, the church was turned into a mosque in 1522 and given the name Ilk Michrab (first praying cavity). It is believed this was the first Christian church that became a mosque.
The church suffered severe damages from a bombing in World War II but was subsequently repaired by locals.
Ruins of the Panagia tis Nikis Church (aka Sancta Maria)
The church is located in the central district of Niochori in Old Town.
The complex includes the monastery of the Franciscans of the Custody of the Holy Land who do pastoral work on the island. The monastery also has a guesthouse. Volunteers come from different countries to offer their assistance to those in need.
The church was destroyed in 1522 by the Ottomans and subsequently abandoned.
In 1719 the Apostolic Prefecture of the Franciscans of Constantinople re-established its mission in Rhodes and in 1743 a new church Panagia tis Nikis was built. It is mostly known as Sancta Maria. The new church was enlarged in 1851 and soon became the main Catholic church in Rhodes.
Clock Tower
The Clock Tower (Reloi) is the highest point of the Old Town of Rhodes.
It was built on the ruins of a Byzantine tower that was connected to the Palace of the Grand Masters. Originally the tower was constructed in the late 7th Century.
For 5 euros you can walk up 7 or 8 steep single person sets of stairs to see an overview of the Old Town.
TRAVELLER'S TIP The price includes a drink (fruit juice, wine, beer, alcohol) to enjoy in the attached garden. Try Ouzo.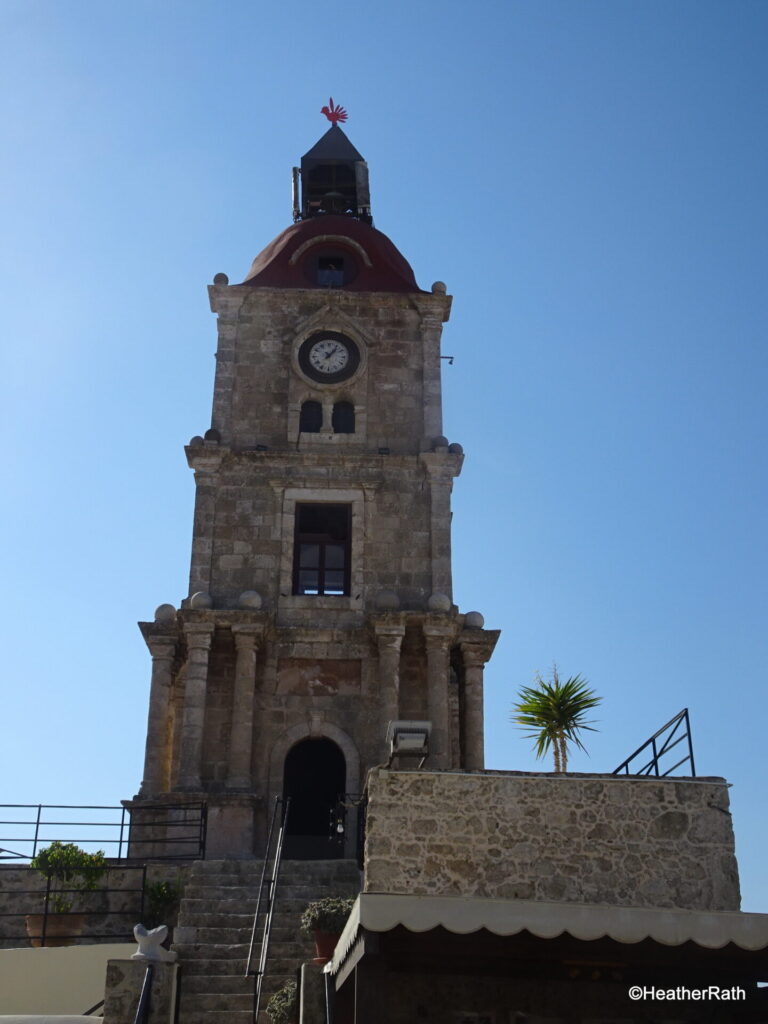 Street of the Knights
Following an almost exact east to west direction, the well-preserved cobble-paved street uses, in part, an ancient straight road that connected the port with the Acropolis of Rhodes. The medieval road is about 600m long.
Begin at the square in front of the Knights' Hospital (now the Archeological Museum). Following the street leads to the Grand Master's Palace.
Along the street, seven imposing inns were constructed in the early 16th century, representing the seven countries, or languages, from which the Knights of the Order of St John originated.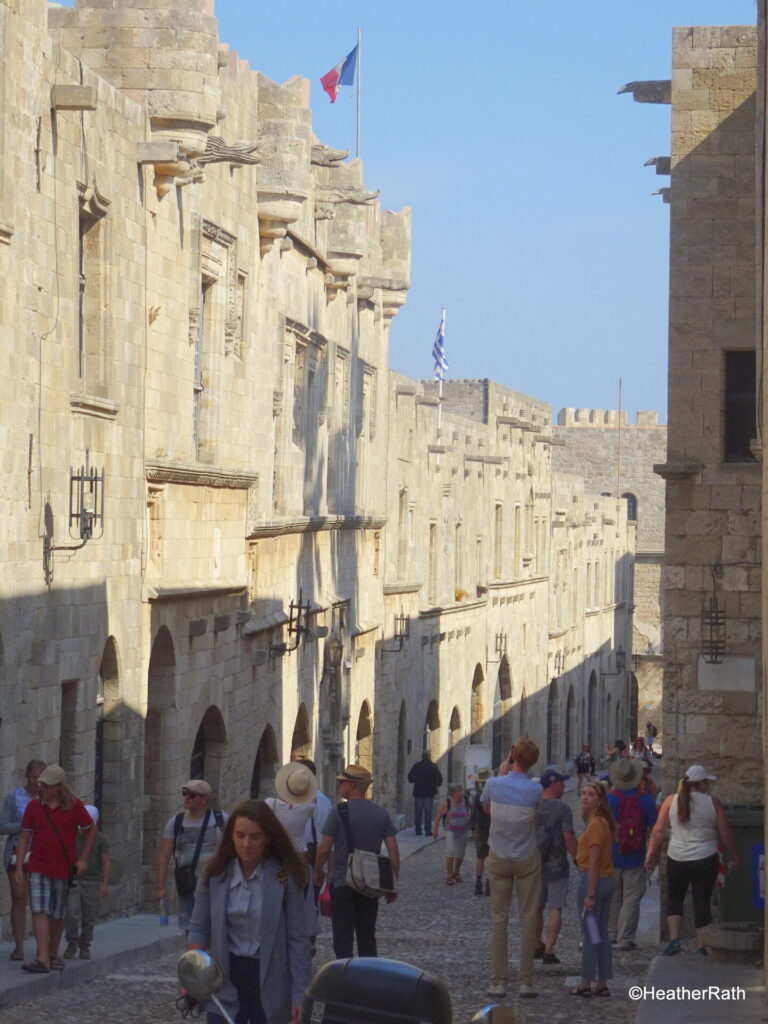 Hippocrates Square
Hippocrates Square is one of the most beautiful and vibrant squares in which tourists and locals gather in Rhodes. It is a place of beautiful monuments of statues, along with picturesque water fountains and ancient buildings.
The square is also home to many shops, especially gift and souvenir. Try one of the restaurants and cafes with balconies that overlook the square.
Ipokratois Fountain, in the centre of the square, is a water fountain dating back to the medieval period. Note Its abundant decorations and stone inscriptions on its base and middle column.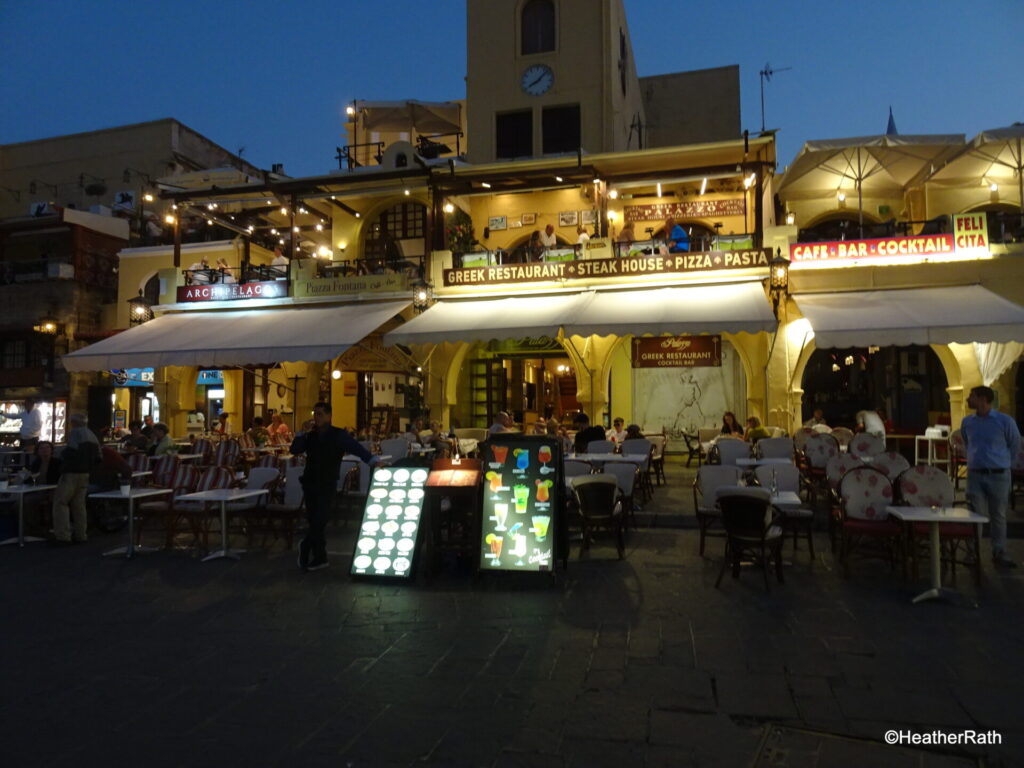 The Cellar of the Knights
Lodged under the stairs of the "Kastellania" on the edge of the Hippocrates Square is The Cellar of the Knights, onetime commerce court for the Knights of St. John.
Since 1963, this has been a family operated tavern with a great selection of spirits and wines. The owners offer the largest selection of Malt Whisky in the city. Worth a visit if only for taste testing the numerous varieties of spirits.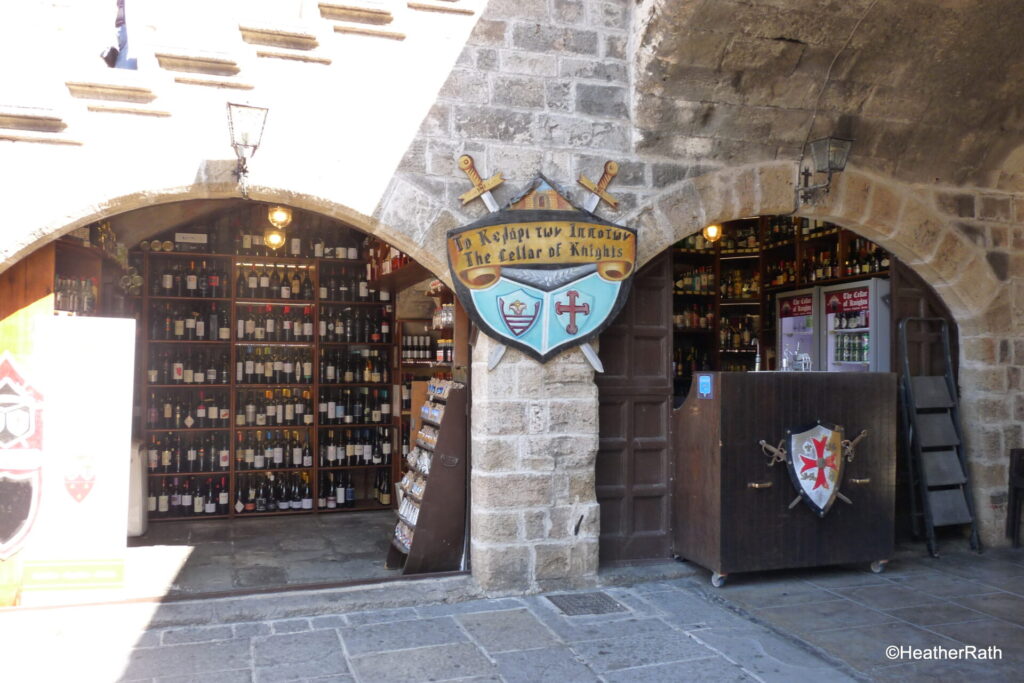 Mandraki Harbour
Mandraki is the main harbour of Rhodes where once stood the Colossus of Rhodes, or so it was believed.
The present-day harbour entrance is flanked by two deer statues, one each atop the columns.
In Greek mythology, the deer was sacred to the feisty goddess Artemis. Deer symbolize the powers in nature that are not easily overcome.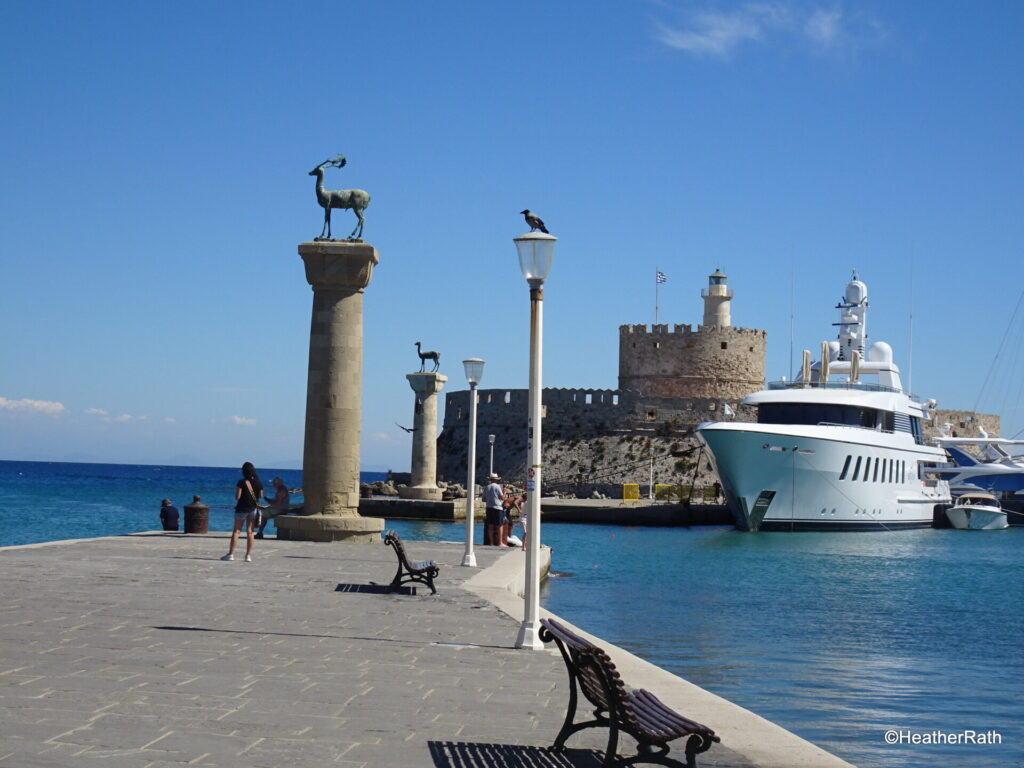 Colossus of Rhodes
The Colossus of Rhodes was one of the Seven Wonders of the Ancient World. It represented the god Helios, and was built to thank the gods for the victory over Demetrius Poliorcetes' long siege (305 BCE) of Rhodes.
The entire construction process of Colossus, as derived from ancient records, consisted of using iron tie bars, to which brass plates were fixed, like skin. The statue was completed in 280 BCE.
In 226 BCE, Colossus was destroyed by an earthquake. Plans were for restoration but then abandoned after an oracle objected.
For almost a millennium, the statue lay in ruins. The remains were sold and transported to Syria using 900 camels.
On further study, it appears that although Colossus is depicted as straddling the harbour entrance, this was physically impossible. The statue was only 30 m high. History has recorded Colossus was either close to the harbour or was placed further inland at the Acropolis as one theory suggests?
The mystery remains.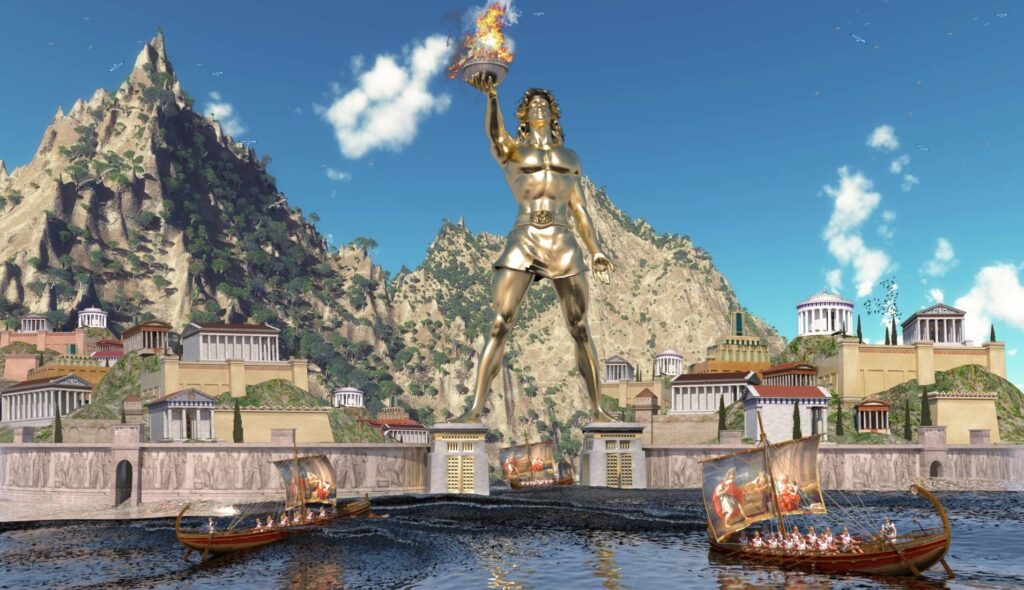 Things to do Outside the Walls of Rhodes Old Town
City Bus Tour
Take a bus tour to get a good overview of the city outside the walls. There are 3 tours available – 2 by bus and one by tourist train. There are 2 companies operating bus tours – Hop On Hop Off buses -red and yellow tour lasts almost 2 hours and costs ~16 euros. Rhodes Train City Tours last about 45 min and cost 7 euros. Tickets can be purchased online or from the driver.
Tours leave in front of the Aktaion Cafe across from the harbour on Pl. Eleftherias street
Book your city tour by clicking here
Acropolis of Rhodes
The Rhodes Acropolis dominates the western and highest part of the city. It was not fortified like most ancient Acropolis.
The Temple of Apollo, built in the 2nd century BCE, currently undergoing restoration, consists of a zone with sanctuaries, large temples, public buildings and underground places.
On the site of the Acropolis is The Stadium. When filled, it will seat 3,000 to 5,000. No padded seats in those days.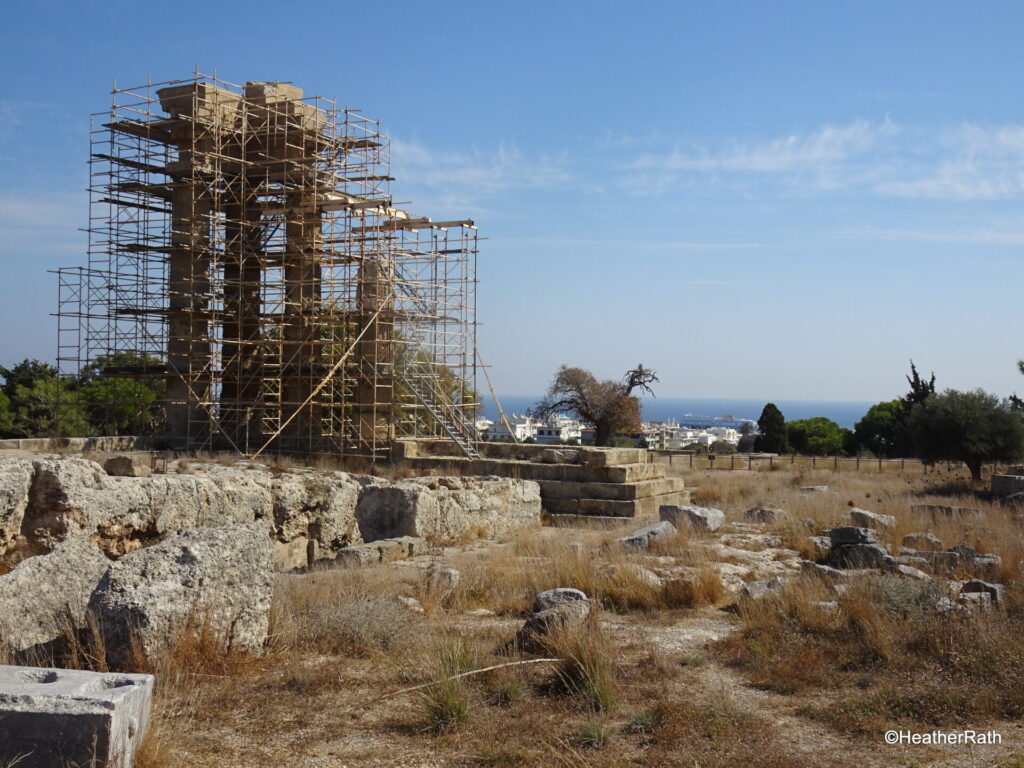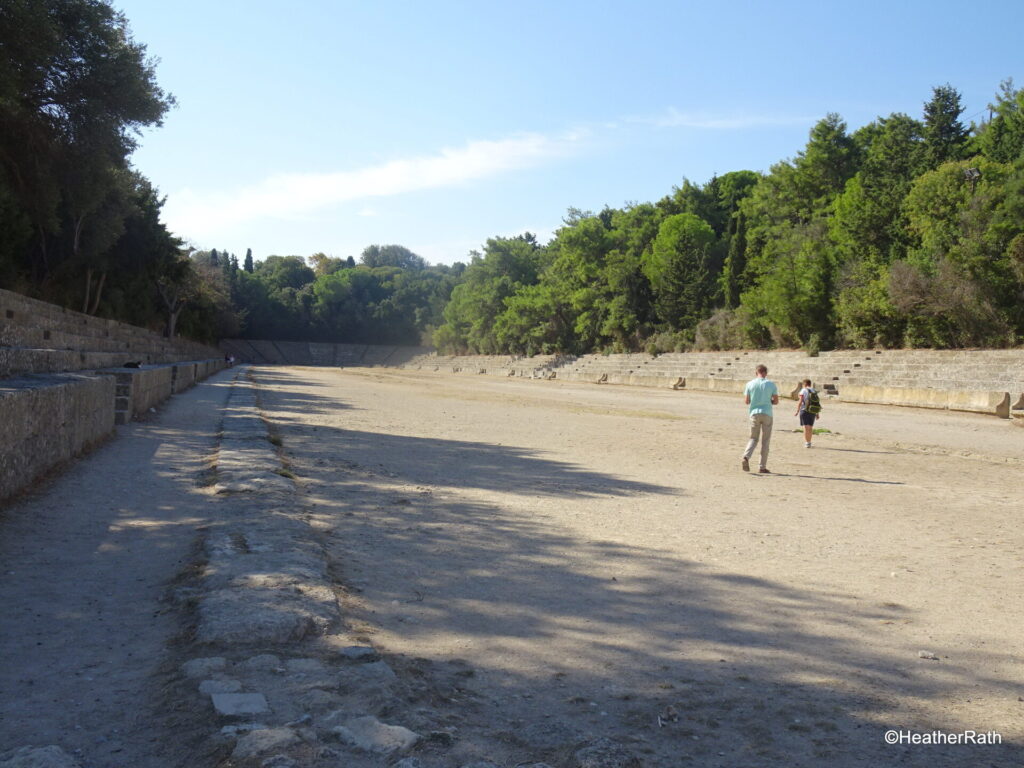 Beaches
Rhodes Town has a number of beaches. There are beaches on the north point part of the city – Elli Beach and Paralia Elli Beach. We used the beaches on the west side of the city – Sirene Beach in particular – there was a handy taxi stand on one section – just across from the Yannis Pub and sports Bar
Beaches are coarse sand to a bit stony, water is great.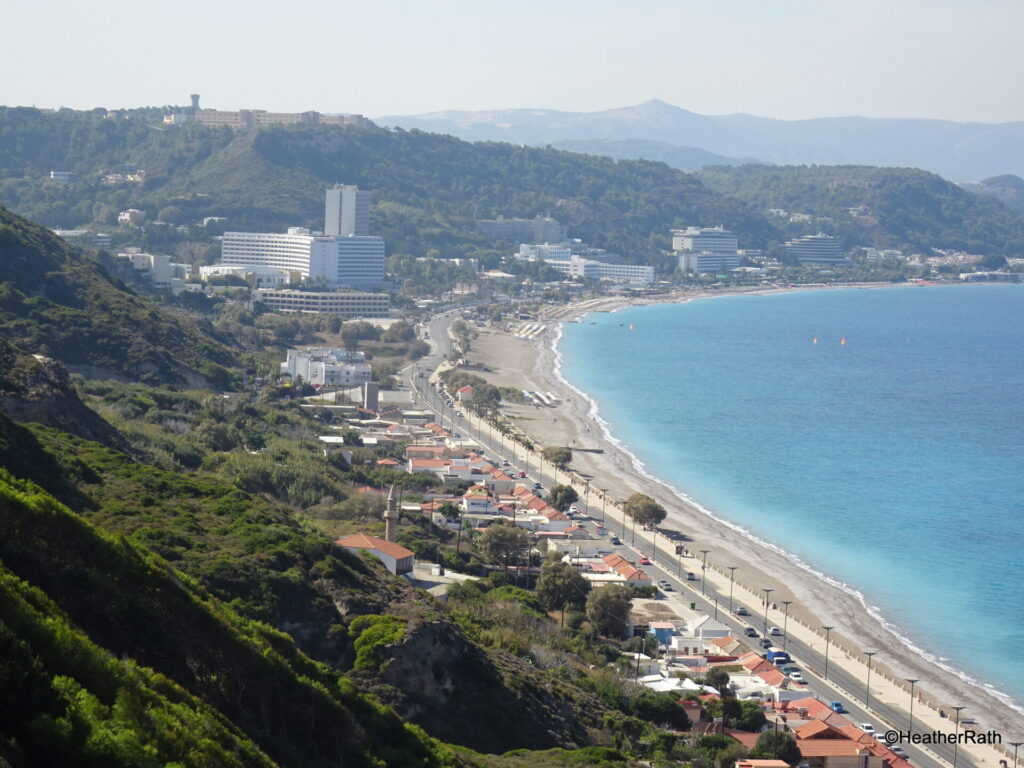 Lindos
A day trip to Lindos is well worth the effort if you have an extra day. Lindos, a small city about an hour south of Rhodes, has a long history dating back to the Dorians, 10th century BCE.
Its Temple of Athena (9th century BCE) and its Hospitaller fortifications 13th-14th century CE make it one of the top 5 most visited historic sites in Greece. We took a small group tour by bus to Lindos.
The Acropolis is 116m above the town. It is reached by about 300, sometimes scary, steep steps – no railings. A must experience!
TRAVELLER'S TIP – if you want to avoid 300 steps take the donkey trail.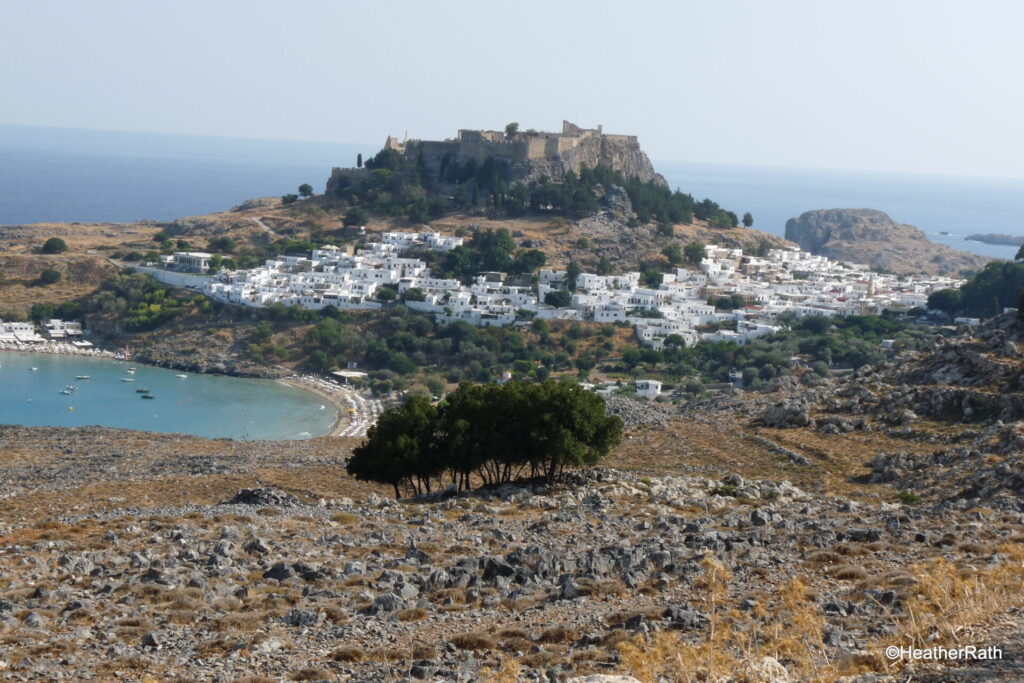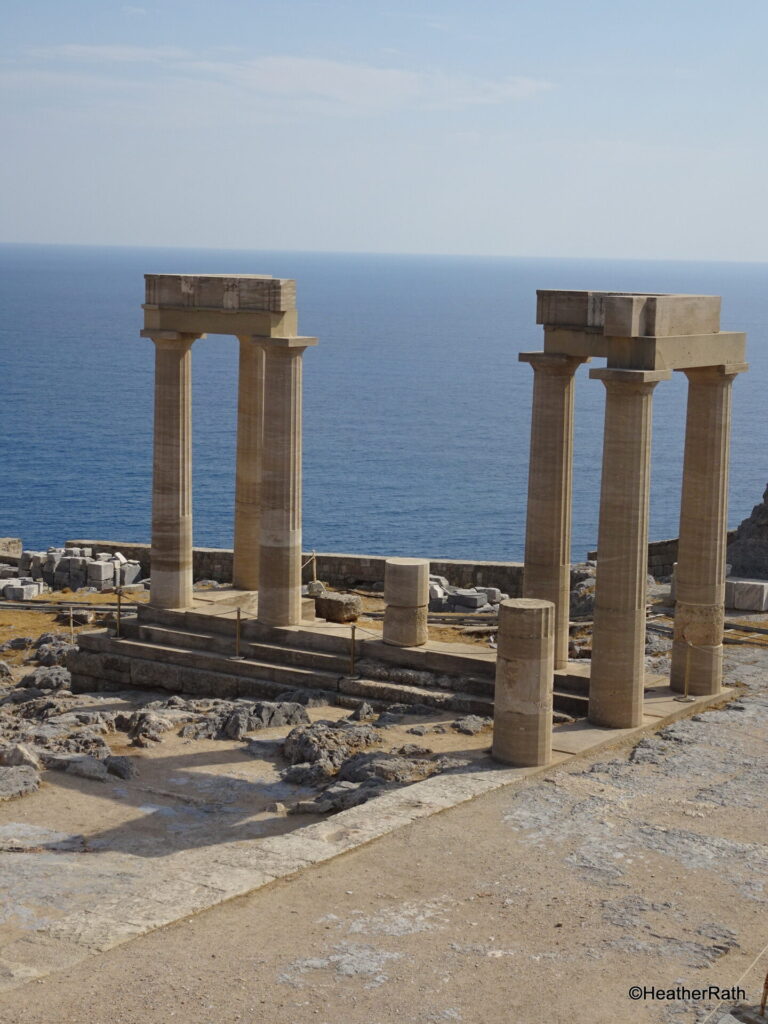 Book your day trip to Lindos by clicking here
Take a Ferry to Symi Island Greece
See our blog on Symi Island Greece– how to get there, what to do, where to eat, what to buy and more.
Book your trip to Symi here
Take a Day Trip to Turkey
A day trip to Marmaris, Turkey from Rhodes by ferry is possible. Marmaris ferries leave from the tourist harbour in Rhodes. Trip is 1 hour and cost is up to $50 return. Tours (below} from $66 includes land tour.
Marmaris is a resort town so lots to do – shop in a bazaar for sweets, spices, artisan crafts and souvenirs; try delicious Turkish food; visit an historic castle; walk around Old Town; stroll the promenade; enjoy the beach. Take a tour or explore on your own.
Be aware that you must have your passport and may require a visa – best to check ahead of time. You can get a visa online, but not at the terminal, if needed. There is a passport control to go through before you embark in Rhodes. There will be port fees and visa fees if required.
Book your trip to Marmaris Turkey here
History of Rhodes and Rhodes Old Town
Rhodes is the 4th largest island in Greece (Crete, Evia, and Lesbos are larger).
Population is ~ 115,000; ~50,000 live in the capital of Rhodes Town.
Rhodes is only 18km from the Turkish coast, 434 km to Athens, and 492km to Cyprus.
The capital of Rhodes is also known as Rhodestown and is also the capital of the Dodecanese Islands.
The Island was inhabited from 4,000 BCE.
The city of Rhodes was formed when the island city states of Camirus, Ialysus, and Lindus united in 408 BCE.
In Greek Mythology, the name of the island derives from the nymph Rhodos who bore seven sons to the sun god Helios, patron of the island. Three grandsons of these offspring were the heroes of the three principal cities on the island: Camirus, Ialysus, and Lindus, which were named after them.
The 8 significant historical periods of Rhodes (aka Rodos by the locals) are:
Classical (Neolithic) – Inhabited from 4,000BCE.
Hellenistic 323BC – 33 BCE
Roman – 164 BCE-330 CE
Byzantine – 330-1309 -sometimes occupied by the Arabs and generally an ill defined period.
Knights – 1309-1522, Rhodes sold to the order of St John of Jerusalem (Knights Hospitaller).
Ottoman – 1522-1912
Italian – 1912-1944
Modern – handed to Greece by the British Military in 1947.
Maps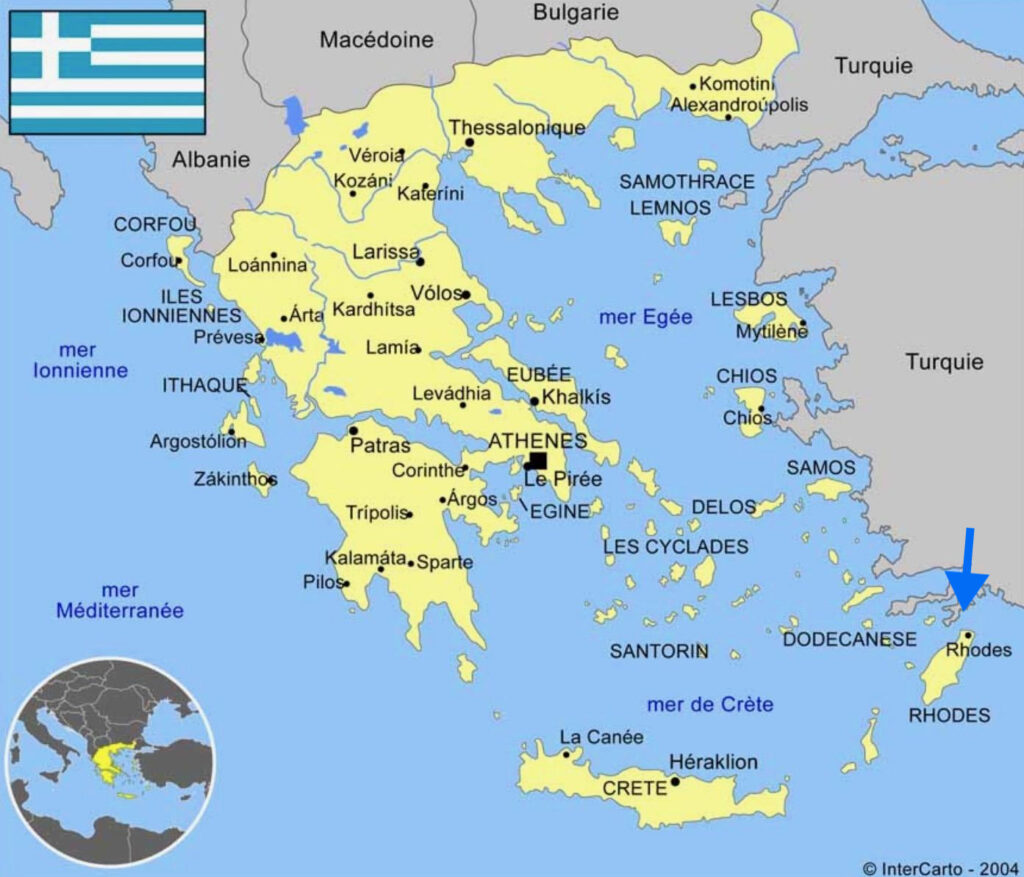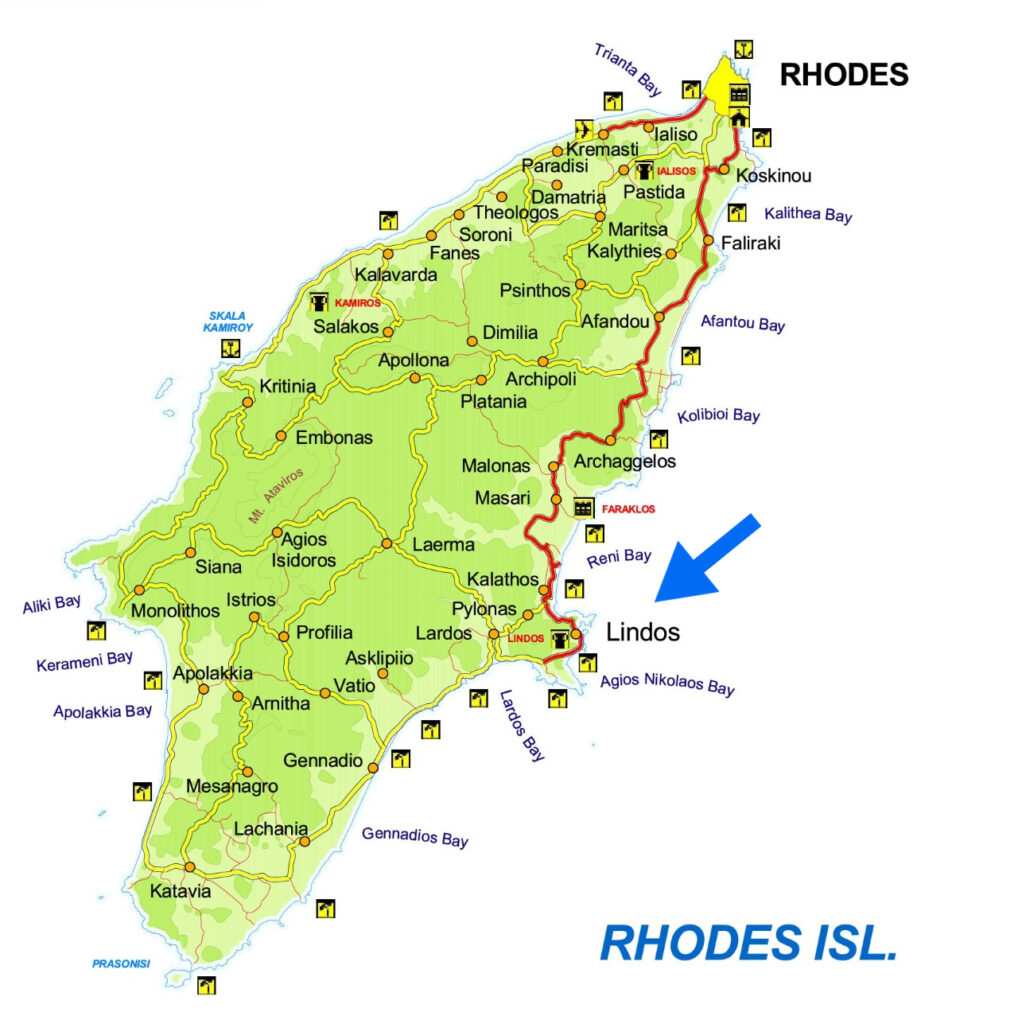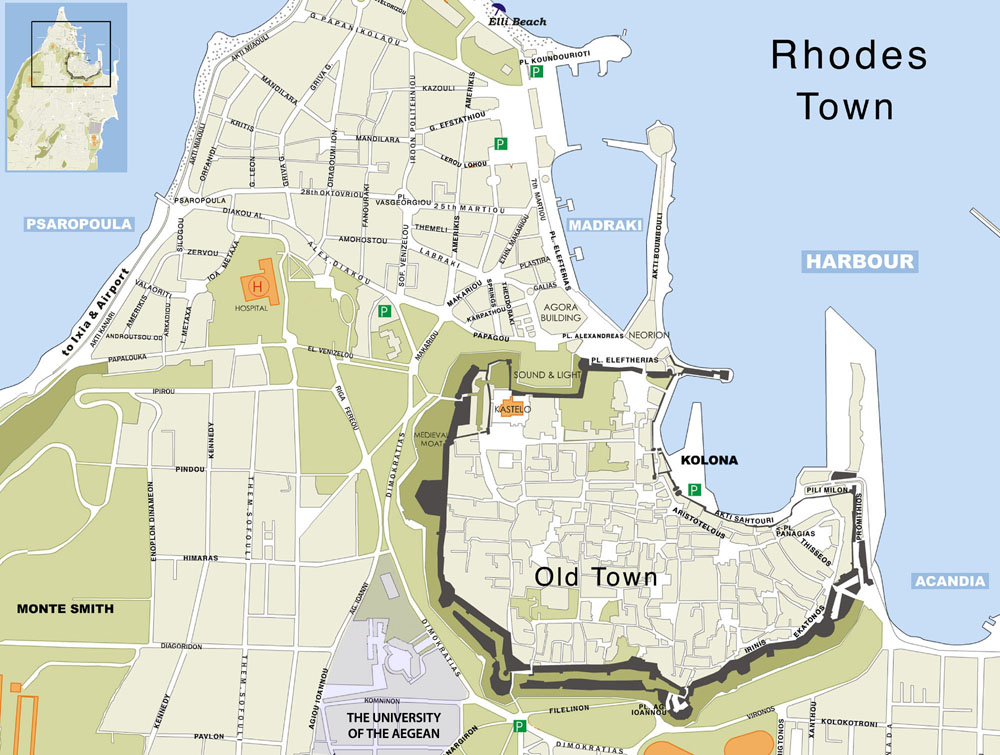 How to get to Rhodes
There are 2 main ways to get to Rhodes – by sea (ferries) or by air. Aegean Air (and its subsidiary Olympic Air) has flights from Athens and other cities in Greece, as well as direct flights from a number of cities in Europe.
Sky Express, a budget airline, has domestic flights within Greece and some international flights from Europe and Great Britain. Seasonal flights are also available from other European and British airlines.
A number of regular and charter airlines offer seasonal direct flights from Europe and Great Britain.
Blue Star Ferries has daily sailings Athens (Pireus) to Rhodes return with fares from $320 USD. The journey takes 15 – 19 hours depending on its schedule.
There are ferries from other points in Greece as well as Turkey.
Easy booking for ferries online from the following:
https://www.ferryscanner.com/en/ferry
https://www.isferry.com/
https://www.directferries.com/
https://www.ferryhopper.com/en/
What and Where to Eat in Rhodes
This is the place for the Mediterranean diet – fish, horta (Greek greens) fruits, more vegetables , olive oil, and of course, wine! Most tourists just enjoy the fresh local food, not worrying about health benefits. Hey! We're on holiday!
Meat and seafood as well as delicious desserts made with honey, nuts, herbs, cereals, olive oil and fruits are found everywhere. Some restaurants offer a free glass or Raki or Souma after the meal. This alcoholic digestive is traditional and made from the leftovers after pressing the grapes – skins, stems and seeds. It is allowed to ferment and presto! A nice digestive. Everyone knows the favourite alcohol of Greece – Ouzo.
There are too many restaurants to list here. We tried a number and are passing on our recommendations.
Old Town Restaurants
Romeo Old Town – live music and you can break plates here free. Opa!
Ta Petaladika – in the heart of Old Town
La Veranda – overlooks Hippocratus Square – touristy but good food
Eros Restaurant – by Evreon Martiron square
Fainos Restaurant – on Orfeos Street near St, Geoges Bastion
Mama Sophia's – also on Orfeos Street – great food – breakfast, lunch, dinner
Corner Bakery – had breakfast here often – great little spot – near the Saint Athanasosis Gate
Mevlana Shisha Bar – a real treat – Turkish coffee brewed traditionally – on Socratous street
Castello House Restaurant – very good reasonably priced food. We sat up top and people watched.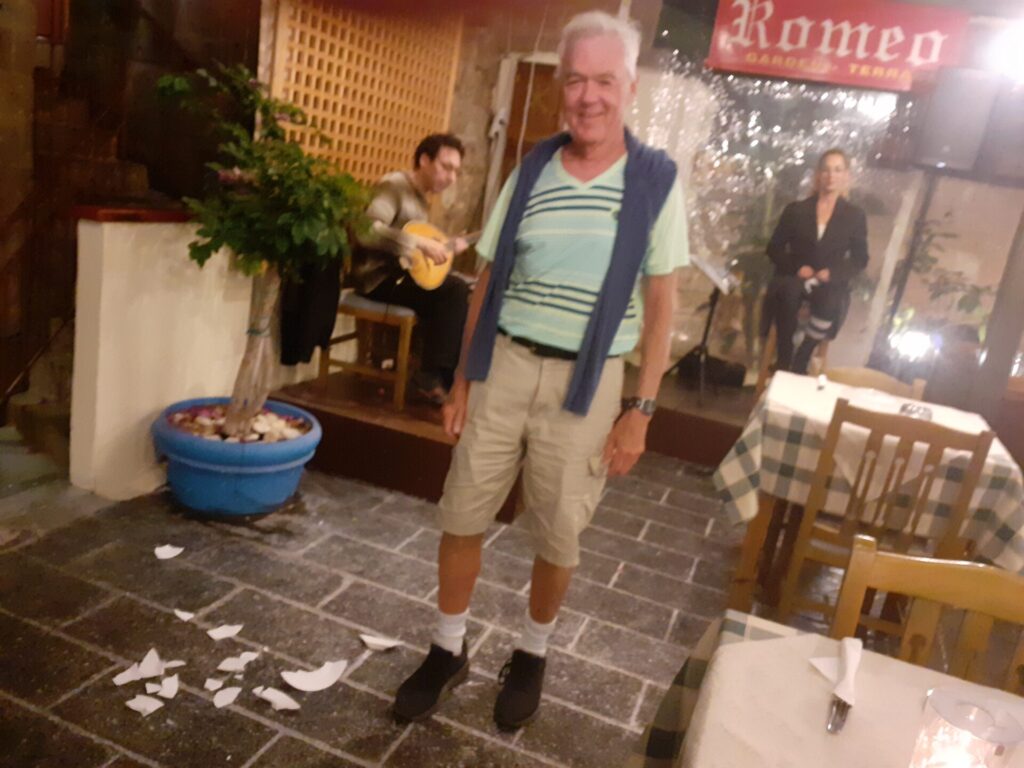 Outside the Walls Restaurants
Ta Marasia our favourite in Rhodes – chef owned/operated – always great local food Agiou Ioannou 155 –
near the intersection of Eth. Antistasis and Parthenopis; very close to Church of Saint John
Podromos
Leventis Pizza – just off Ethnikis Antistasis near Lemesou – owned by a Canadian-Greek – emigrated 25 years
ago
Taverna Tsambikos Rodos – truly local and authentic, very modest prices – meals come with a complimentary
glass of raki/souma.
Yannis Pub and Sports Bar – a lively bar by the beach from morning until the wee hours – only good reviews
Arhontiko restaurant, Lindos – wonderful restaurant- good food
Hermes Roof Garden restaurant – Lindos – great food, and a great view over Lindos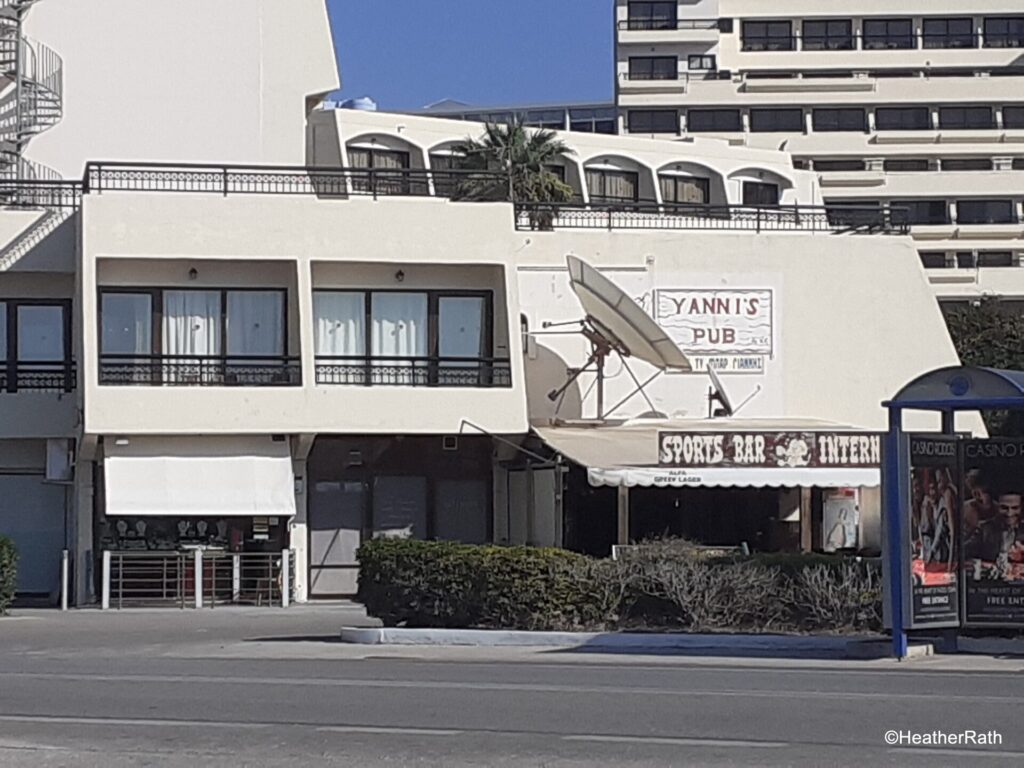 Where to Stay in/near Rhodes Old Town
Since Rhodes Old Town is such a great tourist destination there are many accommodation options – BnBs, hostels, Airbnb), hotels budget to luxury-boutique, apartments. Since we were staying for an extended time we chose Airbnb. We stayed at EcoStudio by Memnune in Rhodes. Memnune was a fantastic host and provided all our needs. Great location 15 min to the Old Town, 25 min to the beach, both by foot. Restaurants, coffee shops and large supermarket just steps. In a quiet local neighbourhood. Currently rented until the end of June, 2023.
Some of our hotel suggestions
Staying within the walls means fewer people at night and quick starts in the morning – all before the 'cruisers' arrive on scene.
Allegory Hotel – luxury hotel in Rhodes Old Town – steps to all the sights – just over $220/night incl breakfast
Evdokia Hotel – mid range hotel within the walls of the Old Town – $90/night
Minos Pension – budget within the walls – just over $50/night
Spirit of the Knights Boutique Hotel – within the walls $130/night includes breakfast
Semiramis City Hotel – between the Old Town and the beach – both walkable, $90/night incl breakfast
Hotel Hermes – easy walk to beach and Old Town – $50/night incl breakfast
Acandia Hotel – walkable to beach and Old Town – $90/night incl breakfast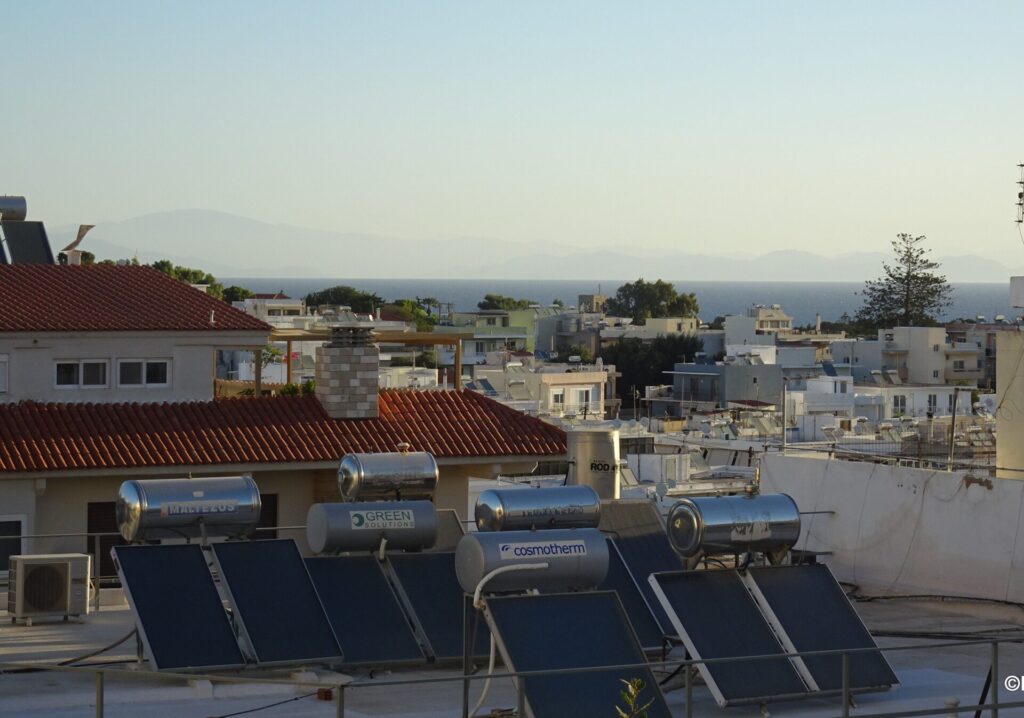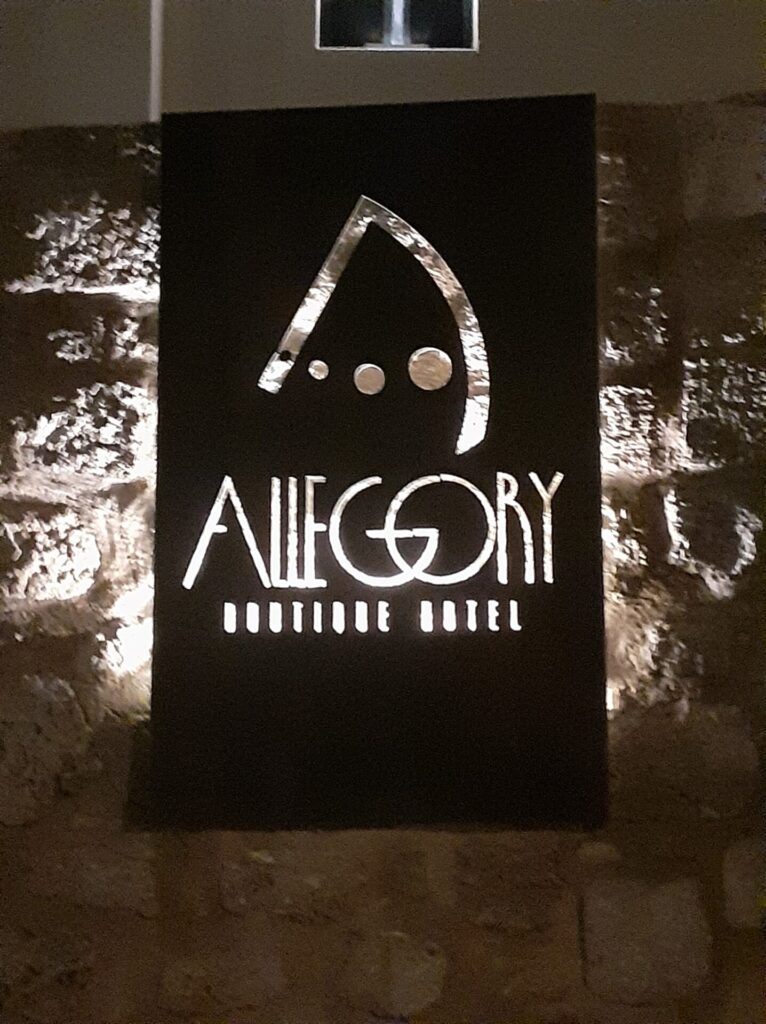 What to Buy in Rhodes
Rhodes has a very healthy agricultural industry so many local products make good purchases or souvenirs. Included are wine, olive oil, honey, ouzo, raki and souma, and herbs and spices. Jewelry, leather and artwork also make good purchases. Here are more details:
Greek Honey – flavourful and quite fragrant, depending on where the bees forage
Olive Oil – we think the best comes from Crete though you can buy it in Rhodes. Also there are olive wood
products – cheese boards, salad utensils, bowls – all reputed to last a lifetime
Herbs and Spices – Greek mountain tea is one of our favourites. Saffron is a great buy as is marjoram,
oregano and mountain mint.
Greek Sweets – made with cereals, honey, nuts, sesame, dried fruits. Everyone knows Baklava!
Spirits – wines, raki (made from the skins, stems and seeds left over from winemaking), brandy (Metaxa) and
of course, the anise-tasting ouzo. Many varieties are infused with aromatic local spices.
Leather Goods – sandals, belts and accessories, jackets, coats and other items of leather clothing.
Jewelry – gold and silver handmade items are readily available.
Mastiha – the fragrant sap from the mastic tree from the Greek island of Chios. The only place in the world
where it grows. It is proven to kill the bacteria h.pylori, the cause of peptic ulcers, gastric cancer,
and acid reflux. It also treats Crohn's disease and IBS.
Greek Pottery and Ceramics – much are made locally by artisans, Don't forget to pick up the Greek Evil Eye.
This 'mati' wards off evil thoughts or spells from others. Some think it brings peace and good luck.
TRAVELLER'S TIP – there is a street in Rhodes Old Town which carries only local products – upper section of Sokratous Street.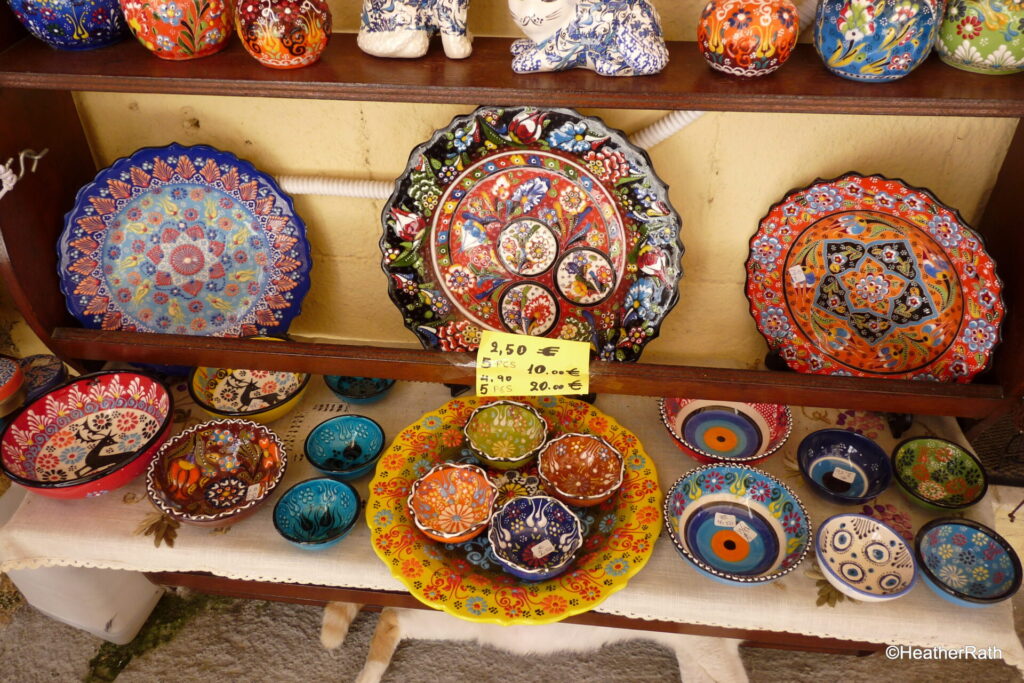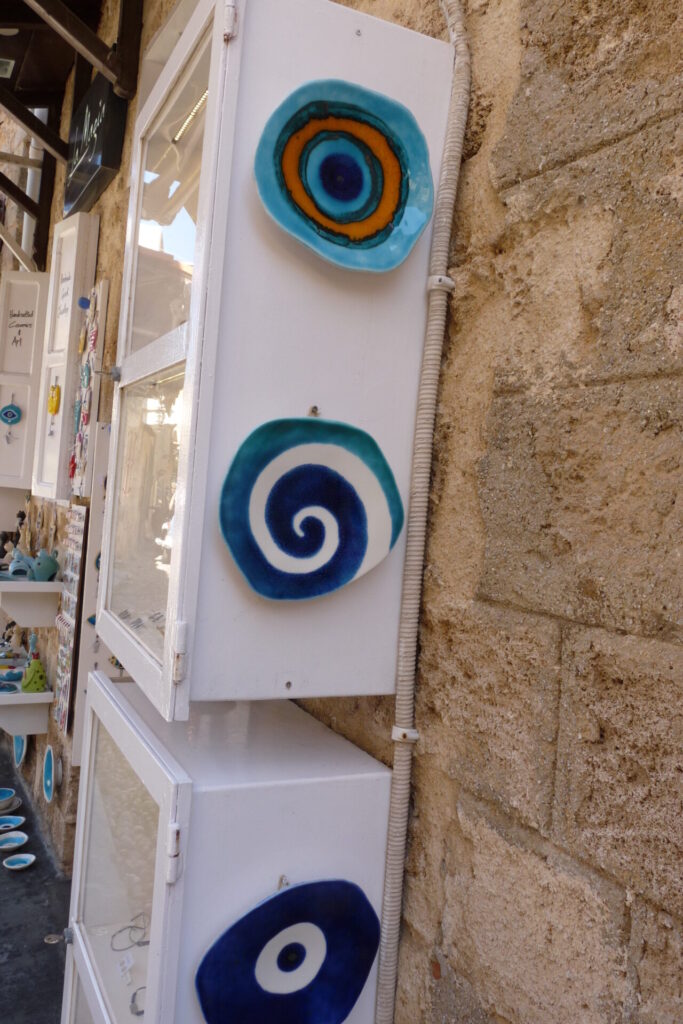 Wrapup
Stay for a few hours, a day or two, or longer. You will never run out of new things to see and do in Rhodes Old Town. Wander the 200 streets and alleys of the Old Town, some with no name. If you don't get lost a few times you are not normal.
It is all here – what to do, what to see, what and where to eat, where to stay, what to buy and more.
This guide is set out for you to see the important sites and some hidden spots. The prices are in USD and are up to date for 2023. This is one fantastic Medieval Town to be experienced.
Sights and Sounds of Rhodes Old Town
More Blogs from Greece
Read more of our blogs from Greece
Be a Guest Blogger
We welcome guest bloggers – contact us here with the tag 'blogger'.
Affiliate Links
This post may have affiliate links, which means we may receive a small commission (at no extra cost to you!) if you choose to purchase through them. Here's our privacy policy for more info.