Affiliate Links
This post may have affiliate links, which means we may receive a small commission (at no extra cost to you!) if you choose to purchase through them. Here's our privacy policy for more info.
The Good, The Bad, and The Ugly
An idyllic Mexican island that has banned cars? Not far from Cancún? Wow! Let's go now!
Wait a minute. If you're like we are: penny-wise world travelers, you need to visit Holbox (pronounced hole-bosh) with your eyes wide open.
And you should know this visit is our second-time around. Ten years ago, we stayed on Holbox. So let's be honest: a lot can change in that time. We have traveled the Yucatán on and off for almost 10 years. Time to fast forward to today and experience the island in the here and now.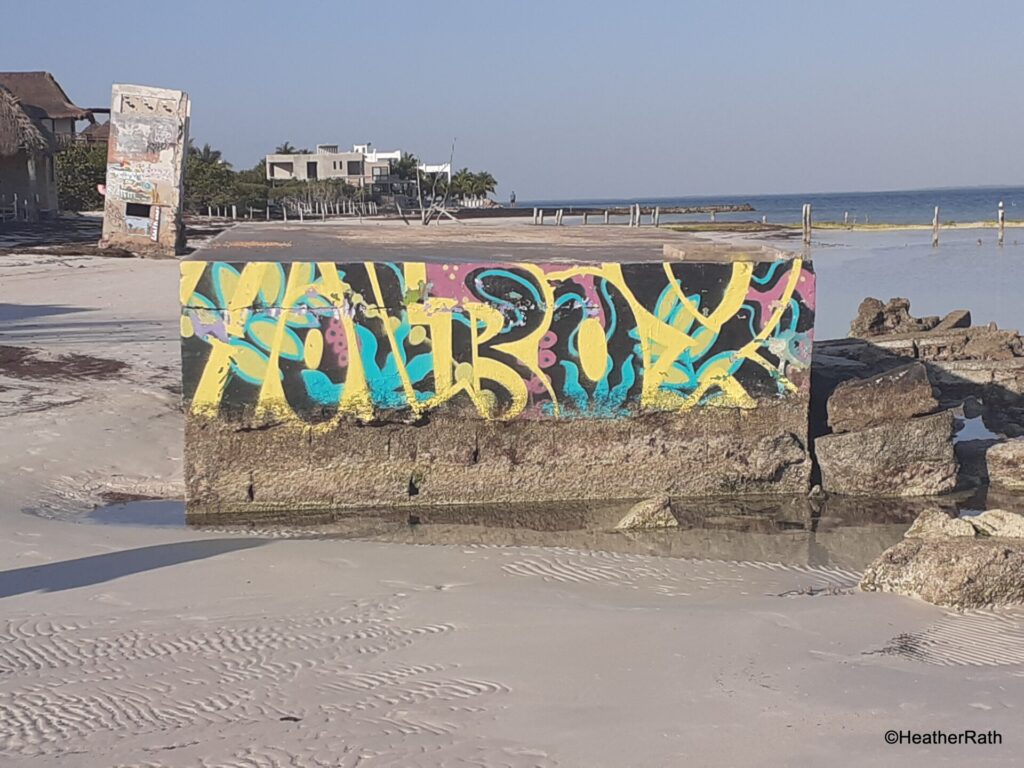 On Holbox – It's Not What You Think
You're here! Crowds. Dusty unpaved roads. Golf cart taxis lined along the street. On our second trip, we quickly realized that Holbox was no longer the quiet, out-of-the-way destination we remembered. Be prepared: tourism has hit Holbox!
That means uncontrolled growth, too much garbage, some sewage problems, and a change in the atmosphere. By that, we mean the mindset of some businesses and golf cart taxi-drivers who overcharge. That happens everywhere, right? But on Holbox, you expect a pristine vacation experience. Like we had on our first trip here a few years ago. Not.
Plus plus…there is an eco problem. Seems the island's promos talk the big talk about eco responsibility. Some businesses are diligent about that, but many are not.
17 Things to do in Holbox Mexico 2023
What adventures await….
You came to discover an unspoiled getaway. Right? As long as you accept that Holbox transportation is limited to golf carts which are noisy, then you can ignore the sandy roads and honking. Cars, except for the few local exceptions, have been banned.
So, the scene is set. Now let's explore…
1 – Swim with whale sharks or why we don't
Let's give credit where it's due. We were interested in swimming with the whale sharks. After all, that's what Holbox does advertise. Doing our homework, like visiting various watersports shops, we discovered a watersports/snorkelling venue that changed our minds completely.
Whale sharks are the largest shark (they are not whales!) and are vegetarian. They do not attack humans. Whale sharks are bigger than most whales but not as large as the Blue Whale.
The young tour guide we met at one of the Whale Shark tour companies provided us with all the information we needed to swim with the whale sharks. However, she added, "I will show you where they are with the boat, but I do not swim with them." Why? We asked with curiosity. "Because I do not want to disturb them. I feel it is wrong to intrude in their space."
Like wow! We did a double take. And then we absorbed what she said. If we are to be ecologically responsible, how can we be if we invade the space of these magnificent sea creatures?
You know what? We decided against the venture. We decided it is more important to give the whale sharks their space. And peace.
Book your whaleshark tour here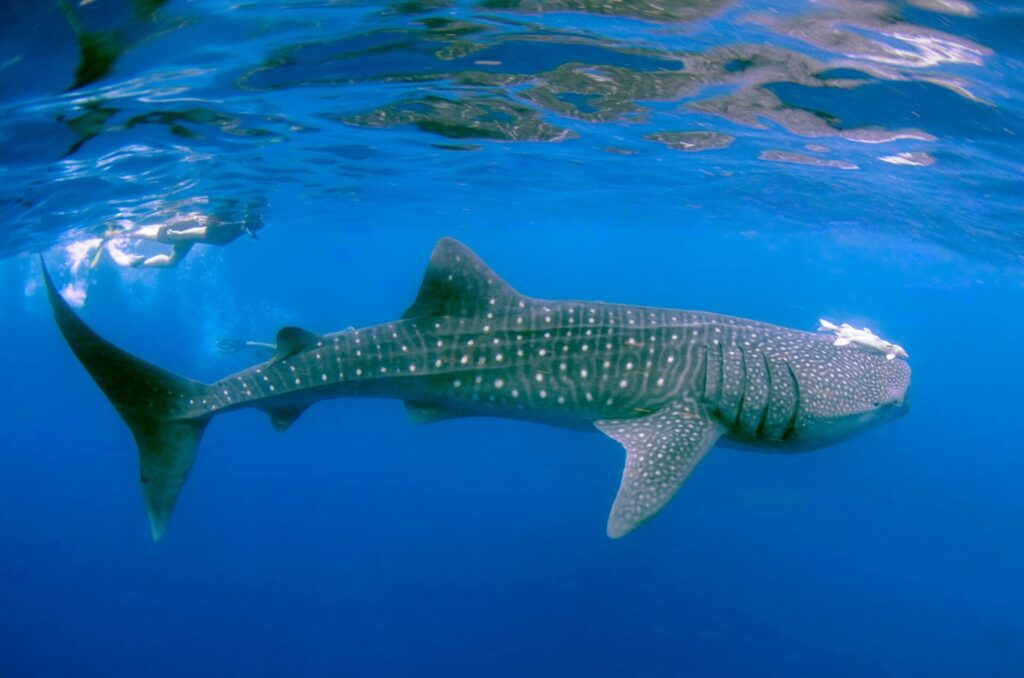 2 – Explore Holbox
Rent a bike or a golf cart or just hike. Holbox is a small island – 26 miles (42km) long by 0.9 mi (1.5km) wide. Not all the island has roads. Rent a golf cart ($15/2 hrs,$80 half day, $110-20 24 hrs). Rent a bike ($2/hr,$10-12/day)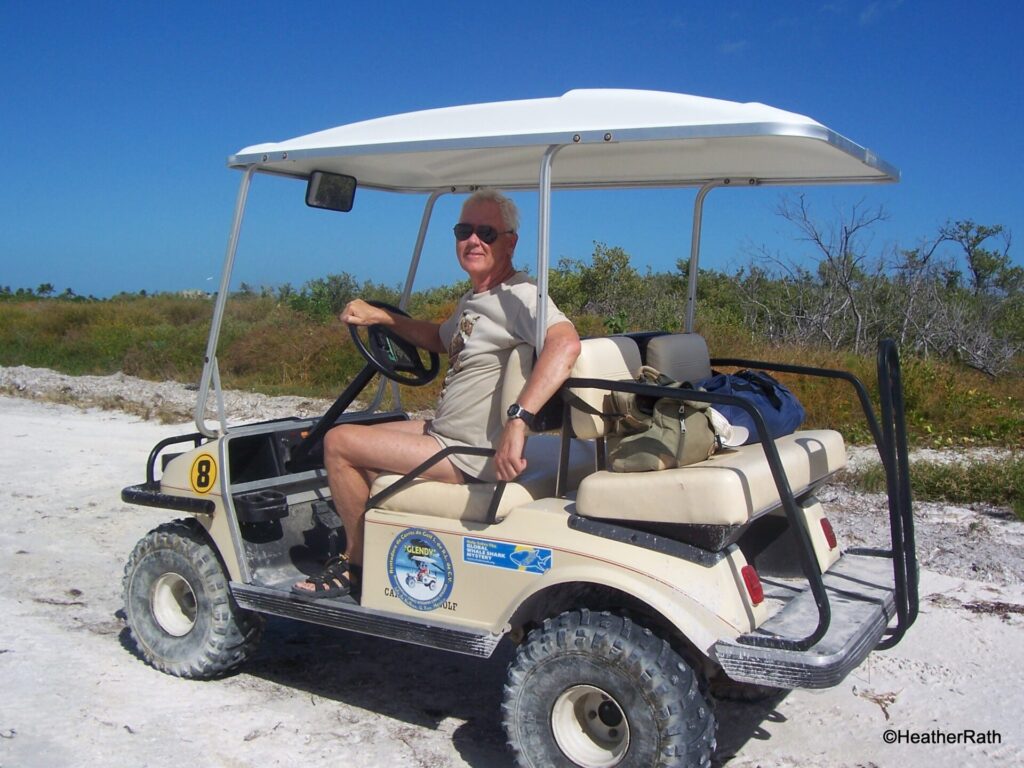 3 – Snorkelling/Scuba Diving
You are on an island surrounded by turquoise waters inhabited by colourful sea creatures. Do snorkel. Or dive.
There are several venues on the island vying for your attention (and money)! Choose one that suits your style, your budget and your timing. You won't be disappointed.
4 – Oh, the Beaches!
Yep…the beaches are super! Be a beach bum for a day or two or three.
But be forewarned. It's hot out there under the sun so be prepared with sunscreen, hats and umbrellas. What you don't need or want is a bad sunburn.
The east and western sides of the island are almost pristine and undeveloped. Punta Cocos on the west side is quiet while the noisiest, loudest and most active is the beach in Centro. This is Playa Holbox and extends east and west of Centro.
Go east and follow the sandbar to Playa Mosquito, just before Punta Mosquito. If you go to Punta Cocos or Playa Mosquito take water and snacks since there are no facilities.
And watch those skeeters! They can be everywhere but are most vicious as the day wanes and dusk approaches. The Holbox mosquito has an appetite all its own. And they don't make a buzzing sound. They just bite!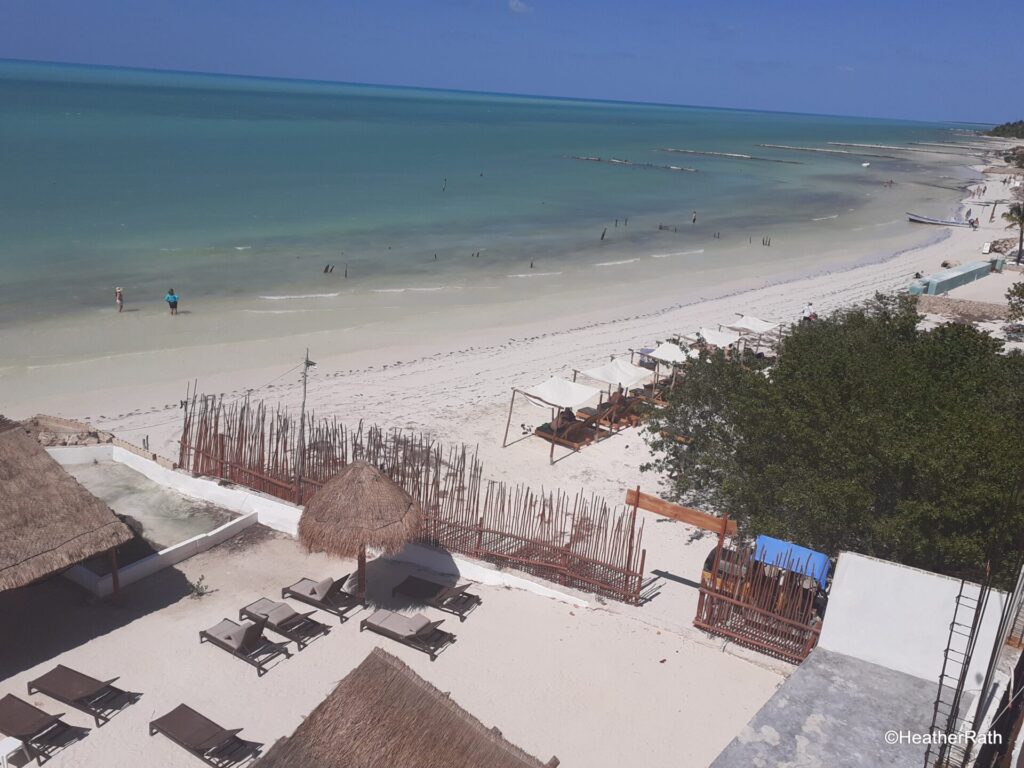 5 – ….and the Sandbar!
At the eastern end of Holbox is a sand bar created by the tide. That means it appears and disappears with the rhythm of the sea.
To find it, begin walking on the beach from town in the eastern direction. The sand bar begins around Las Hamacas, with the best part at Villas Flamingos.
6 – See Wildlife at Punta Mosquito
To reach Punta Mosquito along the sandbank, keep walking for about 45 to 60 minutes. When you see a narrow strip of beach with small boats anchored and a Do Not Pass sign, you'll know you're there.
Depending on the season, you could see stingrays, flamingos, coral fish and maybe, just maybe, a crocodile or two in the vicinity. Do not enter the posted area please – for your safety as well as for the protection of the wildlife and ecosystems.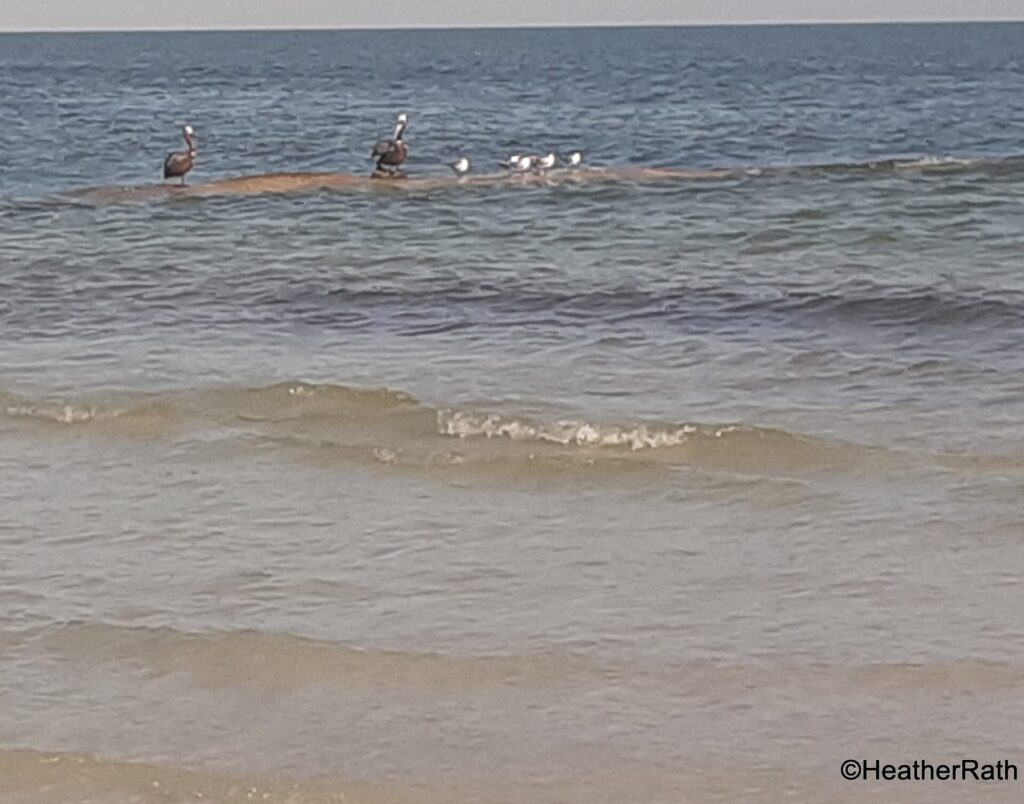 7 – Take a Boat Tour
Holbox is an island. Maybe you should consider taking a boat trip around the island.
One of the boat tours is a must: you visit three different spots in 3 hours: Yalahau, Isla de los Pajaros, and Isla Pasion. There are usually three daily departures: 9 a.m., 12:30 p.m. and 4:30 p.m.
Tickets are available at one of the many kiosks in town. Prices $35 pp and up.
Book your 3 island boat tour here
8 – Take in an awesome sight: bioluminescence
One of the most memorable activities in Holbox is to admire the bioluminescence at night. This natural light show happens when tiny plankton in the water give off light when they're disturbed. The best way to experience this phenomenon is by swimming or kayaking in the dark.
It is especially meaningful and exciting during a full moon!
You will need a guide who knows the best spots and times for viewing bioluminescence (usually when it's pitch black after 11 p.m.). Prices $40 pp and up.
Book your bioluminescence tour here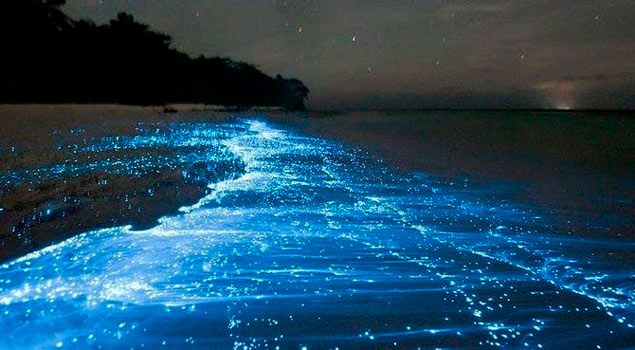 9 – Art Murals
One of the best surprises is in Centro. Walking around the many streets, peering into the many business establishments, guess what we came across?
Large murals of local faces painted along blank walls.
There is much talent and a story behind each mural, of course. But don't let us tell you about them, come and see these pieces of artwork for yourself!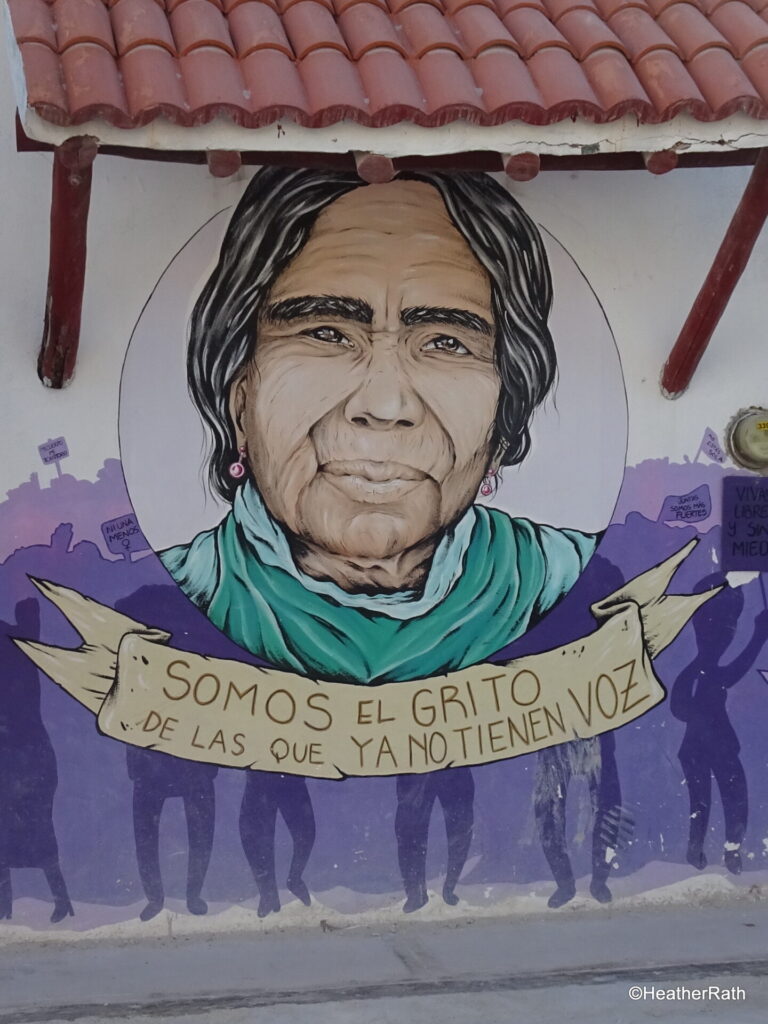 10 – Kayaking through the mangroves
A great way to spend an afternoon (or morning for early risers) is to kayak in the mangroves – see birds and maybe even a crocodile – don't dangle your fingers in the water! Great exercise after a night of partying.
It is best to take a tour with a guide. Prices $50 and up
Book your kayaking tour here
11 – Birdwatching
When you take a boat tour one stop will be at Isla Pajaros (aka Bird Island). This is the home of 1000s of marine birds. It is not possible to walk on the island in order to protect the fragile ecosystem. However, there is a viewing platform and walkway available. Good birdwatching is also available at the Punta Mosquito protective reserve.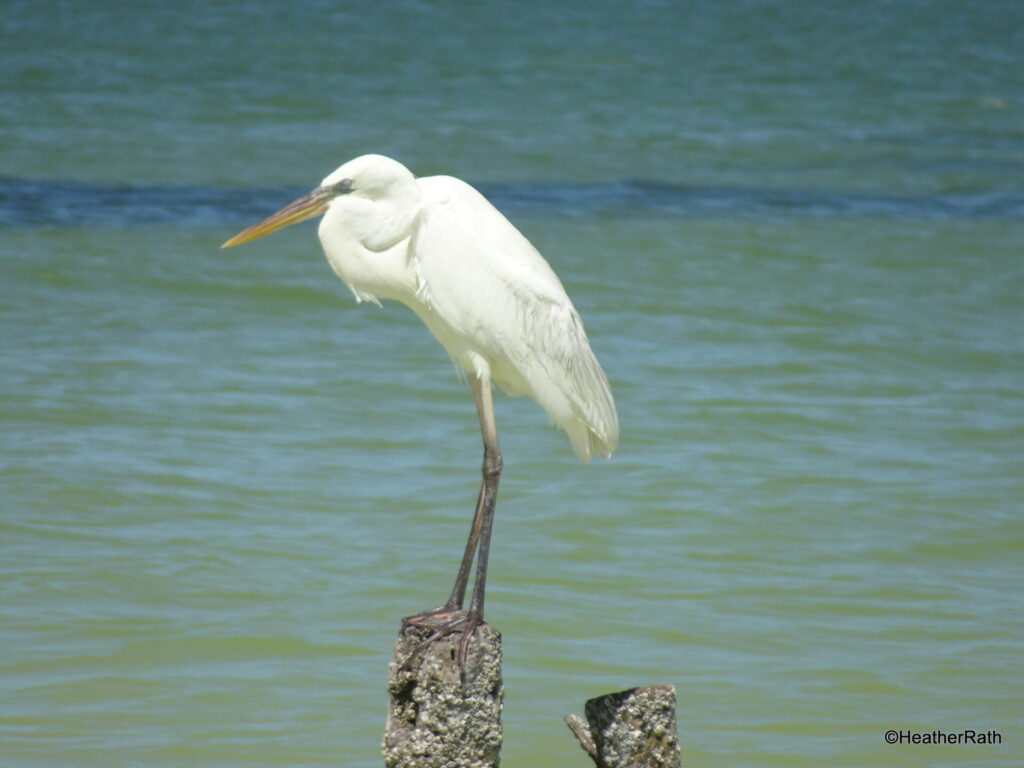 12 – Fishing
Of course fishing is available. Catch can include big tarpon, baby tarpon, snook, barracuda, cobia, and sea trout. Fly fishing from flats style pangas. All fishing is close to shore in the many deserted mangrove lined lagoons and vast island flats.
Tarpon are available all year but the trophy sized tarpon are best fished May to September. Use a guide for best results. Catch and release only!
13 – Chill out for a day at a beach club
There are several beach clubs on the island. All provide beach chairs and have restaurants and beach bars. Usually a beach chair is free provided you spend a little ($15 +) at the bar – you are going to do that anyway.
Some beach clubs/bars we like are:
El Valero Beach Club
Hotel Punta Caliza
Restaurant Bar Zomay
14 – Kite Surf
This is one of the best places to kite surf in Mexico since there is always a breeze, even wind.
Go to the eastern end on the island (near the sand bar). Equipment to rent, lessons for learners and kite surfers of all ages and abilities. Once you get the hang of it you will enjoy it immensely.
Equipment rentals (total package) $90 and up for 3 hours.
Book your kite surfing lessons here
15 – Shopping
What's a visit anywhere without bringing home a souvenir or two?
Many unique shops await your arrival. There are food shops, art shops, clothing shops, bric n brac shops…all waiting for you to explore. Because of its island setting, there are unique items for sale. Take your time. Barter. Go away and return. A special purchase is sometimes the best way to keep a bit of island magic with you.
Don't miss the night market!
16 – See the sunset
How many places have you been where the sunset is a "must see"? Well Isla Holbox is another, really! Get a spot on Holbox beach, grab a drink and enjoy. BTW, take some repellent for the mosquitos.
17 – Try paddle boarding
This is an ideal location to try paddle boarding – the ocean lagoons are flat and shallow for a lesson or two. Then the experience exploring the shoreline is worth it. $40 and up.
Book your paddle boarding lesson here
How to get to Holbox Mexico
You have choices:
-fly via small plane
-travel by car or public bus to Chiquilá port. Then take the ferry to Holbox.
It all depends on how much you want to spend.
Where is it?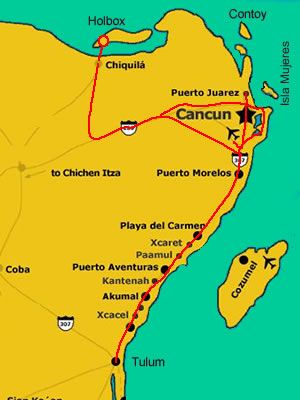 By Plane
The island's airport is small so flying in by private plane is an option. Only it's expensive! Like, about 575 USD one way from the Cancún airport. You can also fly from Playa del Carmen, Tulum, Cozumel, and Mérida. Flight
time is about 40 minutes. Aerosaab has been flying around the Yucatán since 1993.
Plane for 1 to 3 people
From Cancun cost $575 dollars
Flight Costs per Airplane for 4 to 5 people
Cancún $ 1,165 USD
Playa del Carmen $ 945 USD Cozumel $1,130 USD
Plus Airport Tax per Person
You can check out the latest info from another company, Flights Holbox, here.
By Bus
The most popular and safe public busline is Mexico's well-known ADO line. Very comfortable. Very reasonable pricing. Check out these websites for full particulars – schedules and costs:
https://www.ado.com.mx/ (Spanish only)
https://www.busbud.com/en-ca/bus-company/ado best for tickets (in English)
Vans and Collectivos are about the same price as ADO but not nearly as comfortable, though they do run more often.
By Car
You can rent a car, of course. Which is what we did. Parking at Chiquilá is readily available, safe and moderately priced. We can recommend 2 Hermanos at 100p/day ($6) safe and convenient – last lot on the left.
With your own car you will arrive at least 30-60 min sooner than the bus and not worry about schedules or pickup/dropoff points. We can recommend America Car rentals from Merida or Cancún at $60/day including insurance. Budget is another good choice.
Taxis from Cancún are $120-$160. A taxi service we can recommend in Cancún is Taxi Cancún Don Julián Martín (whatsapp 52 998 396 7354). English spoken. Tell them Mr Norman sent you.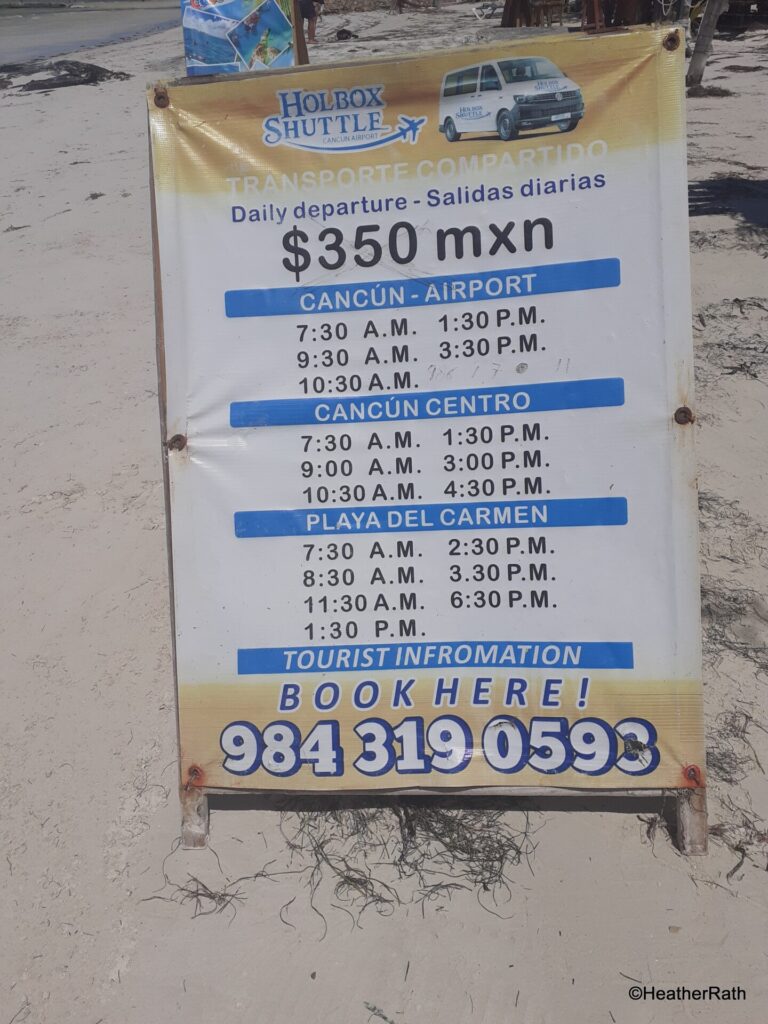 Ferry to Holbox
When you come by land (car, shuttle or bus), you must take a ferry from the town of Chiquilá to Holbox.
There are two ferries to Holbox.
A 20-25 minute ride is all it takes. Ferry schedules and prices
The two ferry companies are Holbox Express Ferry and 9 Brothers Ferry; both charge the same price. You'll get the same service. They just operate on different schedules. The boat ride is super smooth, We have never seen a tourist get seasick.
One leaves on the hour and the other on the half hour so if you miss one, you don't have long to wait. They begin at 5 a.m. with the last one departing 8:30 p.m. Schedule is subject to change due to weather conditions.
Fares are – Adults 220 p $13 – same for return
What to know about Holbox Mexico
don't drink the tap water – bottled water is readily available

ATMs only 1 on the island, calle Tiburon Ballena at calle Porfirio Diaz. It is often devoid of cash – don't count on it. We have heard (but haven't seen) an ATM in the Police Station on calle Alcaldia.

Take a taxi – golf carts or 4 wheeler ATV – 50-150p by zone ($5 – $10). Taxis always waiting at the ferry. They are regulated but ask the fare before you engage.

Power/electricity: occasional interruptions.

Tap water supply also occasional interruptions.

Mobile phones – use Telcel SIM if you can

Wifi is spotty

Credit cards – many shops, bars and restaurants accept only cash so bring lots. Credit cards are accepted at a growing number of places but not yet wide spread. Most expensive restaurants will take credit cards as will many non budget hotels.

If you are driving to Chiquilá, stop on the way to the ferry at La Macarena Supermercado to stock up on beer, wine and alcohol as well as snacks. Much cheaper here than on the island.

Sun and bugs – take items to deal with these things. Holbox is known for its mosquitoes, so don't forget to bring some repellent. The sun can be hot – isn't this what you came for?

Sargassum – During certain seasons, Sargassum rears its ugly head in Mexico usually May to October. Sargassum is a genus of large brown seaweed (a type of algae) that floats in island-like masses and never attaches to the seafloor. Usually Holbox escapes the heavy Sargassum common on the Caribbean beaches of Cancún and the Mayan Riviera.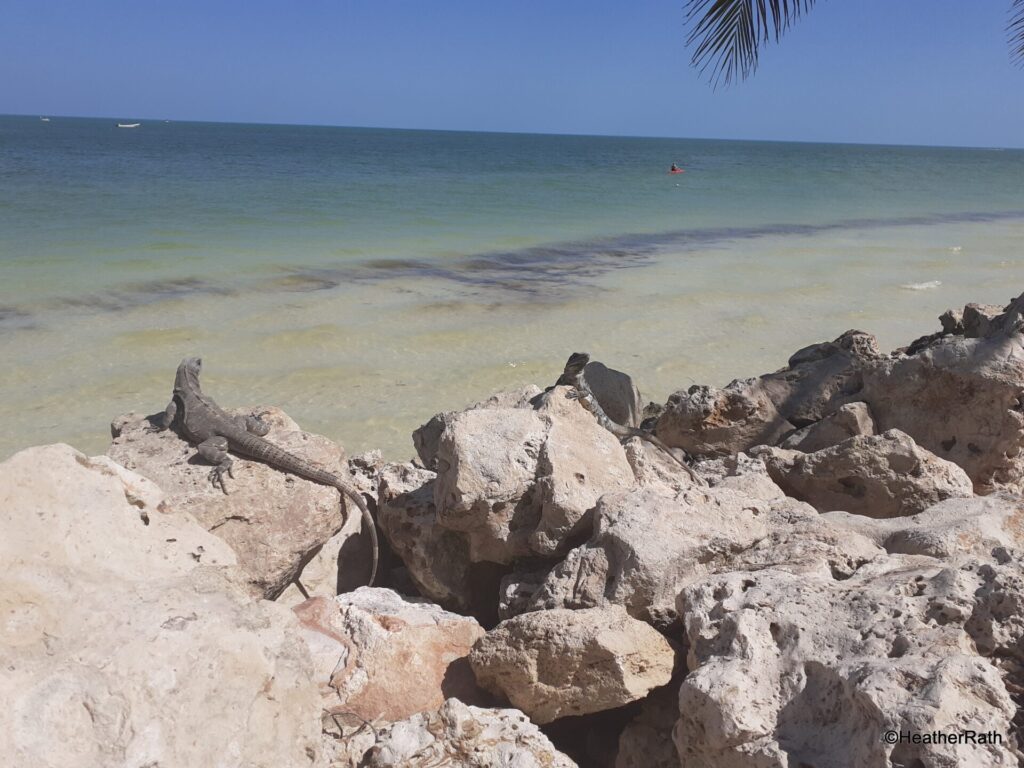 Weather on Holbox
On Holbox there is a tropical savannah climate. This means that with high humidity it has very warm temperatures between 81°F and 91°F all year round during the day and rarely cools down below 68 degrees at night. Best time to go to Holbox is Dec – April – rainy season is June – Oct
Is Holbox safe?
Is it safe – yes – it is an island: where can criminals go without being seen? Where there are tourists there are always petty crimes – pickpockets, bags stolen at the beach and so on. Just take normal precautions as you would back home.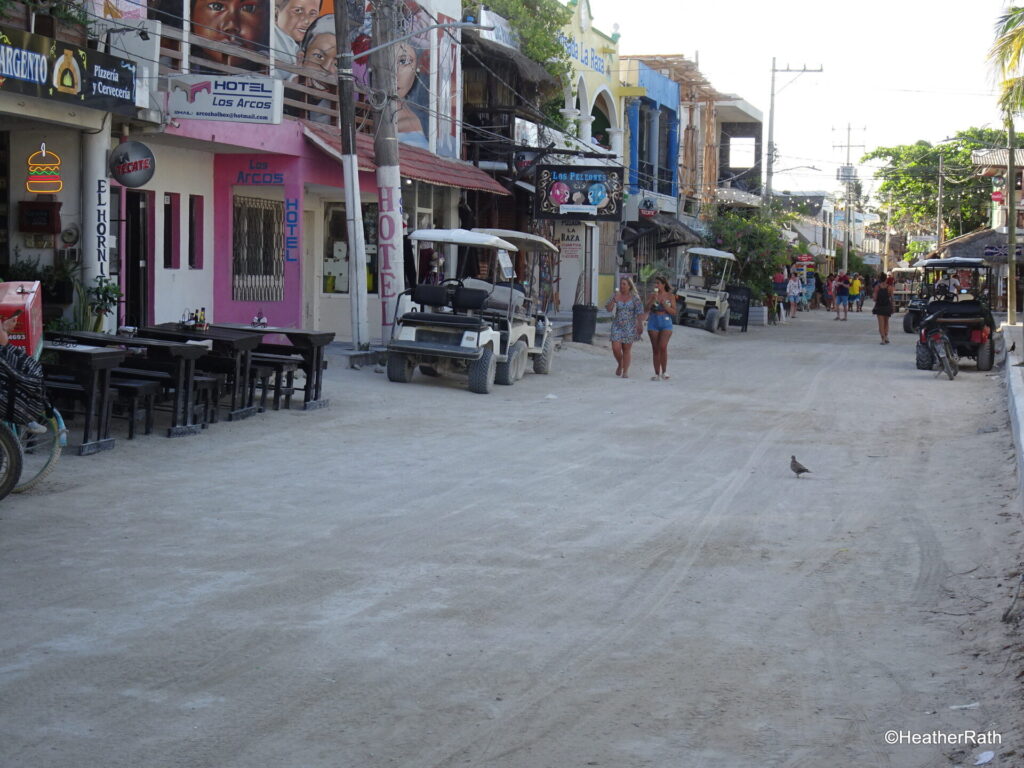 Finally… is it worth it?
Is Holbox worth the time and trouble to get there?
Well, we've given you the lowdown, both good and bad. It's a balancing act.
But if we had to do it all over again, we would! The positives outweigh the negatives.
Map of Holbox Mexico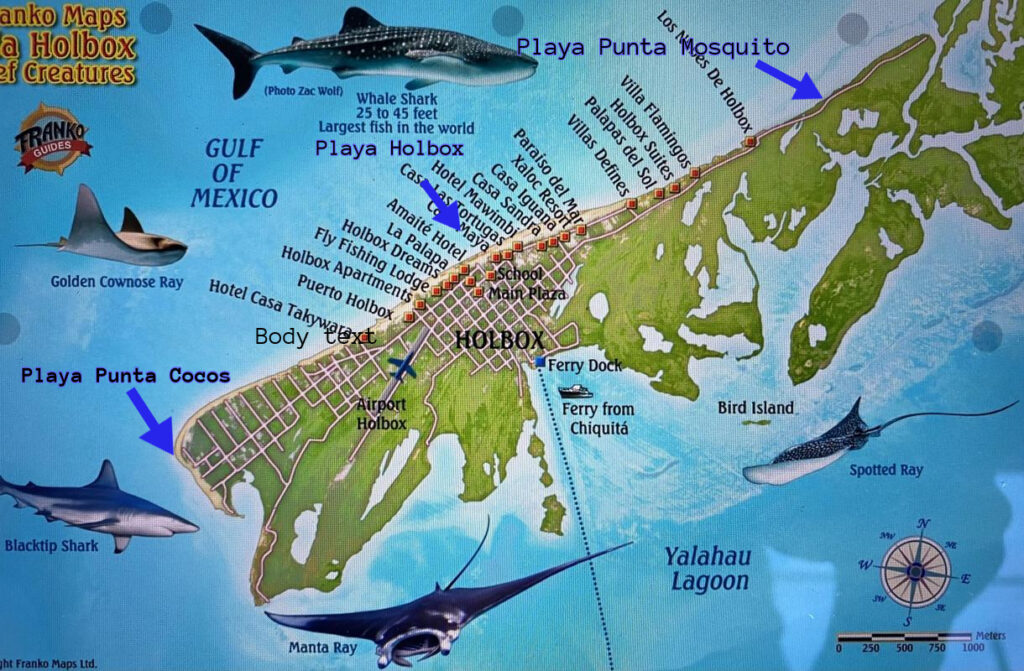 Where to stay
We can recommend 2 places where we have stayed:
Hotel Holbox Dream on the beach in a quiet area. A bit pricey at $315/night but very comfortable, clean, sea view from most rooms and a delightful pool overlooking the beach.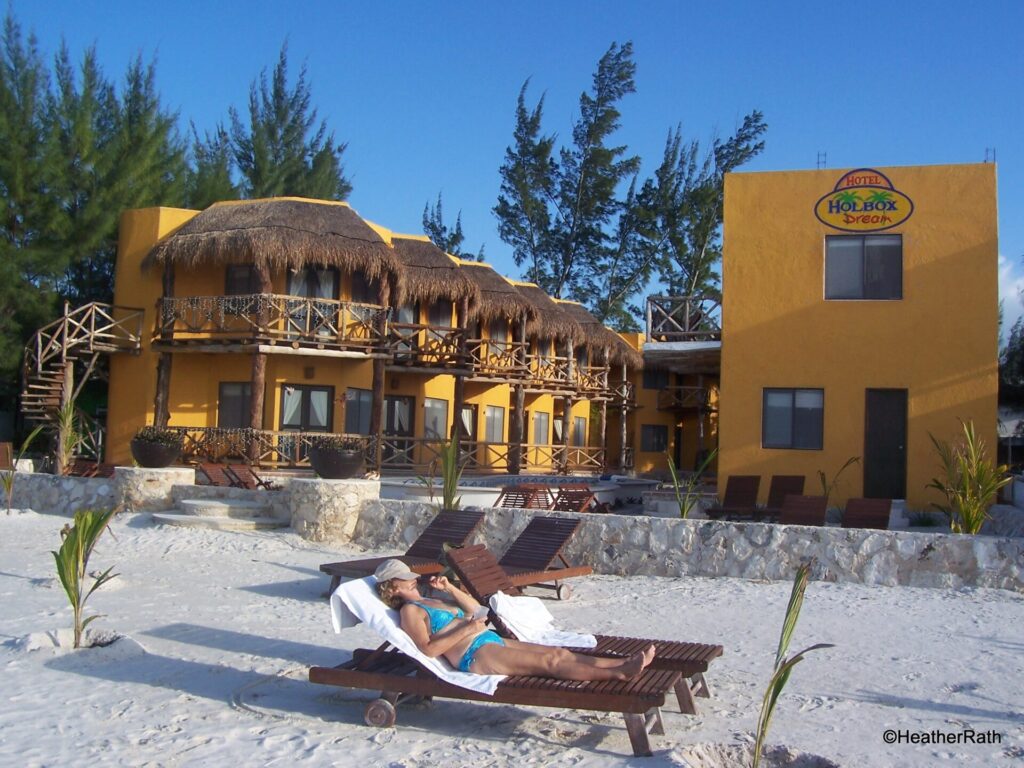 Soho Holbox Boutique Hotel and Spa – just steps from the beach, adults only hotel with pool and spa. Good for a romantic getaway. From $143/night.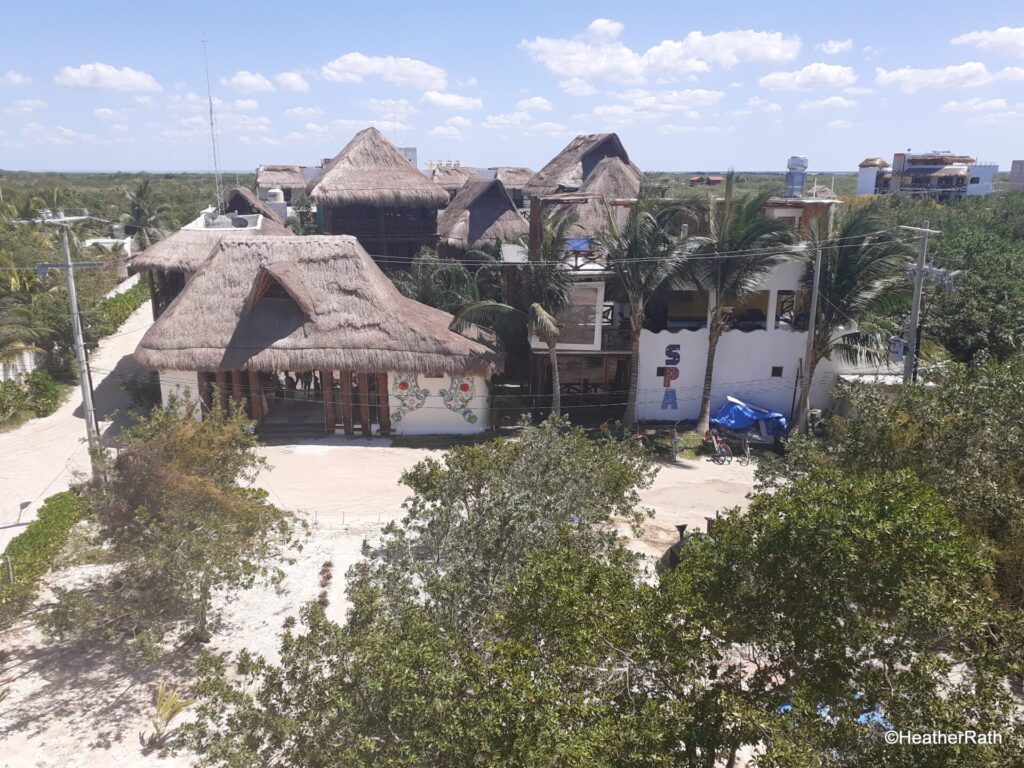 There are many choices of accommodation on the island – from camping to luxury all inclusive hotels, whatever your budget.
Book places to stay here
What to eat
Seafood, seafood, and more seafood! Since Holbox is an island, it's no surprise that the seafood here is amazing. In fact, seafood is so popular that there are more seafood restaurants than anything else on the island.
Some of the dishes to try are:
Pescado a la Talla: Fish grilled with garlic, onions, and cilantro. This is the most popular dish on the island and can be found at pretty much every restaurant.
Pescado Tikin-Xic: Fish marinated in achiote (annatto seeds), sour orange, and spices then wrapped in banana leaves and grilled.
Ceviche: Fresh seafood marinated in lime juice, onions, and cilantro.

Lobster Pizza: Holbox is well known for its tasty lobster pizza
Arroz a la Tumbada: A seafood rice dish made with shrimp, squid, fish, and vegetables.
Conchas negras: Grilled squid served with garlic sauce
Where to eat
There are many restaurants and cuisines on this small island – you are never far from food and drink.
Some of our favourites are:
La Cabane Restaurante – breakfast, lunch, dinner; moderately priced; accepts credit cards
La Tapatia – cheap eats; mostly Mexican; lively
Roots Pizza a la Lena – Holbox is well known for its lobster pizza, this is one of the best but not the cheapest
El Crustaceo kascarudo Holbox – seafood, Mexican, pizza; moderately priced
La Chingada Ceviches – seafood, Mexican; great ceviche, shrimp tacos and more
Rooftop Restaurant at Spirit Holbox Hotel – poolside with beach view – good for lunch and a free swim
Casa Alebrije – Mexican, Caribbean – we never miss this when we visit – used to be La Isla del Colibri
El Limoncito – Mexican, Latin; good for budget breakfast
El Cocal – good for breakfast then late for fresh seafood, moderate prices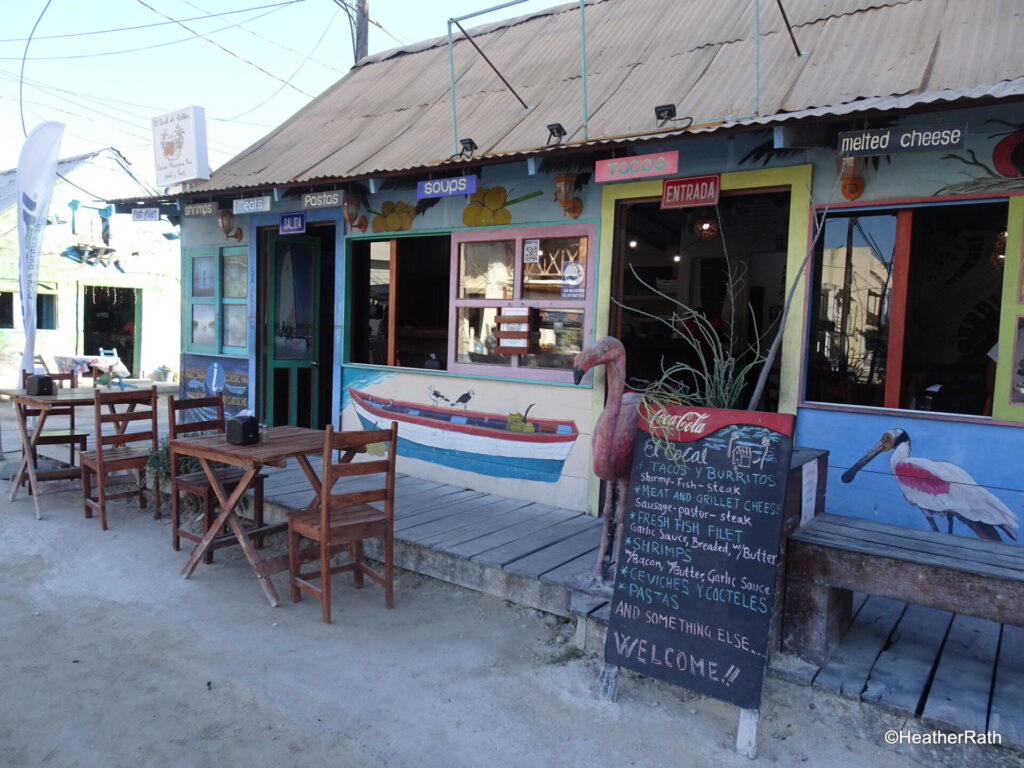 Sights of Holbox
More blogs from Mexico
Read more of our blogs from Mexico
Be a guest blogger
We welcome guest bloggers – contact us here with the tag 'blogger'.