Is Chichen Itza Worth It ? Reality Check 2022
This post may have affiliate links, which means we may receive a small commission (at no extra cost to you!) if you choose to purchase through them. For more information go to our Privacy Policy
Chichen Itza
Chichen Itza is a UNESCO World Heritage Site in Mexico's Yucatán Peninsula. It was elevated to one of the 'New Seven Wonders of the World' in 2007. During your visit, be prepared to experience towering temples, sacred cenotes, and fascinating Maya ballcourts.
Plus get ready for crowds, hot sun without shade, and lots of walking!
Is Chichen Itza worth it – read on and decide
The name, Chichen in Maya translates as "The city at the mouth of the well of the Itza". The well refers to one of the nearby cenote water holes.
"Itzá is the name of an ethnic-lineage group that gained political and economic dominance of the northern peninsula. One possible translation for Itza is "enchantment of the water".
Despite the hype, is Chichen Itza worth it?
Let's find out if a visit is worth your time and money.
First, let's review the most popular archeological reasons to explore the site:
1. Temple of Kukulkán or El Castillo (as named by Spanish Conquistadores)
This impressive pyramid dominates Chichén Itzá's landscape, standing an imposing 24 meters high. No, since 2006, you cannot climb it after a woman tourist died after tumbling to her death on her descent. So since you can't climb the temple is Chichen Itza worth it?
This ancient Temple of Kukulkan, dedicated to its namesake—the feathered serpent god K'uk'ulkan, or Quetzalcoatl—has slowly revealed its secrets for over a century.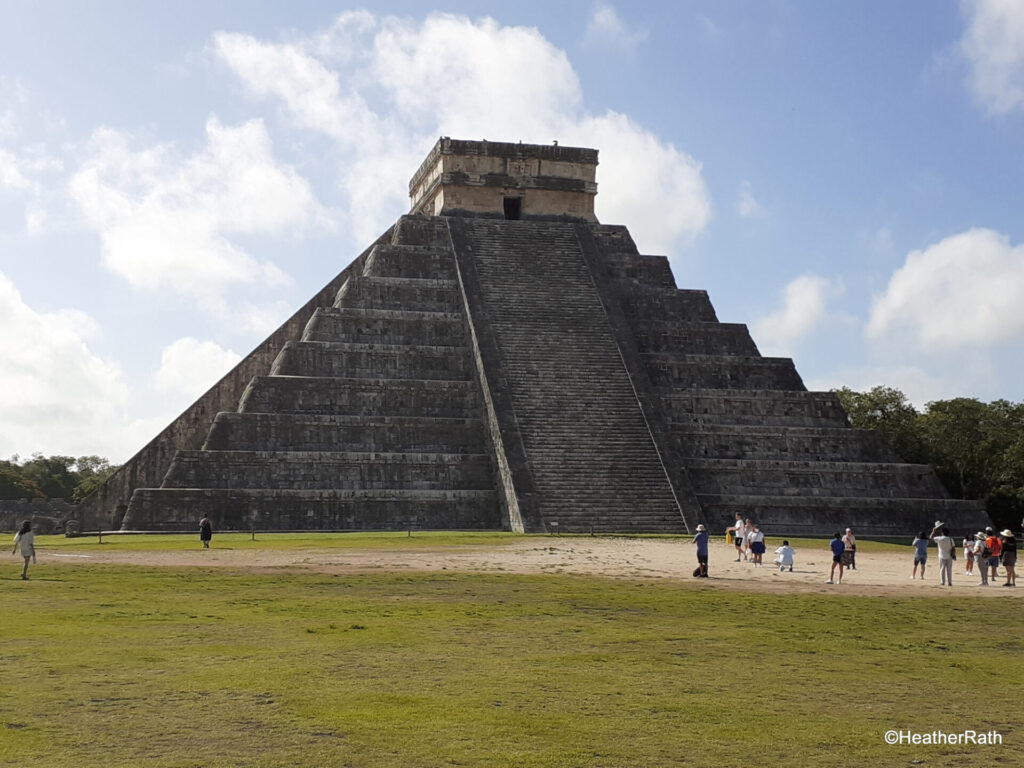 During excavations in the 1930s, a second hidden pyramid, containing an embellished red jaguar-shaped throne, was discovered inside the structure. And in 2015, a large underground cavern, or "cenote," was uncovered that led to a subterranean river system beneath Kukulkan.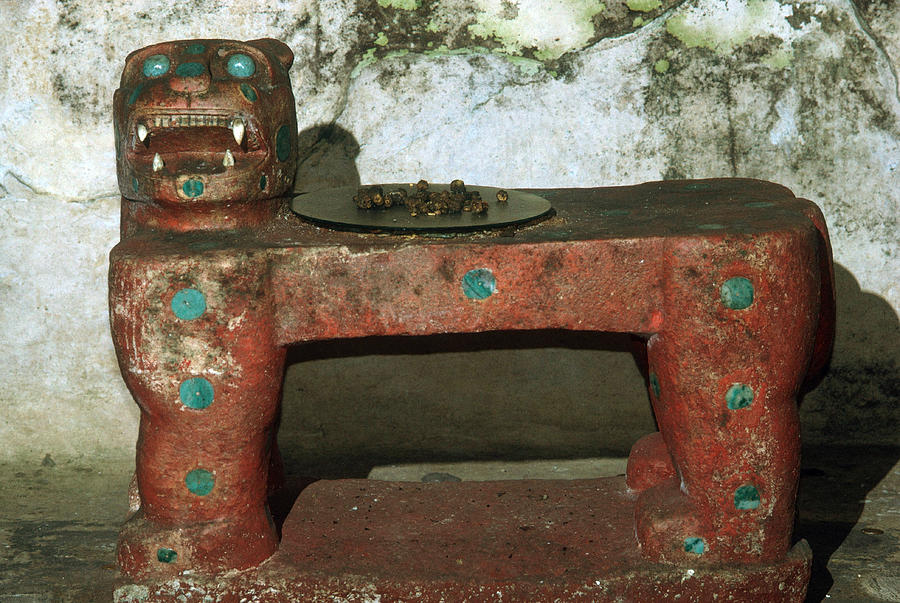 A year later, archaeologists believed they had found the temple's original structure. Another smaller pyramid "encapsulated underneath the visible temple" that was built somewhere between 500 and 800 CE. An American anthropology professor described Kukulkan's layout to that of a Russian nesting doll, with several smaller compartments "rattling around inside the same shell."
2. Temple of the Warriors
This is another important structure at Chichen Itza. It stands 40 feet high and 133 feet wide. The central temple shows bas-reliefs of warriors, eagles and jaguars devouring human hearts. A carving of Chaac Mool (a place for sacrificial offerings for the gods) is visible atop the temple.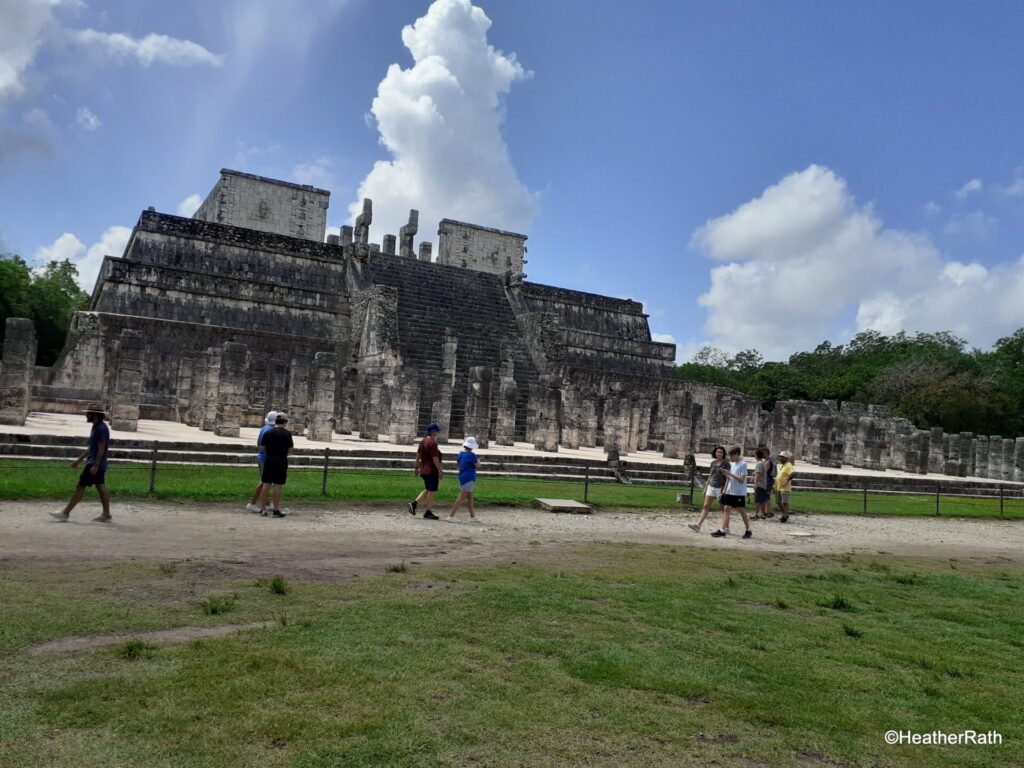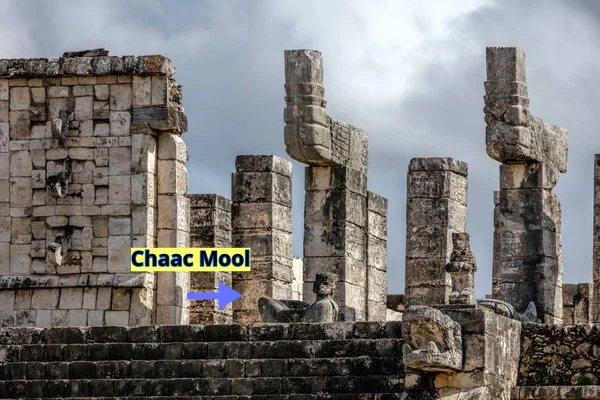 3. Sacred Cenote
This natural well, spanning 60 meters in diameter and reaching a depth of 22 meters, was used by the Maya as a sacrificial cenote.
No, you cannot enter this sacred cenote (Cenote Sagrado).
But yes, you can swim in one of the many other cenotes in the area. We recommend a couple–from over 20–within an easy drive: Cenote Oxman and Cenote Zaci, both located in and around Valladolid.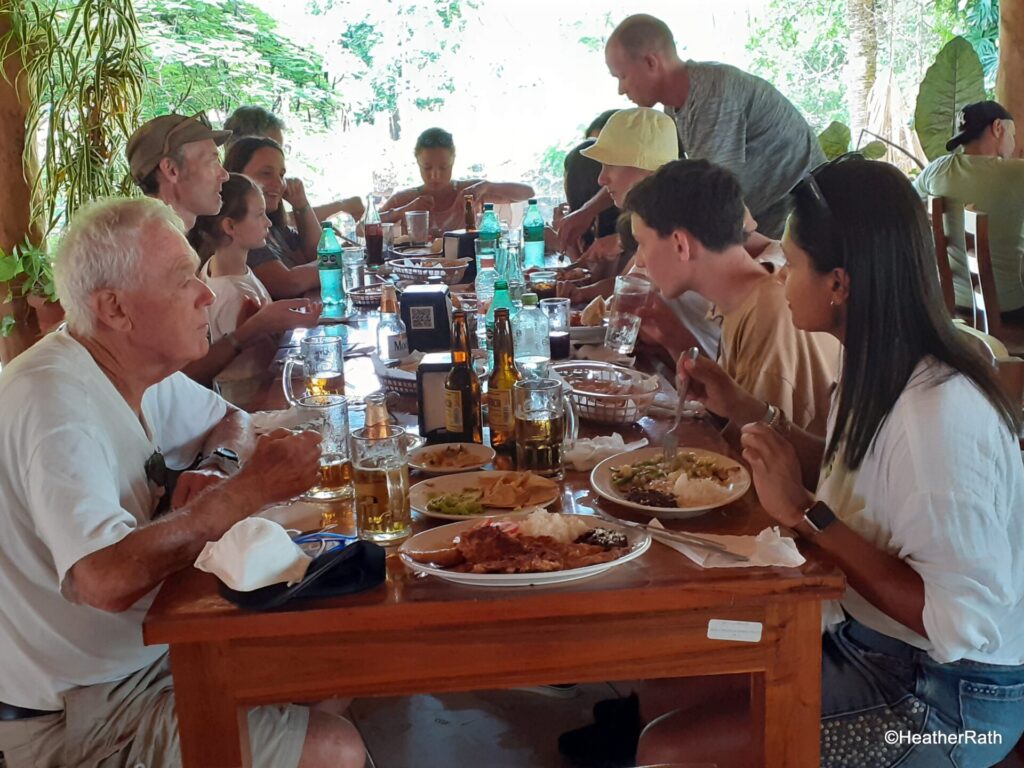 Cenote Zaci and with its adjacent local traditional restaurant.
Is Chichen Itza worth it – swim in a cenote and cool off!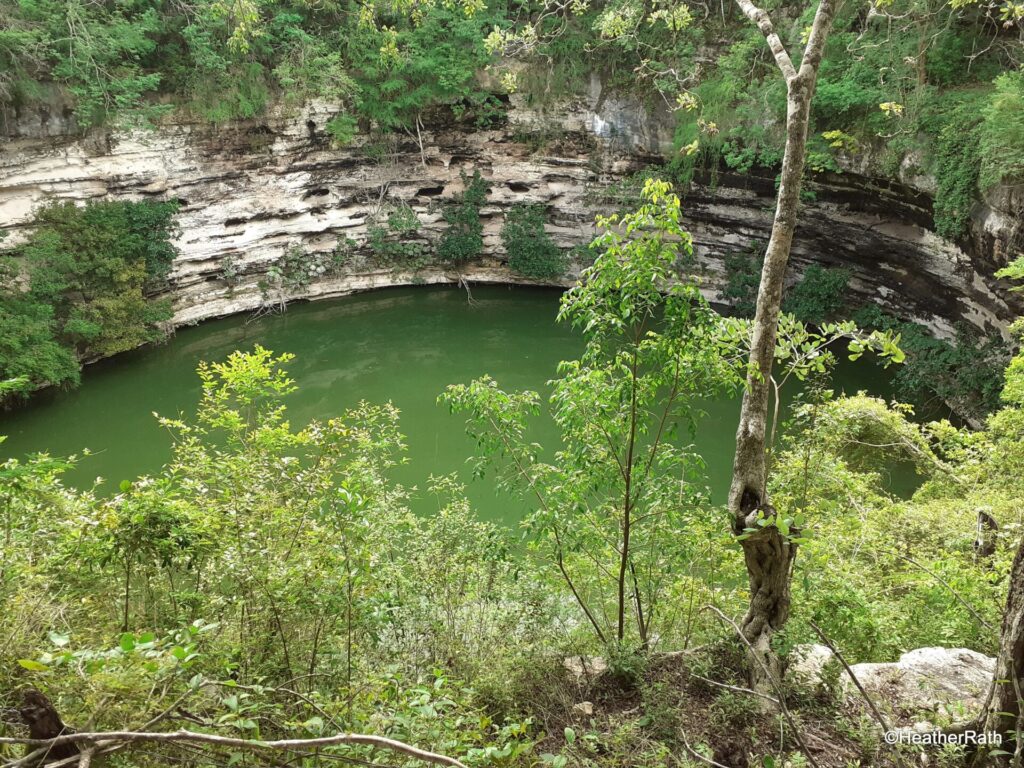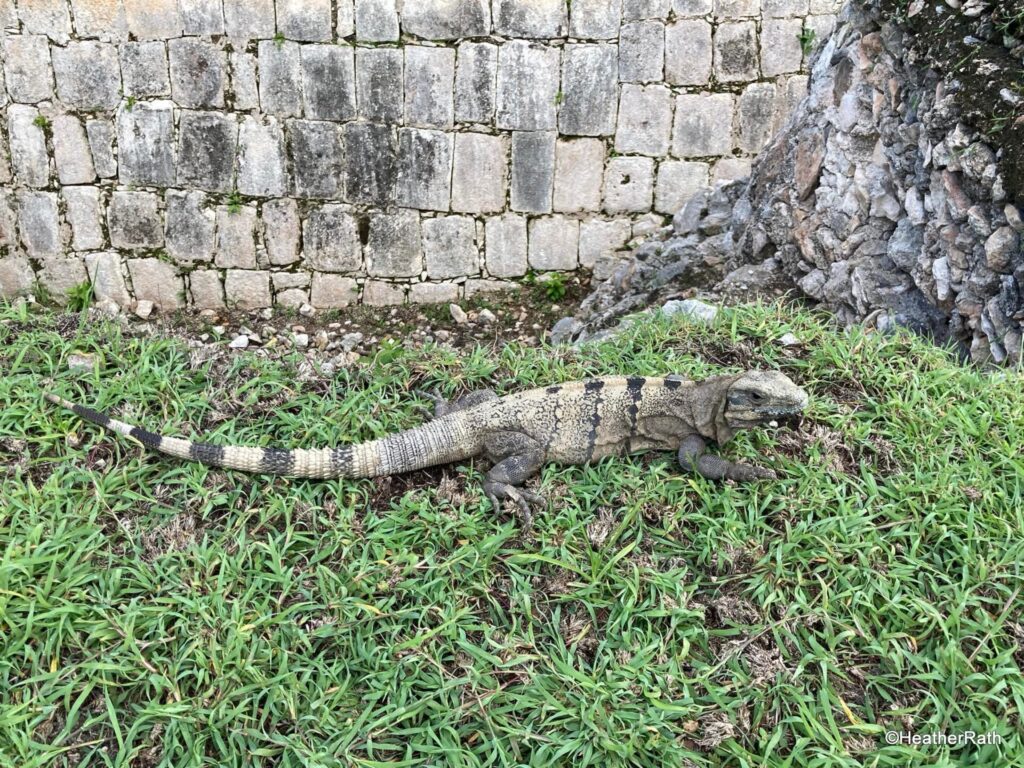 Common in most of the Maya ruins are iguanas and Toh birds (photos by Perry Rath)
4. The Great Ball Court
The Great Ball Court at Chichen Itza is one of the largest in the Maya world. Today, its ruins still feature hoops and sacrificial inscriptions that give some idea of the epic game played here.
Worthwhile to know: the winner of these games was decapitated, his head presented to the gods as an offering of the highest honour.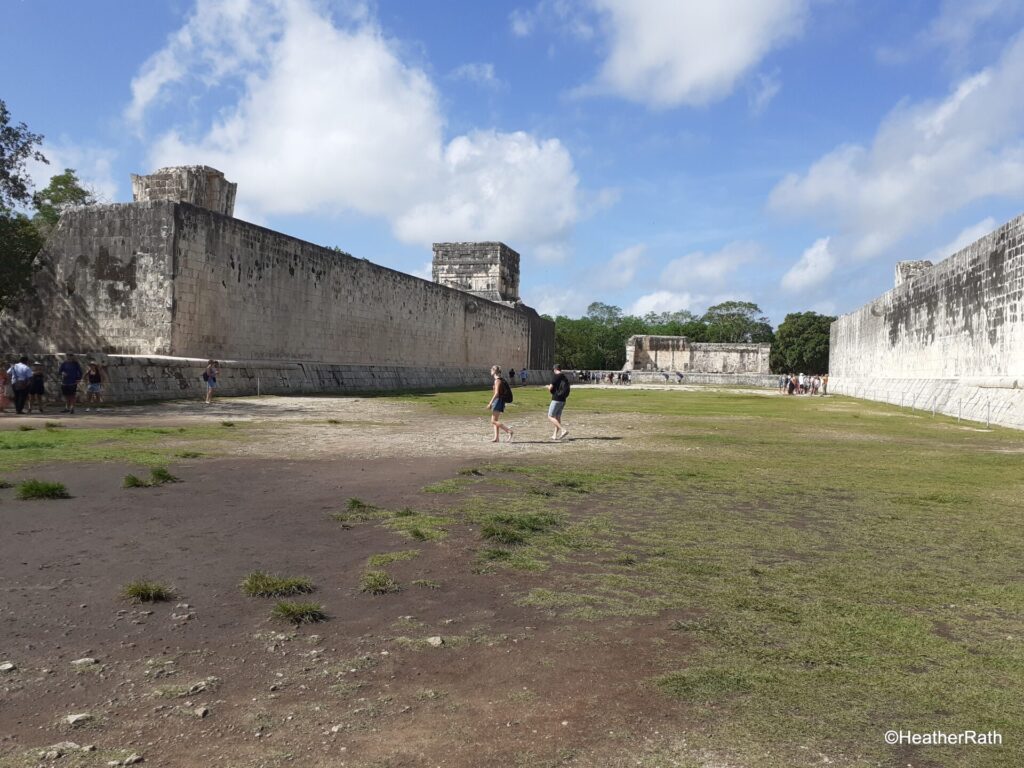 5. The Observatory
The Observatory is one of Chichen Itza's most fascinating ruins. Atop a tall temple mound stands a circular, partially collapsed building, believed to be a Maya observatory.
Spanish name for the temple is El Caracol (the snail), a reference to the shape of the observatory or the spiral staircase inside that leads to an observation area.
The Mayas used the stars and planets to help keep an accurate calendar. By this method, they accurately predicted when it was best to plant and/or harvest their crops.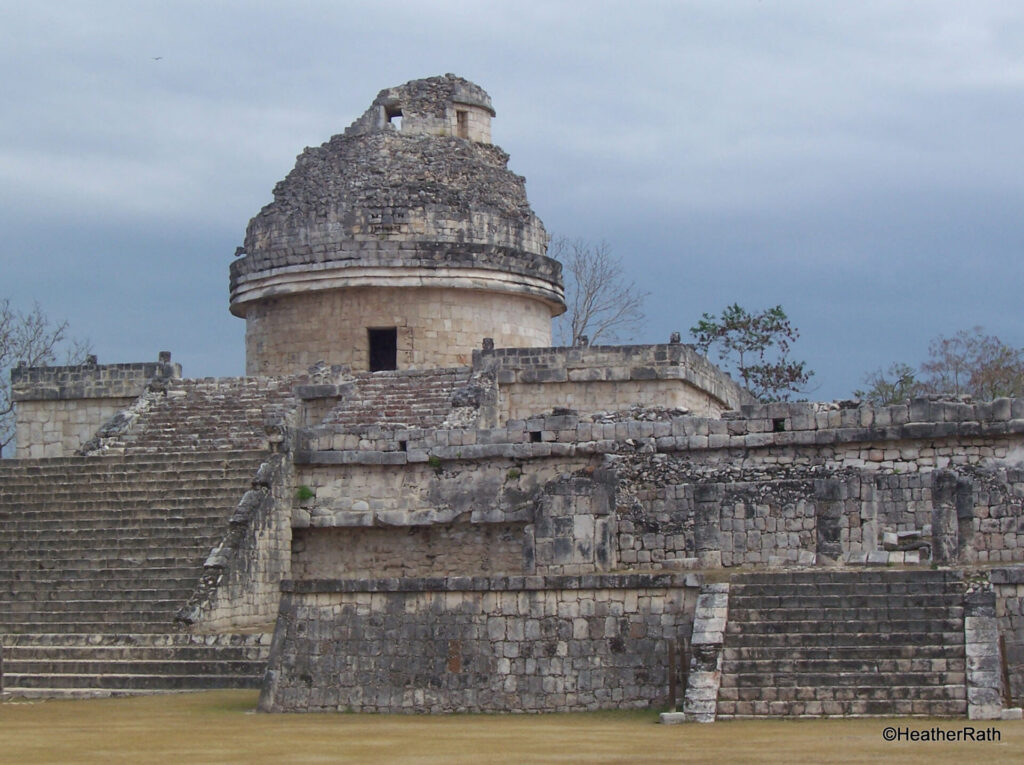 6. The Skull Platform
The Skull Platform is one of the more grisly features of Chichen Itza. Scholars believe it was a sacrificial platform where skulls of the decapitated were displayed – perhaps after playing in the sacred ball games.
The Maya reliefs carved into the side of the platform depict the heads and skulls of the victims who were put on display here centuries ago.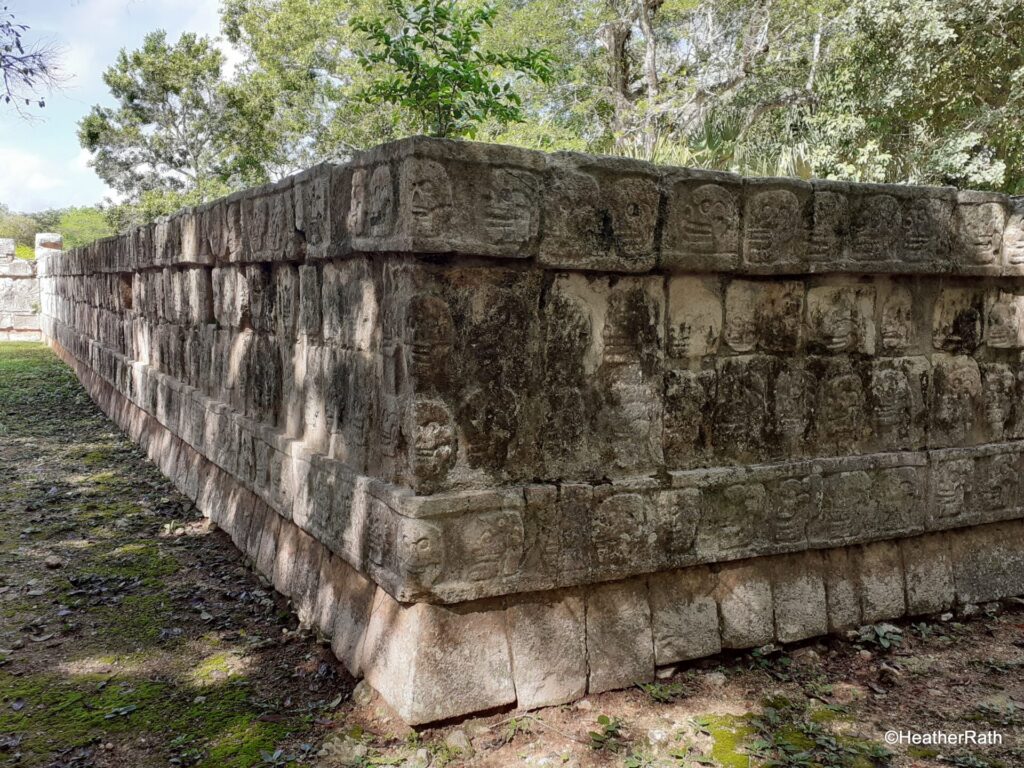 7. Kukulkan Nights
Every night the Great Pyramid of El Castillo erupts in light at sunset. That's when you can watch an awesome light and sound show rich with history.
Map of the Ruins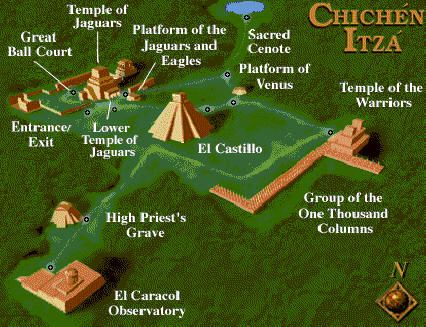 Book your day trip to Chichen Itza by clicking here
Tips for Enjoying the Ruins:
Get there early
The gates to Chichen Itza open at 8 a.m. There can be a queue forming already at this time in peak season, so try to get here earlier if you want to see the ruins with as few other tourists as possible.
Buses and tours don't leave Cancun (home to the majority of tourists) until at least 8 a.m. Getting here at opening time gives you a head start without the crowds.
How to get there
Drive yourself. The site is 2.5 hours from Cancun. Or hire a small bus for your group. You can even overnight in Valladolid, a charming city 45 minutes away by car or taxi. Or stay in Piste, a 5 minute taxi ride away. Hotels are limited in Piste however.
Hire a bus for small groups
Our experience renting a 18 seater private bus was the best answer. With a family group of 15 – and having previously toured Chichen Itza ourselves – we knew it was best to be at the entrance by opening time, 8 a.m. We were picked up in Cancun at 5:30 a.m. and arrived shortly after 8 a.m.
The driver had hired an on-site guide beforehand who met us in the bus parking lot with tickets in hand. So, the first bonus: we breezed into the site without stopping. We had hired the bus for the day so following the tour of Chichen Itza, we visited a nearby cenote, plus enjoyed lunch, shopping and a tour of Valladolid at our own pace. We were back at our hotel by 5 p.m. Cost was less than the commercial tours and we enjoyed a day without hassle.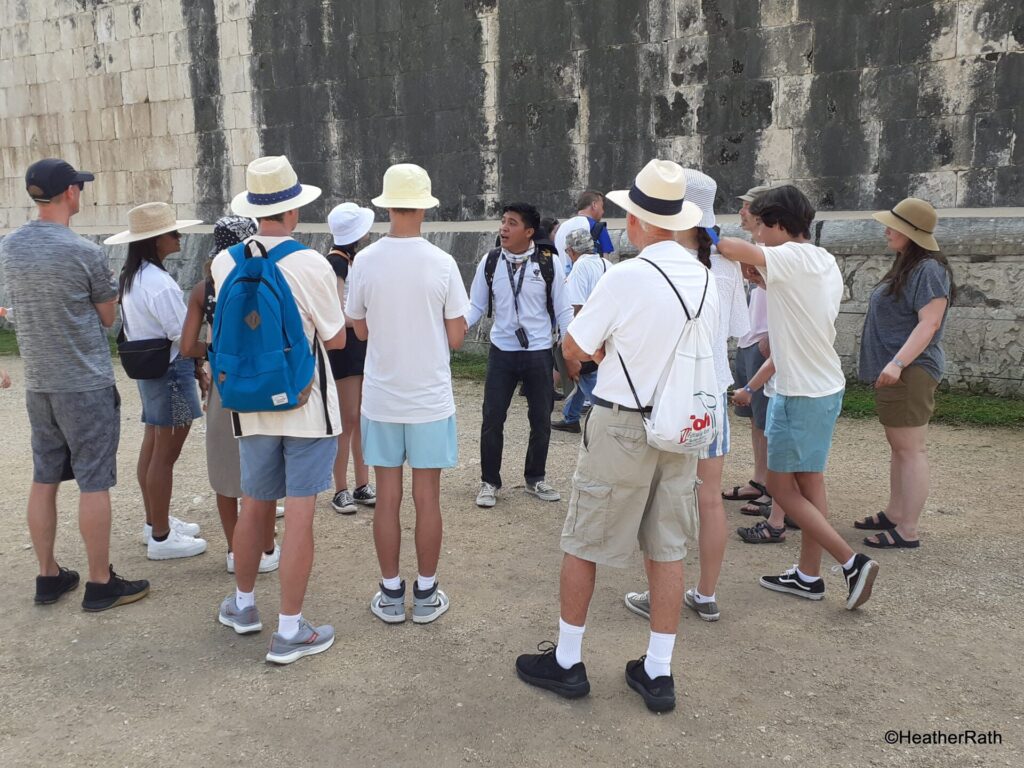 Value Added Tip:
To book transportation, we highly recommend contacting Antonio in Cancun at +52 998 291 4993 on Whatsapp. Tell him Norman referred you. His family runs a small transportation company offering taxis, airport transportation, and private transportation services at very reasonable rates. His staff is excellent.
How much does it cost?
Current admission is 571 pesos for adults; 85 pesos for children 12 and under. Payment must be in pesos. USD/credit cards are not accepted. There is an ATM inside near the entrance but it is not reliable. Guides cost 1,000-1,200 pesos plus tip.
'Early Access' tickets available
It is possible to prebook entrance tickets to Chichen Itza to get you in at the official 8 a.m. opening time without waiting in line. Perfect for photographers looking to capture the temples at sunrise, with few people around. Be aware these advance tickets are about twice the regular price and must be booked ahead of time.
What to Bring
Don't forget to bring a sunhat, sunscreen, water and umbrella. Wear sensible walking shoes and sun protective clothing.
Only small backpacks, small bags, and umbrellas, water, cameras are allowed into the ruins.
What Not to Bring
Camera tripods are not permitted in the archaeological area – not even small ones like a gorilla pod. No microphones. There is a charge to bring a video camera and/or GoPro into the ruins.
Security acts quickly in this regard and will check for permits if you break these rules.
Kids
We brought along our 9-year-old granddaughter. She held her own, didn't wilt, and asked questions!
What we don't like
1. It is an extraordinary place of history although a pity you can no longer climb the pyramids.
2. There are far too many handicraft stalls on and throughout the site. They are overwhelming. Recommendation – only buy from an artisan (the one making the items) and not the sellers ("one dollar!, only one dollar!").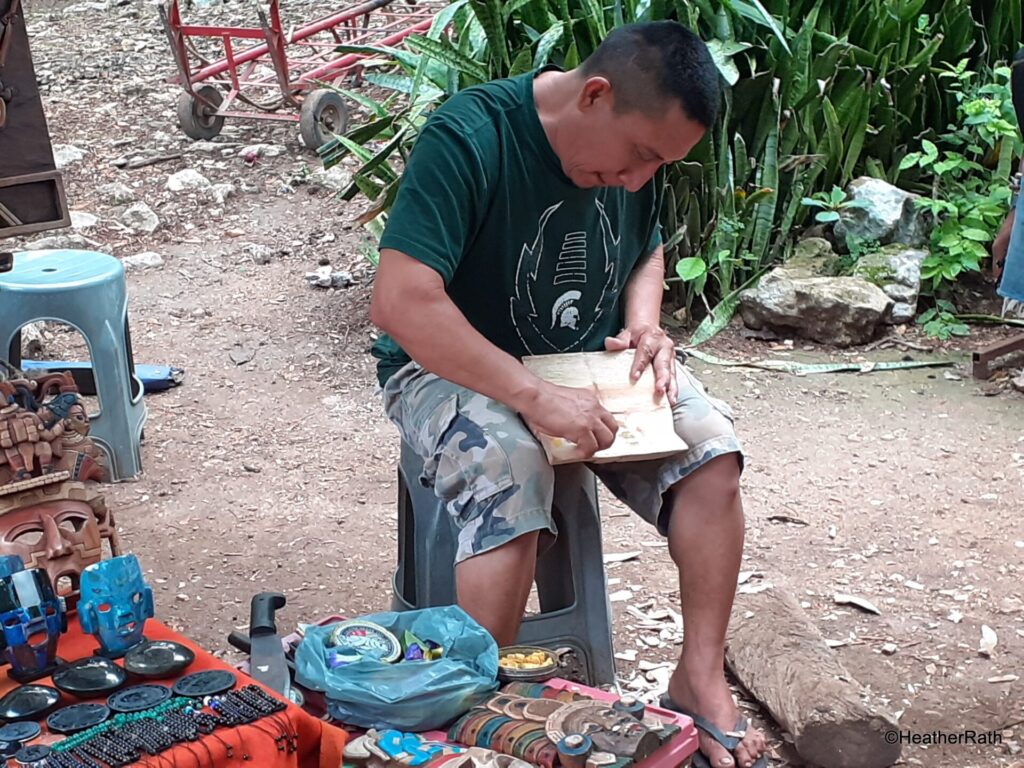 3. Even during low season, far too many people on the grounds.
4. No shade.
What do you think so far – is Chichen Itza worth it?
Map of the Yucatan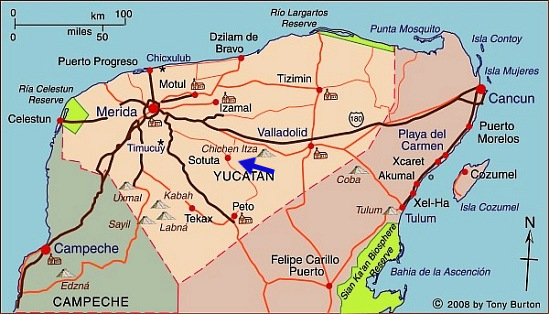 More Interesting Facts about Chichen Itza
1. Believed by archaeologists to have been a powerful economic city around 600 A.D., the fall of Chichen Itza is thought to be around 1000 A.D.
2. The design and layout of Chichen Itza was clearly planned. Builders constructed temples and pyramids in sets of clusters.
3. During the Spring (March 20) and Autumn Equinox (September 22), the sun's rays create a shadow across the Kukulkan Pyramid that looks like a serpent slithering down the staircase.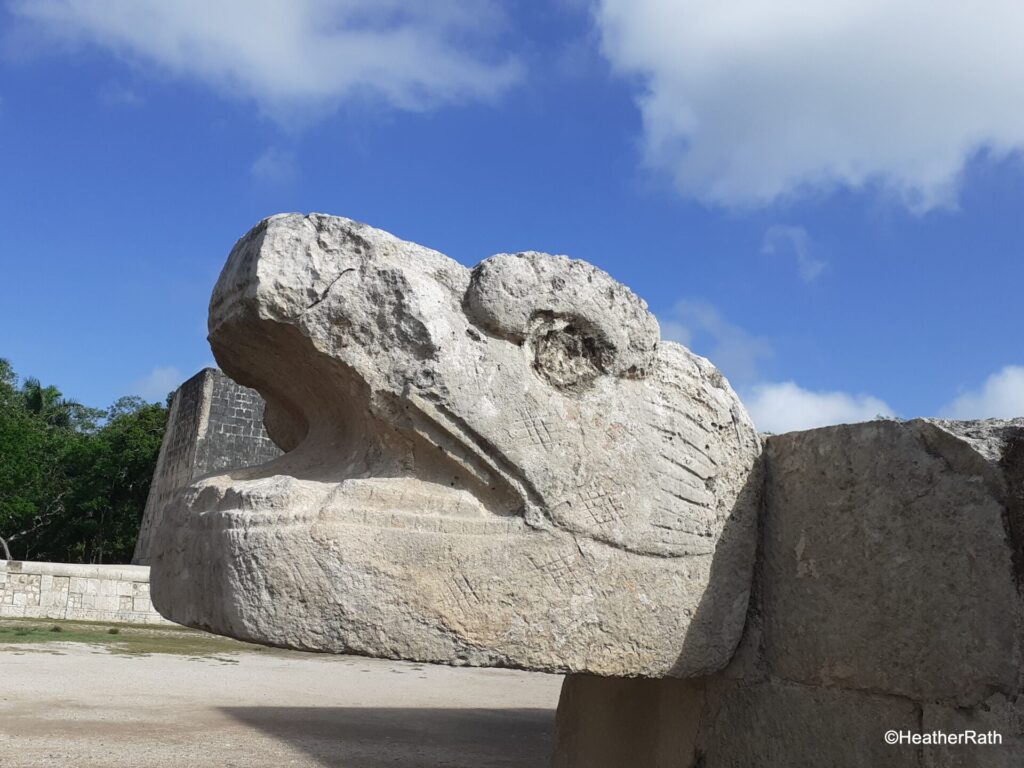 4. Located on the north side of Kukulkan is a pyramid dedicated to the planet Venus. The Maya were devoted astronomers; the movements of Venus held special meaning to them. These beliefs influenced the architecture of the ancient Maya city of Uxmal, also located in the Yucatan peninsula and open to tourists.
5. Although the Kukulkan Pyramid is the most famous and most visited, there are others in Chichen Itza. The Osario is very similar but smaller in size. At its centre is an opening to a natural cave.
6. Many of the sites at Chichen Itza are known for their splendid acoustics. Clap once from one end of the Ball court and it produces nine echoes in the middle of the court. Clapping in front of the Kukulkan Pyramid creates an echo resembling a serpent's chirp.
7. This sacred site was one of the greatest Maya centres of the Yucatán peninsula. Throughout its nearly 1,000-year history, different peoples have left their mark on the city. The Maya and Toltec vision of the world and universe is revealed in their stone monuments and artistic works.
8. The fusion of Maya construction techniques with new elements from central Mexico make Chichen Itza one of the most important examples of the Maya-Toltec civilization in the state. Several buildings illustrating these techniques have survived. These include the Warriors' Temple, El Castillo (Kukulkan) and the observatory El Caracol.
Conclusion: Is Chichen Itza Worth It
Yes!!!
We have had the good fortune to visit Chichen Itza a number of times over the years. Each time we discover something new.
Naturally, infrastructure in the site has developed accordingly. During our first visit we could climb (and did) the large pyramid. Then we shuffled inside and down narrow steps to view the Red Jaguar. Not many tourists in those days.
As Cancun has grown so has the number of tourists to the ruins.
During COVID, the number of tourists has been limited to 3,000 per day.
More Blogs from the Yucatan
See our other blogs from Mexico's Yucatán Peninsula
Be a Guest Blogger
We welcome guest bloggers – contact us here with the tag 'blogger'.