Valladolid Insider Tip and Travel Guide 2023
Yucatán, Mexico
For over half a dozen years, our next-to-Canada home has been in the Yucatán state of Mexico that borders the Gulf of Mexico. This year Valladolid was our Yucatecan home where we collected valuable information for you. Look for each Valladolid insider tip as you read.
Valladolid, Magical Qualities
Valladolid Mexico, known as a pueblo magico, is an inland city midway between Cancún and Mérida.
Pueblo Magico, (Magical Town) is a designation awarded to those communities that have maintained their original architecture, traditions, history and culture.
City on the move
Government money has helped Valladolid upgrade its streets and roads, construct a new building for the People's Market, and revamp Cenote Zaci, a major tourist attraction.
This means now is the time to visit and capture the magic of Valladolid before its complete transition from old to new.
Our take on Valladolid Mexico
A beautiful city, not only physically. Its people are genteel, kind and helpful.
Although this blog concentrates on inner city delights, watch for our nextblog that will focus on more in and around this amazing destination. Don't miss it – sign up here
Centro Historico
The Main Square or zocalo, in centro historico, is a people place. Check out its comfortable confidant chairs and small snack stands. Buy a marquesita, sit with your partner in a confidant chair and people watch.
Valladolid insider tip – free walking tours are available daily from the Zocalo. You can also catch a city sightseeing bus here.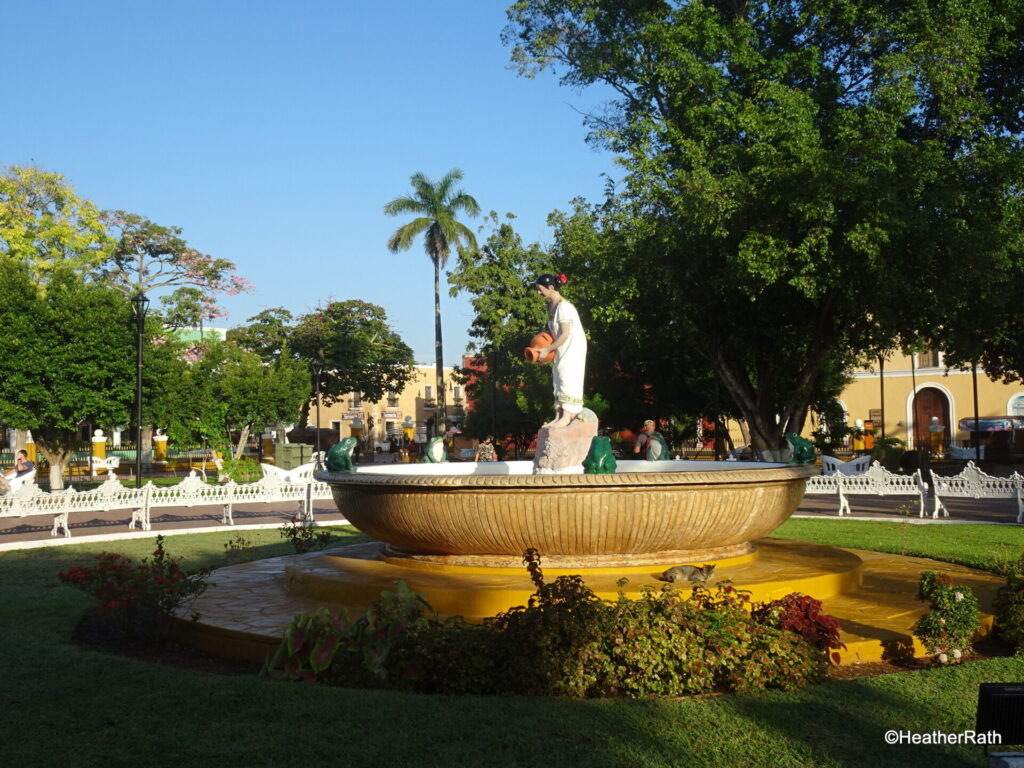 Dominating, and overlooking the zocalo, is the San Servacio Church, originally built in 1545. As peaceful as it appears now, its history is not. You can see the stones from the original Maya settlement used in the building of the church.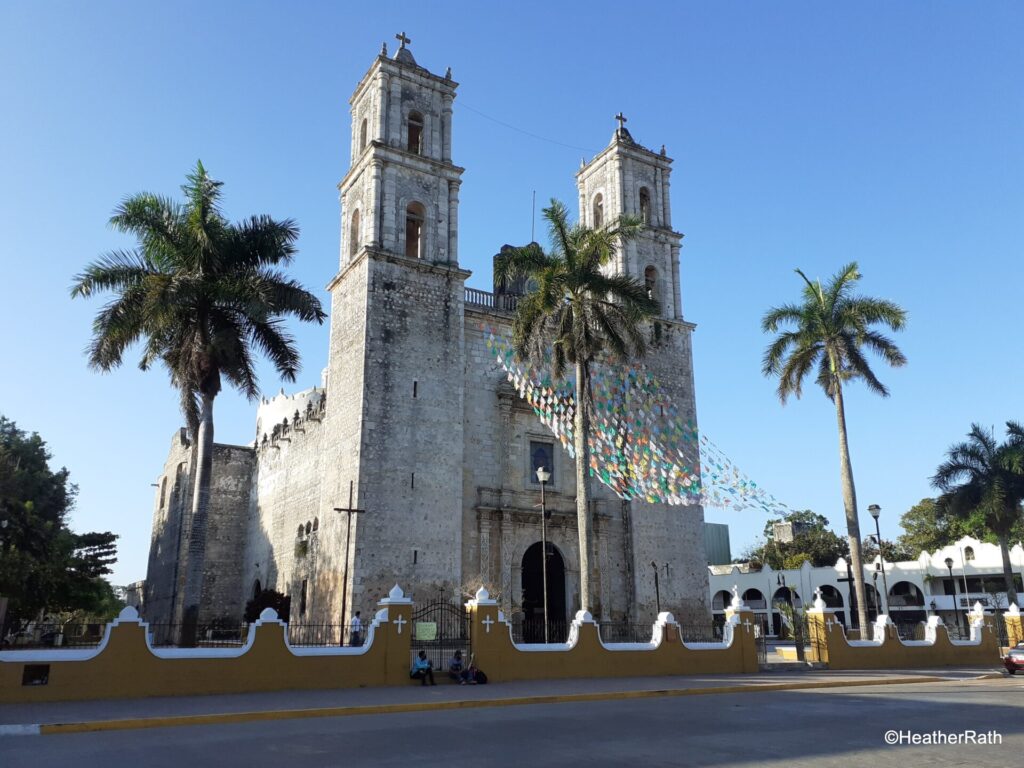 A History in Murals
On the second floor of the old City Hall on the Main Square, stop, look, learn and admire.
The history of Valladolid is beautifully presented in mega colourful murals.
From the Spanish conquest to the Maya sacrifice, The First Spark of Revolution to the present, the history of Valladolid is spread before your eyes.
Not to be missed.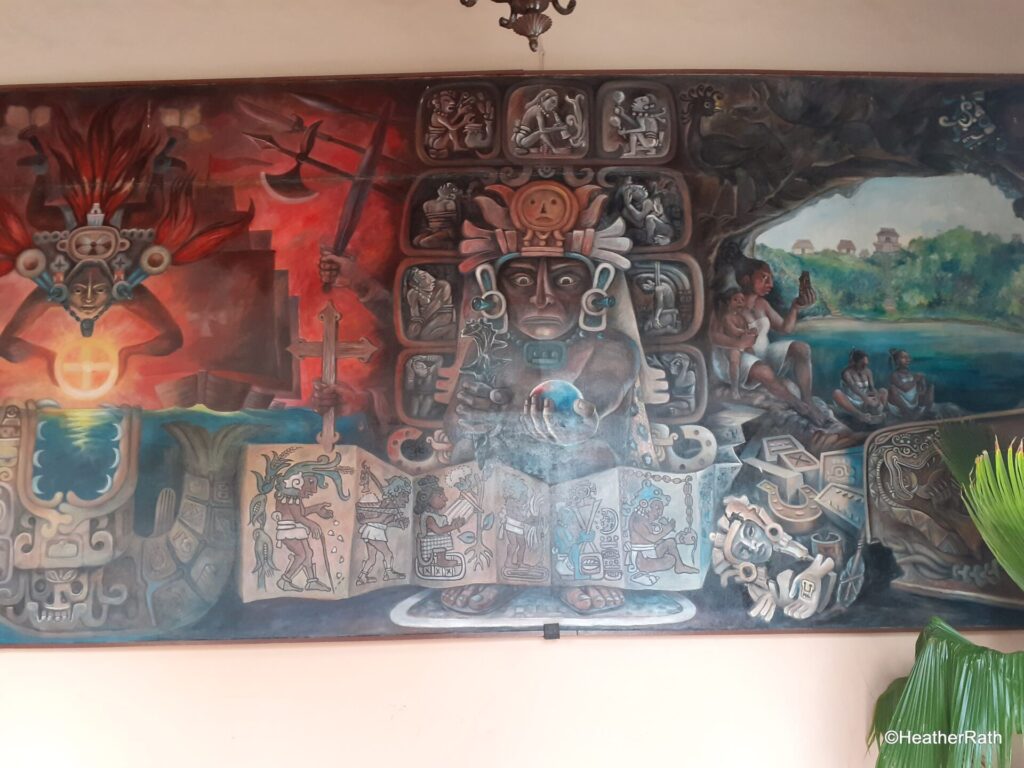 Casa de los Venados
Just off the zocalo is the House of the Deer or Casa de los Venados, a private home devoted to more than 1,000 pieces of unique Mexican folk art. An astonishing collection assails your senses; and you may be fortunate to meet the American owners who live here part-time.
They open this amazing art house each day at 10 a.m. when tours begin. A donation of about $5 American dollars (100 pesos) helps support their foundation for the work of local charities, suggested but not required.
Valladolid insider tip – ask to speak to the owner John Venator if he is in the Casa (he lives there). He is very personable and has lots of stories about the Casa.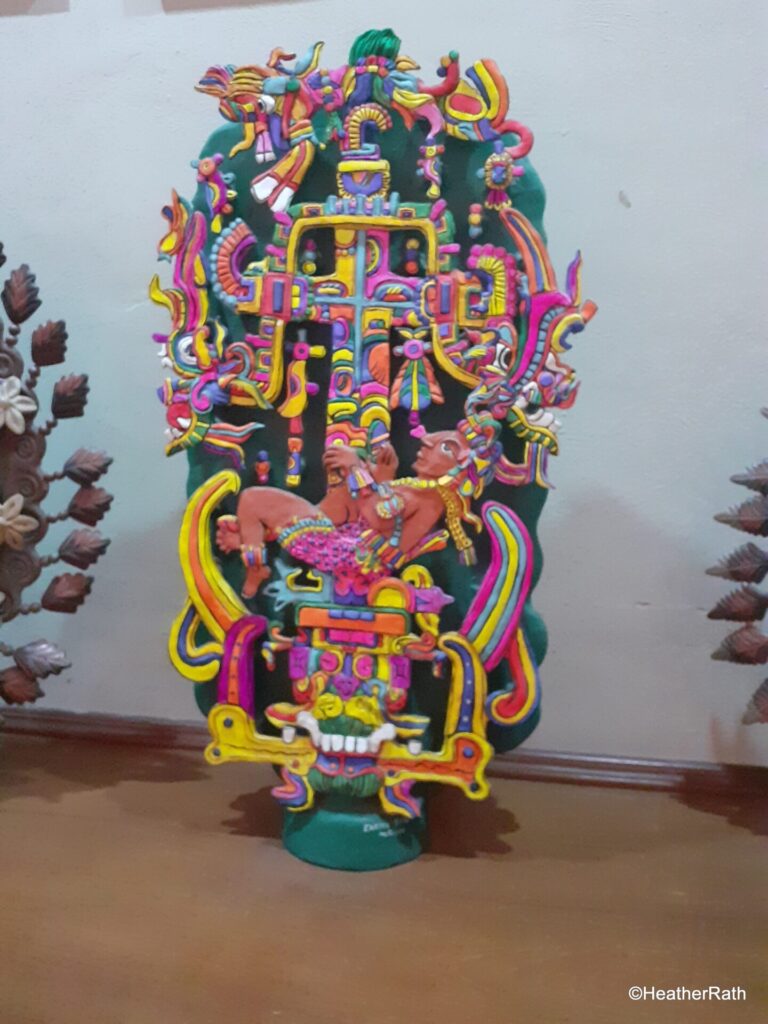 Ice Cream!
It's hot in Valladolid.
Luckily, an ice cream shop is located on a corner across from the zocalo, on the same street and side as the Casa de los Venados. The vendor offers drinks, smoothies and ice cream in a large variety of colours and flavours.
As we devour the goodness while wandering, visitors often stop to ask: "where did you get that?"
We point. "On the corner of calle 40 and 41".
There are 2 sizes of cups for ice cream 35p and 45p . Valladolid insider tip choose the 45p size for up to 5 scoops of up to 3 flavours.
The Valladolid Museum
Follow Calle 41 east from the main square and ice cream shop to the nearby Valladolid Museum in the next block.
Museum History
In 1575 the Hospital del Santo Nombre de Jesus was founded by order of the village Mayor. It later became the Convento of San Roque. By 1645 it already had 10 beds and was one of the best hospitals in the state.
However, no trace is left of it today!
In its place, the current building was reconstructed in the 1800s.
The museum, established in 1998, contains a number of artifacts from the Maya remains of the nearby archeological site, Ek Balam, as well as items of historical interest from Spanish rule.
Park of the Heroes, Parque Los Heroes
Behind and adjacent to the Valladolid Museum lies the Parque Los Heroes, named for three martyrs who were executed here in June 1910. The rebels/protesters were civilians and included many Indigenous (Maya) villagers and plantation workers (fighting for equal rights). Protests spread across the country and, as a result, a new president was elected later the next year.
The 'Spark for the Mexican Revolution' began in Valladolid.
This is a beautifully maintained, quiet and restful park not far from the Main Square/Zocalo. Locals say that because it is not so busy with quiet corners "2 come in and 3 go out"
Well worth a stop.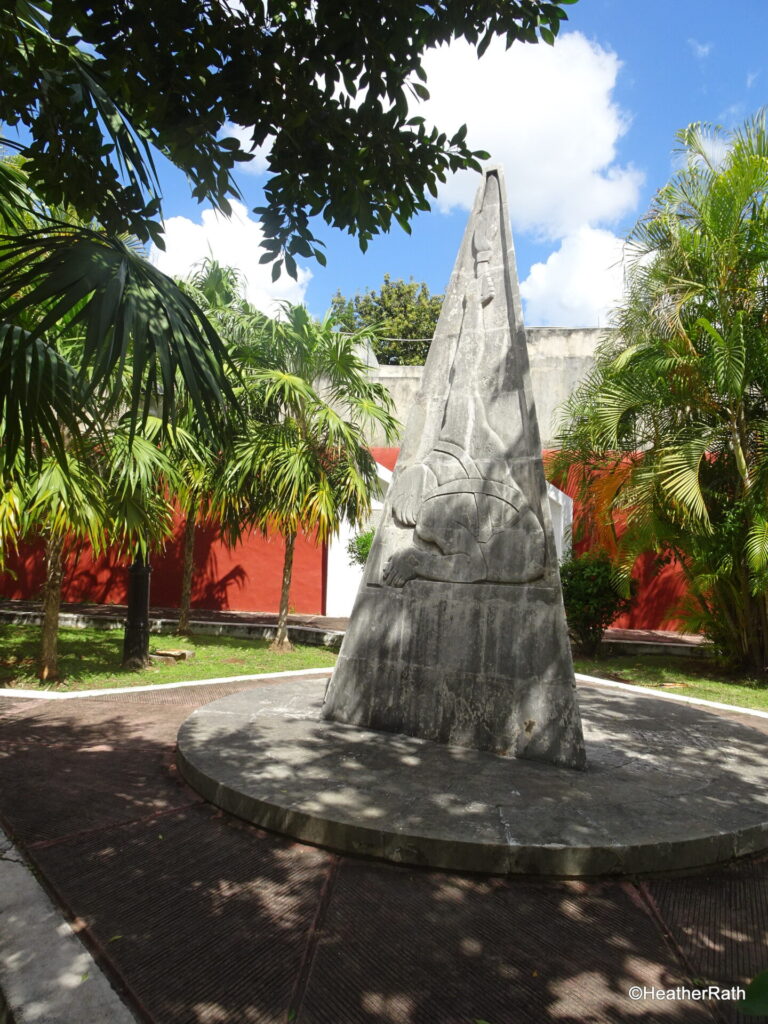 La Joyita Cantina: The Small Jewel (corner calle 41 X 38, centro)
Across from the Valladolid Museum is a popular watering hole for local politicians, business leaders, and hardworking folks like us.
Since the city is hot, a stop at this western-style swinging door saloon, with friendly bartenders and locals, is a must.
We enjoyed a beer or two.
With each round, customers are treated to free botanas (snacks) – this round we enjoyed pickled cucumbers and a white bean paste with totopos, local corn tortilla chips.
Valladolid insider tip – Every February 16 they have free beer to celebrate their anniversary! Get there early.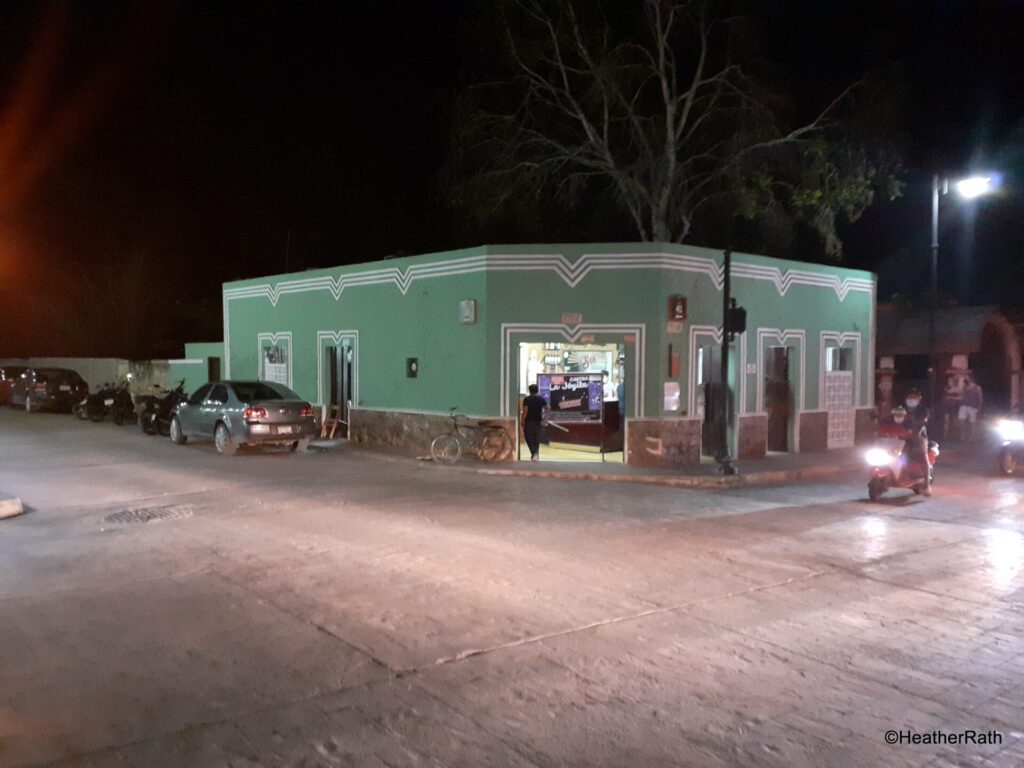 Our Church of Santa Ana
A smaller favourite church is the unpretentious Church of Santa Ana. Located a few blocks farther east along Calle 41, the same street as the Valladolid Museum, it was built in the 16th century specifically for the Maya to practice their Roman Catholic religious rites. We were told the Maya would pretend to practice these Christian teachings but, understandably, followed their own beliefs in private.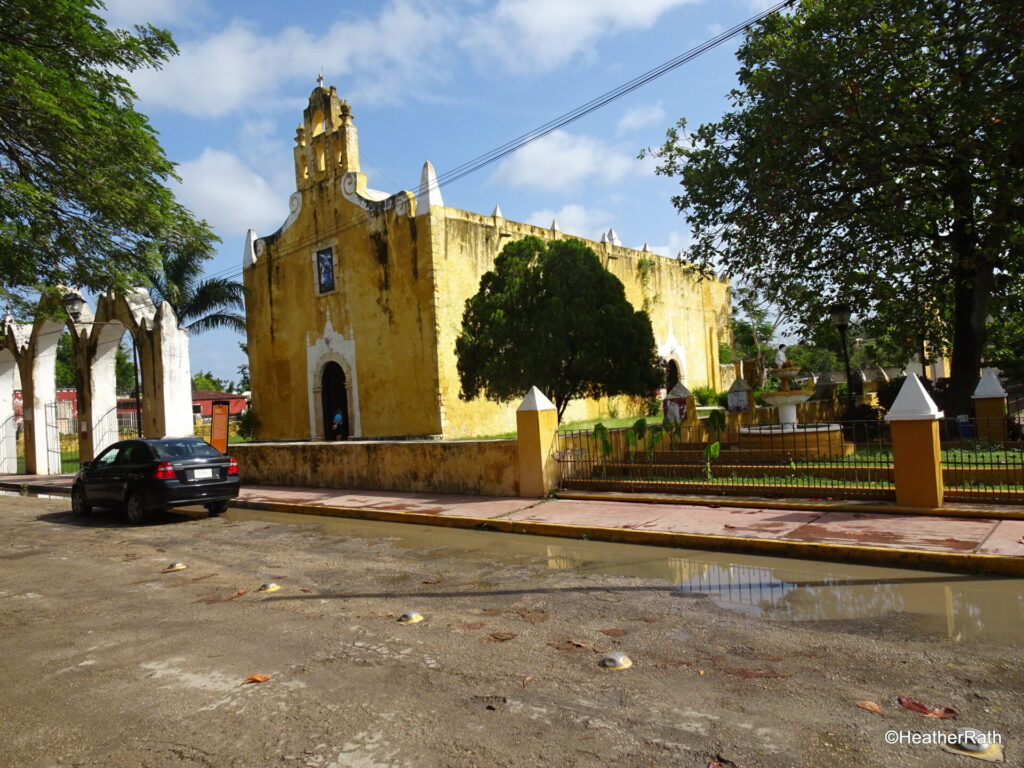 Park of Santa Ana neighbourhood
This quiet square sits across from Santa Ana Church. The main focus is its dedication to the place where the martyr Manuel Antonio Ay was hanged on June 30, 1847. He was charged with rebellion and conspiracy to ignite the Caste War.
The current monument, Rotunda of the Boy Heroes, is also dedicated to martyrs. Each year, on September 13, a remembrance ceremony is held to commemorate those who aided in the heroic defense of Chapultepec Castle in Mexico City. That battle between Mexican and American forces resulted in an American victory.
Museo del Chocolate: Chocolate Museum
In the opposite direction (north) from the square, in the first block along Calle 40, is the unpretentious looking Museo del Chocolate.
Choco-Story Valladolid is composed of 12 recreation rooms with light and sound.
The tour lasts from 30 to 45 mins and you can enjoy it in Spanish, English, French, German, Chinese or Russian. Tour cost $10
Or you can be like us and enter to buy your chocolate cache there. Favourites among visitors are the different blends of chocolate bars. The bars, mostly with 85% cocoa beans, cost 105p (~$5)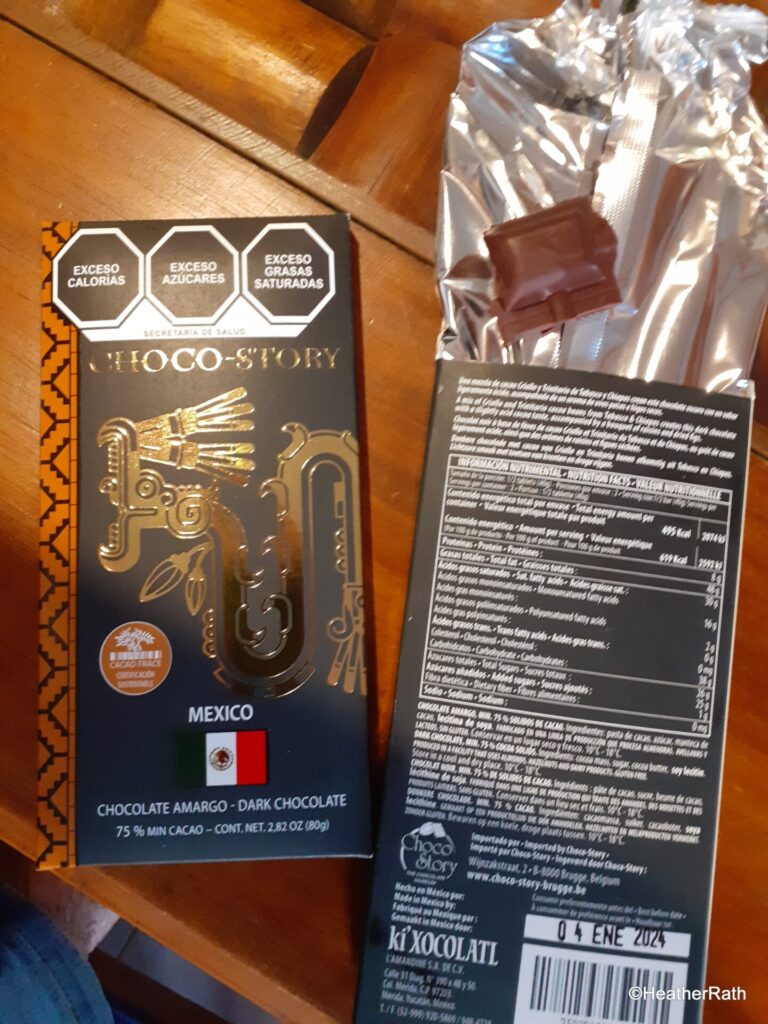 Cenote Zaci
Four blocks from our casa lies Cenote Zaci. It is between the Mercado and Centro on calle 36.
Thousands of cenotes are sprinkled throughout the Yucatán. These large sinkholes are filled with natural underground water and perfect for swimming. Valladolid is hot, remember?!
The ancient Mayans believed these cenotes were their entry to the underworld; some were used in religious rituals.
News Flash. It is open as of March 1 2023!!!. (Cenote Zaci does NOT have an official website, but they do have a Facebook Page).
Valladolid insider tip – cenote now open – cost 70p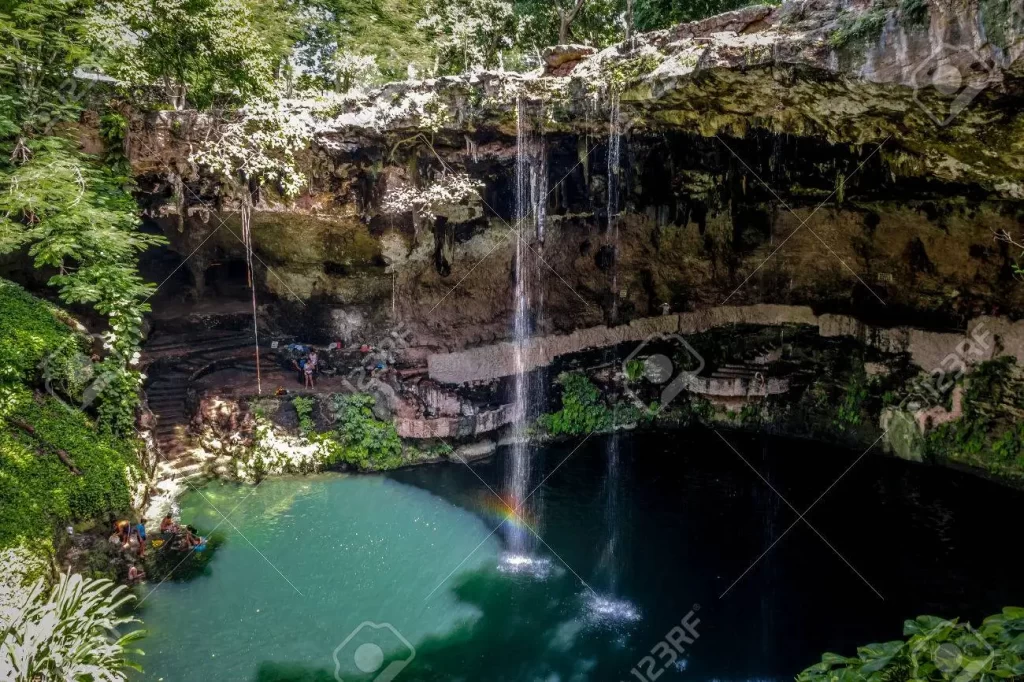 Mercado Municipal (People's Market)
Around the corner from our casa, we were fortunate to have access to the people's market. Everything can be purchased here from handicrafts to meat to clothing to homemade snacks, fresh juices and produce.
There is also a popular and local supermarket chain nearby called Willy's.
Valladolid insider tip – within a short walking distance, look for a red awning just around the corner on calle 32. This kiosk sells a fresh variety of cheeses, including goat. Some other cheese includes the famous Oaxaca cheese.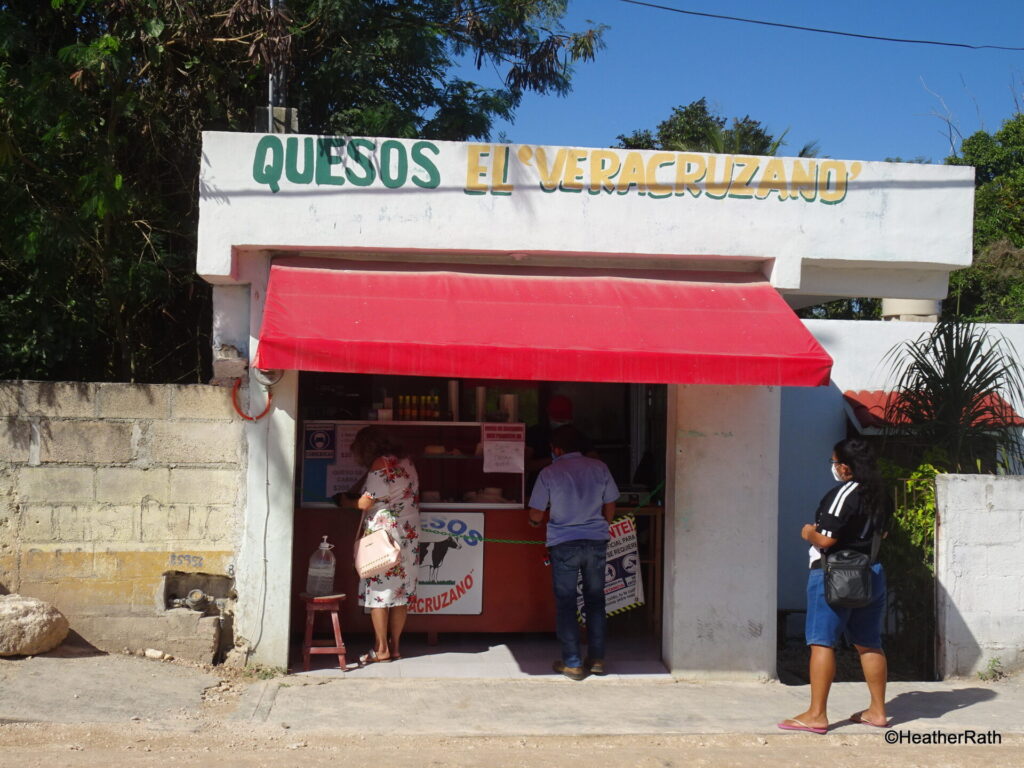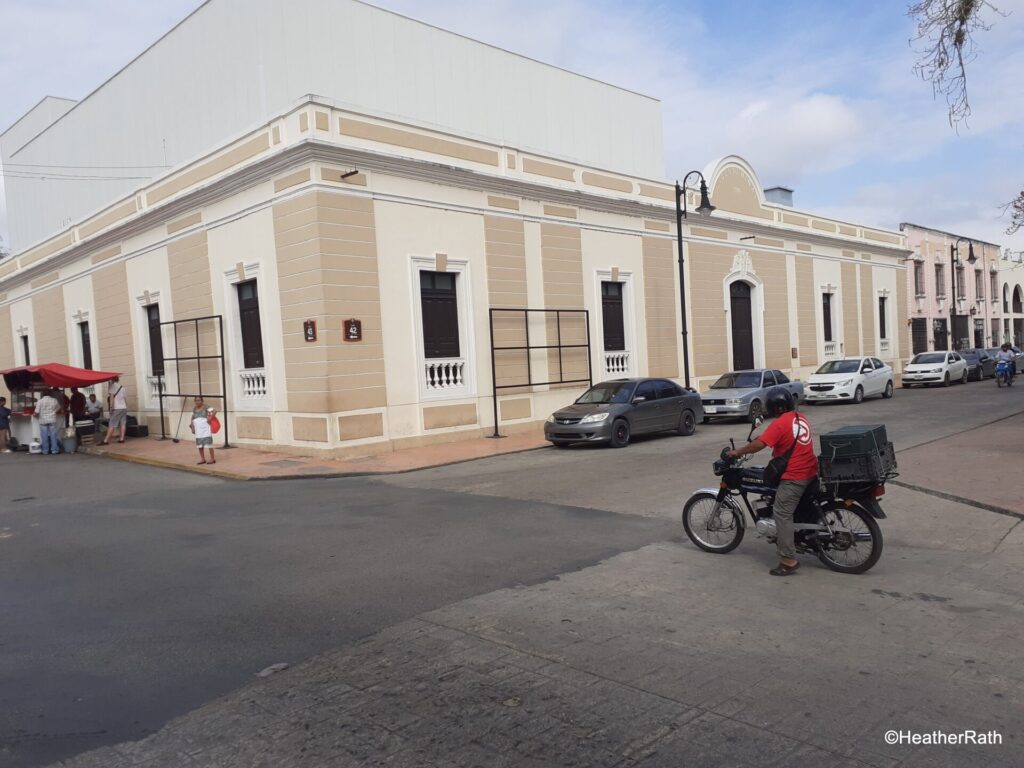 Nights of my Heroic Valladolid
Be sure to catch videomapping in the former convent of San Bernardino de Siena. The colourful history of Valladolid is displayed through video splashed across the exterior of the convent. Sound is in Spanish and English.
Valladolid insider tip – get here a bit early to take a photo of the VALLADOLID sign before the crowds and sample some street food.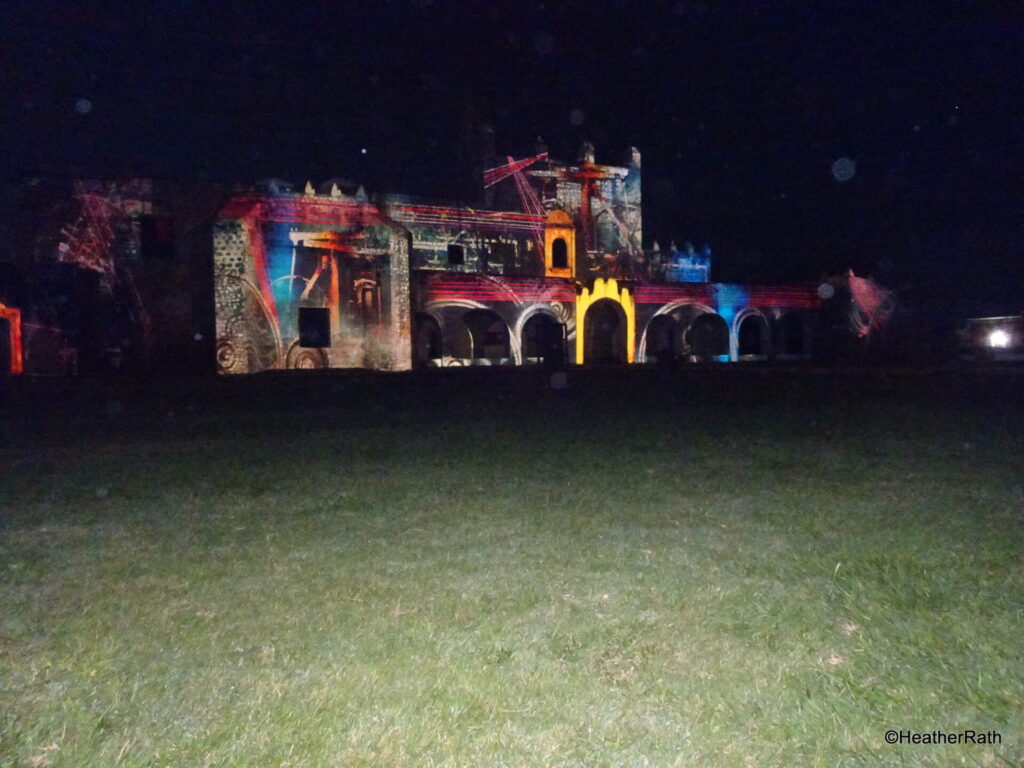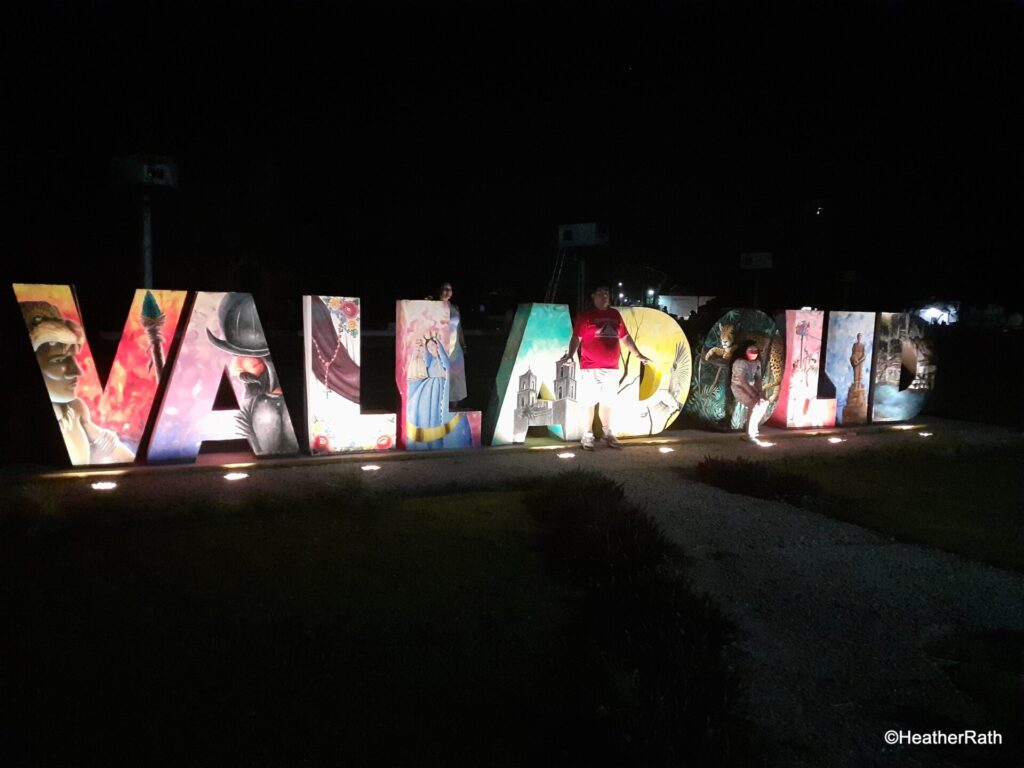 The former convent is located in the neighborhood of Sisal, which is a contraction of the Mayan words ziiz-ha and is translated into Castilian as cold water.
In 1552 construction of the convent began under the direction of three Franciscan Friars.
It is the second largest Franciscan construction in the Yucatán, after the Convent of Izamal, a nearby city.
A walkway lined with large tropical trees called ceibas (the Maya sacred tree) planted by the Friars has become what is known today as the Esquina de las Cinco Calles or Corner of the Five Streets. From this corner, the street connects the village with the convent. From Valladolid start at calle 41 at calle 46.
The convent is well worth a visit.
The facade has a long corridor of arches with walls more than 50 centimeters thick and a carved stone entrance.
In the upper niche above the tabernacle, there is an image of the Virgin of Guadalupe. Inside the church area there is a beautiful wooden altarpiece carved with arabesques motifs, artistically impressive for its size and fine details.
Walk of the Friars aka Calzada de los Frailes
As mentioned above, this well-developed roadway runs a block from the main square in Valladolid to the Corner of the Five Streets near the convent in the Sisal neighborhood. Fine hotels, restaurants, high end shops and boutiques vie for attention along this calzada.
The Road of the Friars was built in the 16th century to connect Valladolid with the indigenous town of Sisal. It also served as a road for the Friars from the Convento to walk to Valladolid. From Valladolid start at calle 41 at calle 46
And now, Valladolid has introduced a new tourist delight along this popular street.
Each Friday and Saturday night, catch an attraction called La Caminata de los Frailes. It is hoped the Friars' Walk will complement the presentation of videomapping in the former convent of San Bernardino de Siena. The Walking Friars will disperse once they reach the former convent and the videomapping program begins.
14 Free Things to do in Valldolid Mexico
1 – Walking tour
Tour starts at 10 am everyday – meet the guide under the red umbrella by the fountain in the central
park.
2 – Casa de Los Venados – click here for more info
3 – Walk the neighbourhoods and visit historic churches
Neighbourhoods in Valladolid (as in all Mexican pueblas) are centred around their historic
churches.
Allow a half day or more to leisurely explore these 6 distinctly different areas. You'll discover a
friendly and curious reaction from those living there, learn about local lifestyles, shops,
playgrounds, and significant parks away from the hordes of turistas.

Go to the Tourist Office on the main square, same side as BBVA bank for a city map and ask for
directions to the churches San Servacio, Santa Ana, San Juan, Candelaria, Santa Lucia, Econvento de
San Bernardino de la Siena.
Allow at least a day to fully explore all of them.
4 – Sound and light show at the convento – click here for more info
5 – Swim in a Cenote – click here for more info
6 –Tour the new mercado – click here for more info
7 – People watch in the zocalo – click here for more info
8 – Yucatecan dance performances
Every day from 4pm to 8pm Yucatecan Dancers perform in the main square – not to be missed.
They pass the basket for voluntary donations.
9 – Tasting of mezcal and tequila
Taste testing tequila and mezcal is a must when buying these popular Mexican spirits. Look for
accommodating shops around the main square and along streets leading to the square: Calles 39,40
41, 42.The six major types of tequila are: blanco, cristalino, reposado, añejo, extra añejo, and joven.
Each is classified by how long they have aged.
These tourist' shops in centro selling alcohol will offer a free taste of many of their liquid products to
'prospective' buyers. Just show some interest. Purchases not required
10 – See historical murals – click here for more info
11 – Park of the Heroes – click here for more info
12 – Cultural Events
There are many cultural events in Valladolid, and many are free. Go to the tourist Office on the
main square and ask for latest "Programa Cultural". These brochures are produced every 2-3 weeks.
Some popular events include the Candelaria Celebration, and of course, Carnaval
13 – Visit the many galleries
There are many galleries of local, folk and traditional art in town. Some good ones are around the
square and along Calzada de los Frailes.
14 – Walk the Calzada – click here for more info


Book a tour of Valladolid by clicking here
Watch for our next blog on Valladolid to learn about its neighbouring attractions.
Sign up for our blog here.
Fun Facts about the Yucatán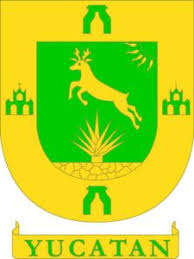 Yucatán's green and yellow coat of arms features a deer, which represents the native Maya people, leaping over an agave plant, a once-important crop in the region. Adorning the top and bottom borders are Maya arches, with Spanish bell towers on the left and right. These symbols represent the state's shared Maya and Spanish heritages.

The Yucatán Peninsula is home to North America's largest Indigenous population, the Maya. Yucatán has the highest percentage of Indigenous language speakers in the country.

According to legend, when Francisco Hernández de Córdova arrived on the coast of Yucatán, he asked the natives where he was. They replied in their native tongue that they didn't understand what he was saying. Because Córdova thought their answer sounded like the word Yucatán, he gave that name to the region.

The state is most famous for its Maya ruins, which number between 2,600 and 2,700. Seventeen sites have been restored and are open to the public, the most famous being Chichén Itzá, Ek Balam and Uxmal.

Yucatán has approximately 2,600 fresh water pools called cenotes, which the Indigenous people used for drinking water and sacrificial offerings. Today, the pools are popular tourist attractions.

The state provides sanctuary for 443 of the 546 bird species registered in the Yucatán Peninsula. Along with Campeche and Quintana Roo, Yucatán is home to 50 percent of Mexico's bird species.

Chichén Itzá and the Pyramid of Kukulcán were recently named among the new Seven Wonders of the World. Amazingly, the pyramid was built so that on the spring and fall equinox (March 21 and September 21), the movement of the sun creates the illusion of a giant snake of light gliding down the pyramid's main flight of stairs. To the Maya, this symbolized the return of their protective spirit, Kukulcán, the Plumed Snake.

Around 600 A.D., the Maya migrated toward the northern regions of South America and established some of the earliest known cocoa plantations in Yucatán. The cocoa beans, which were reserved for the elite members of Maya society, were ground and mixed with water to make an unsweetened drink.
Map of the Yucatán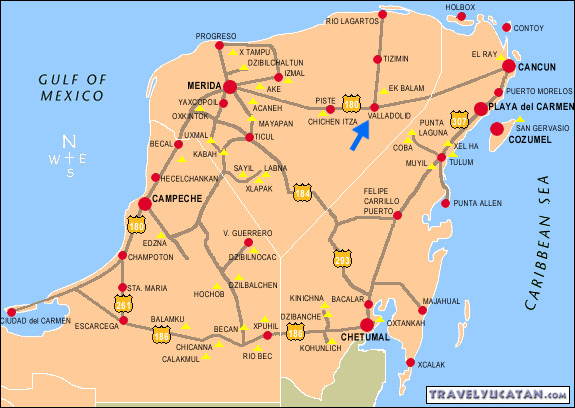 Sights and Sounds of the Yucatán
How to get to Valladolid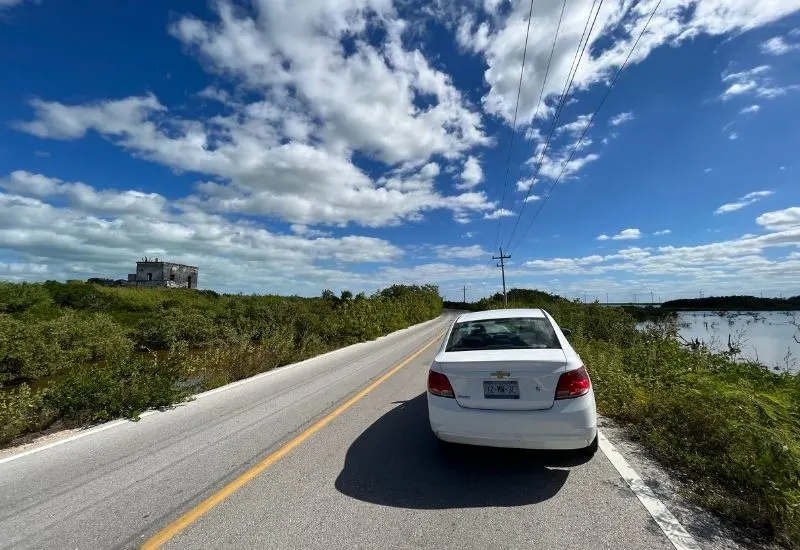 Most visitors will drive from Mérida, Cancún, Playa del Carmen or Tulum with a rental car. Roads from these cities/towns are good. In fact there is a toll expressway from Mérida, Cancún and part way from Playa del Carmen. Tolls are 200-300 pesos ($10-$15 USD). Driving in the Yucatán is comparable to US and Canada except speed limits are not usually followed. Most drivers regard many highway signs as suggestions not regulations. We suggest you follow the signs.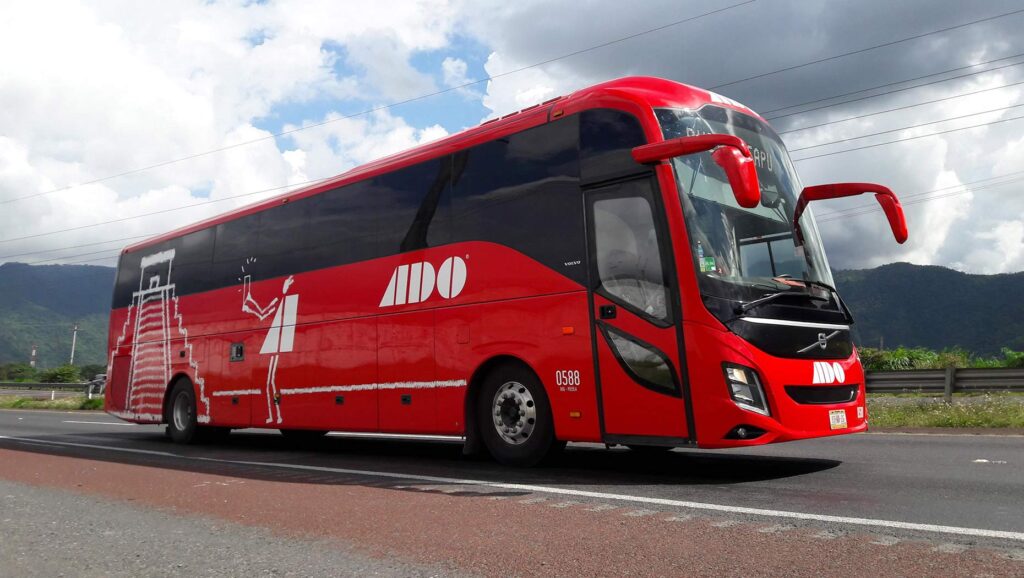 ADO buses are a good alternative to driving. There are direct buses from Mérida, Cancún, Playa del Carmen and Tulum. There are several classes of service, so check before you book. Online booking is available. Terminal in Valladolid, calle 39 X 46.
Travel times car/bus as follows from the following
Mérida – just under 2 hours
Cancún – just over 2 hours
Playa del Carmen – 1h 35min
Tulum – 1.5 hrs
Getting Around Valladolid
Valladolid is a small city, and you can easily get around on foot since most of the sights, restaurants and hotels are in the Centro area. Bicycles and motor scooters are available for rent. Taxis cost 35 pesos (just under $2 USD) anywhere in the city. (drivers appreciate a small tip). A car is necessary for out-of-town trips.
Car rental in Valladolid IS possible. Most blogs and travel sites report that you cannot. Not true!
Here is a Valladolid insider tip found nowhere else. Car rentals at:
Azfer Car Rental (counter in a shoe store) c 28 x 39 x 41 #199 col Centro: Rate 1900pesos/day incl insurance
Scooters and Cars Valladolid calle 41 217 46y48
Ko'ox Balak – Rent a Car, Scooters, Motor calle 48 2
Valladolid Hotels
Our recommendations –
Hotel Zentik Project – This is a special place and worth your attention. Adults Only. Location – Calle 30 #192C (X 27 Y 29) Fernando Novelo cost $300/night + tx for 2 . The hotel features an underground cave/spa with warm (34-37C) saline water. Valladolid insider tip – pool is open 24 hours for guests.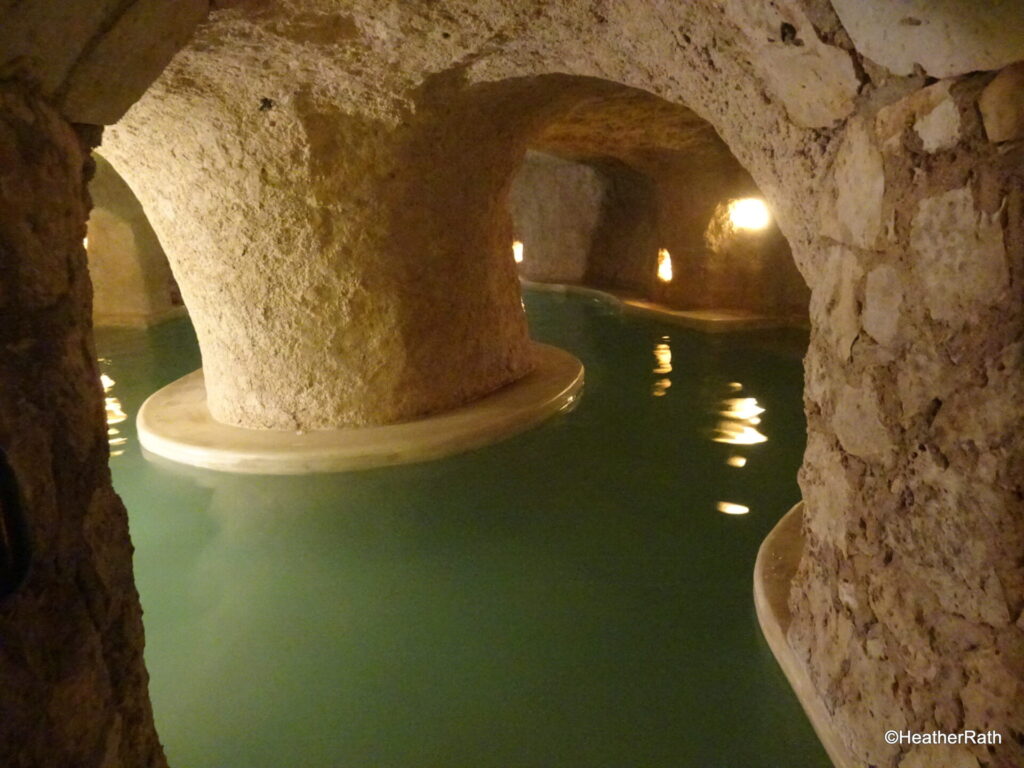 Casa Valladolid Hotel Boutique – ; location – calle 44 X 37 X 35, Candeleria ; cost~$60-70/night

Hotel Casa San Roque – location – Calle 41 X 38 X 40 centro cost $44/night

Hotel Real Las Haciendas – location Calle 37 # 179 A X 32 X 34, Centro,  cost $51/night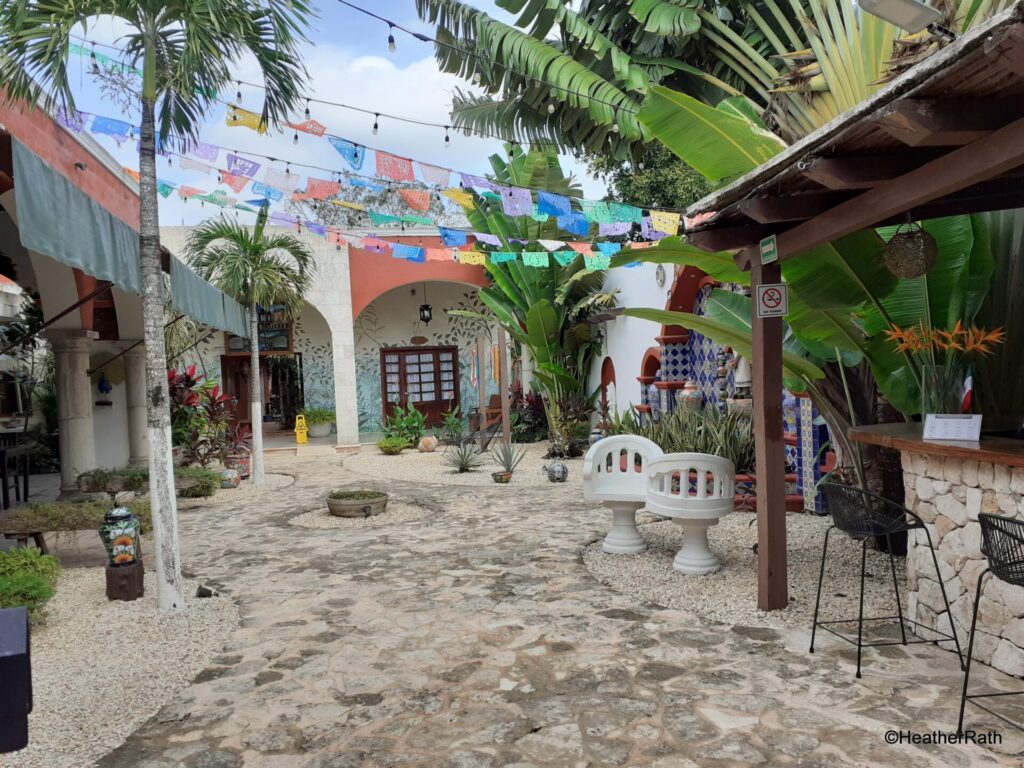 There are many smaller hotels in Valladolid within easy walking distance of the attractions, restaurants and bars. Prices shown are for double occupancy and in USD. Tax not included.

Book your hotel in Valladolid by clicking here
Valladolid Restaurants
We have eaten at a number of restaurants in Valladolid. These are some of our favourites: (no particular order)
Las Camapanas – location – Calle 42 #199 x 41 Centro, on the main square
Antojitos La Selva – location – calle 42 X 29 X 31, Candelaria – Valladolid insider tip – try the panuchos and salbutes
La Palapita de Los Tamales – location – calle 42 X33 X 35 Candelaria – a great breakfast here for 130p ($7)
La Ville Bistro – location – calle 40 #197 X37 centro – best coffee we had in Valladolid
Cenote Zaci – location – calle 36 X 37 X 39 centro Valladolid insider tip – buy something at the restaurant and swim in the cenote for free (cenote temporarily closed). A must here is Lomitos Valladolid.
Los Frappes – location – calle 54A (across from the Convento) great low cost breakfast <$8
Casa Conato Culturale 1910 – location – Calle 40 # 226 X 45 X 47 San Juan – our no. 1 pick for a nice dinner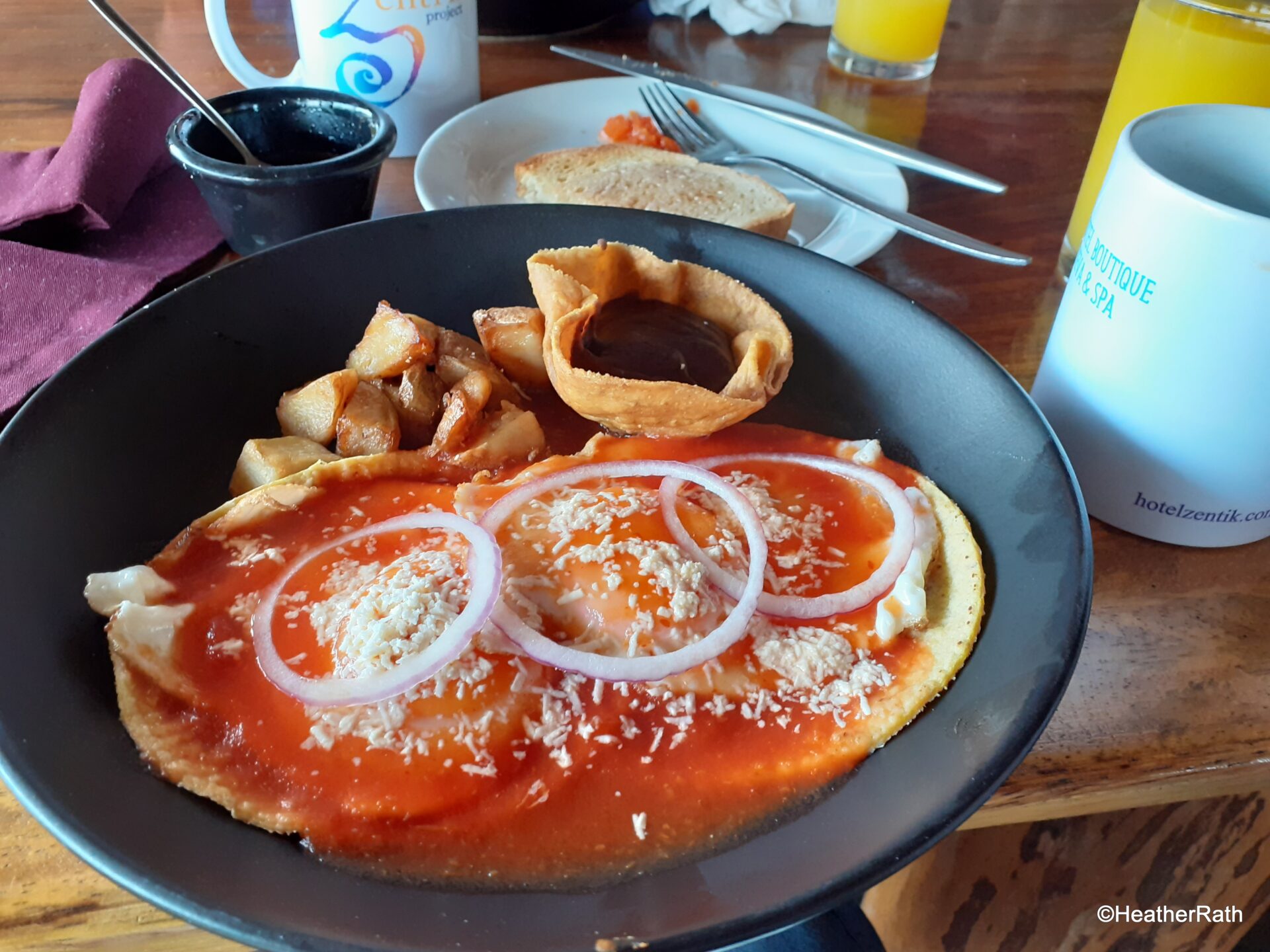 Visa for Mexico
Visa Update
If you are flying IN and OUT of the following airports:
Cancun International Airport (CUN)
Cozumel International Airport (CZM)
Los Cabos International Airport (SJD)
Puerto Vallarta International Airport (PVR)
Mexico City International Airport (MEX)


You NO longer need to fill out the Forma Migratoria Multiple (FMM) also known as Tourist Card. We came through Merida International Airport (MID) in January, 2023 and did not to fill out an FMM.
There are some exceptions:
If you are flying to/from ANY OTHER airport in Mexico NOT listed above, then you may still need to fill out the Immigration Form "manually" when you arrive or depart from another airport in Mexico.
If you are visiting from a country that requires a VISA, then you still need to fill out the form. Please be aware that for the airports listed ABOVE you will need to fill out the form "manually" upon your arrival.
If you are NOT a "visitor," for example, a permanent resident in Mexico, then you still need to follow the normal arrival procedures as before.
If necessary, there are Forma Migratoria Multiple forms available at all arrival terminals. Immigration Officers will advise you if you need to fill out a form or if you are good to continue.
Guest Bloggers
We welcome guest bloggers – contact us here with the tag 'blogger'
More Blogs from the Yucatán
See our other blogs from the Yucatán
Note
All amounts are shown in US dollars.
Affiliate Links
This post may have affiliate links, which means we may receive a small commission (at no extra cost to you!) if you choose to purchase through them. Here's our privacy policy for more info.