Volcano Boarding in Nicaragua
Small black speck
Standing near the base of the active cinder cone volcano, we see a small speck of swirling dust near the top. Watching in awe, we see the speck grow larger and larger, with a trail of black cinders flying up behind it. As it careens down the volcano face at a 41-degree angle, the speck changes definition.
We begin to make out the outline of an orange protective suit. Egads! There's a human in that suit! And they (he?she?) look almost out of control.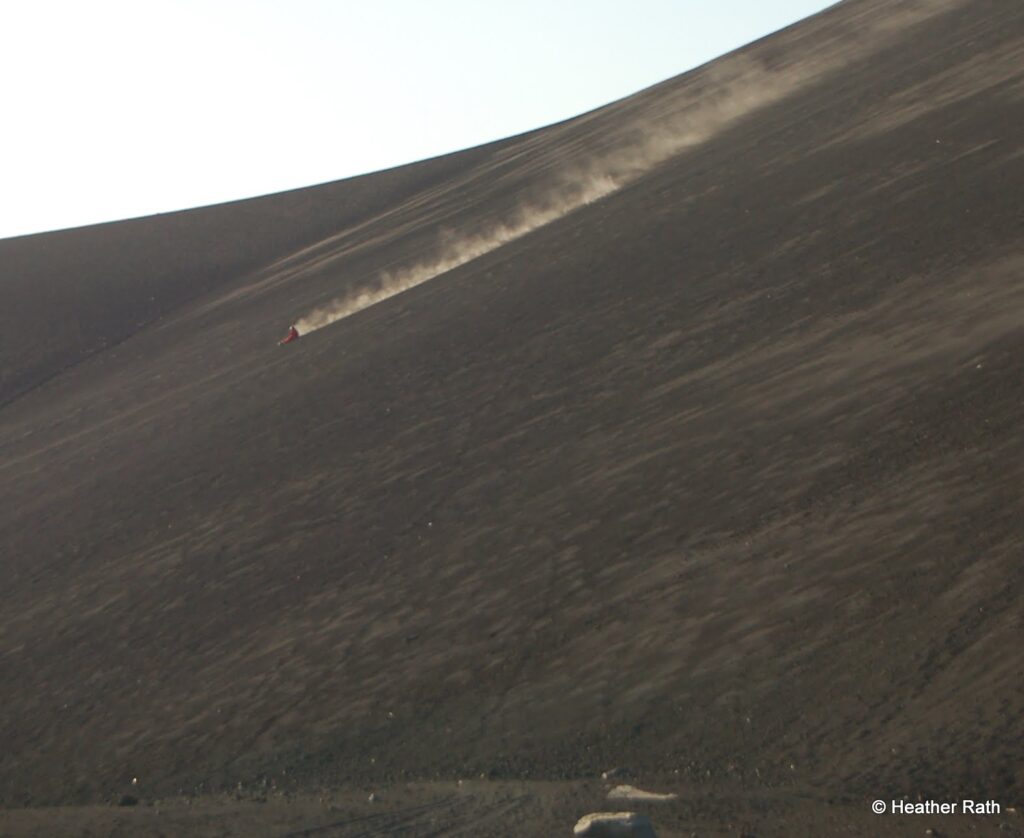 Newest extreme sport
But no, the boarder, who can reach up to 87 km/hr (54 mph), is a thrill seeker, testing out the newest extreme sport: volcano boarding in Nicaragua. From all accounts, it's a thumbs up adventure. But it can be dangerous if you try silly things, like standing. Best to sit on the board so there's a centre of gravity. Volcano boarding was the brainchild of Darryn Webb, an Australian who climbed the almost 2,400-foot high Cerro Negro in 2006 and was looking for a fast way down.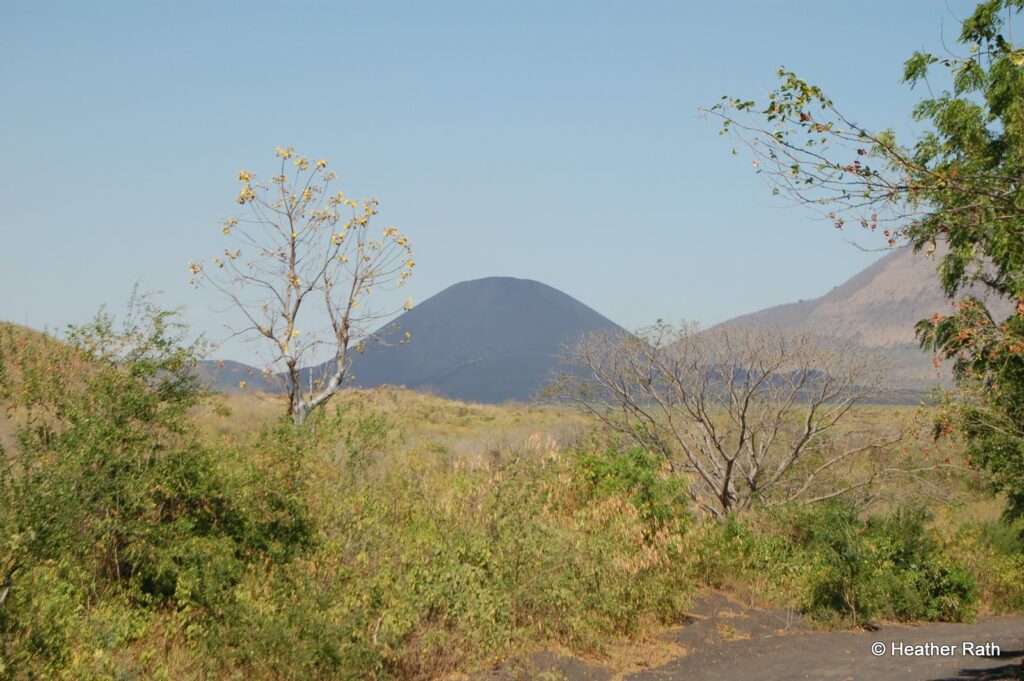 Where can I get on board?
22 km (13.5 miles) from the cultural city of León lies Cerro Negro (Black Hill), an active volcano and the youngest in Central America. It first erupted in 1850, the latest (23rd eruption) in 1999.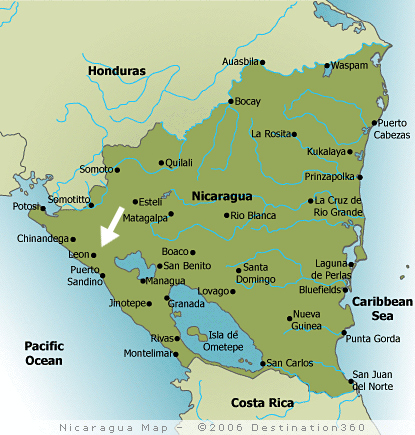 Since you're going to ride/slide this baby, it's interesting to know its history: the volcano is 726m (2382 ft) high with a basaltic cinder cone. Based on its past history, a significant eruption is predicted in the near future. (Better ride now!)
Rather than lava, main products expelled are ash and tephra (rock particles). A 1995 minor eruption of Cerro Negro produced a thin layer of ash on León.
We can verify this nuisance. It was impossible to eliminate black ash particles from our casa rental.
The board
Your sled/board, about the size of a snow sled, is wooden with a thin layer of metal lining the bottom. Glued to the metal is a piece of plastic that must be replaced each day. That's because this plastic protector burns off quickly as you skim, skitter, and slide unpredictably over small black cinders to the bottom.
Before beginning your devil descent, take hold of the rope attached to the front of the sled. Although you can't control your direction, the rope does provide security when you lean back for maximum speed.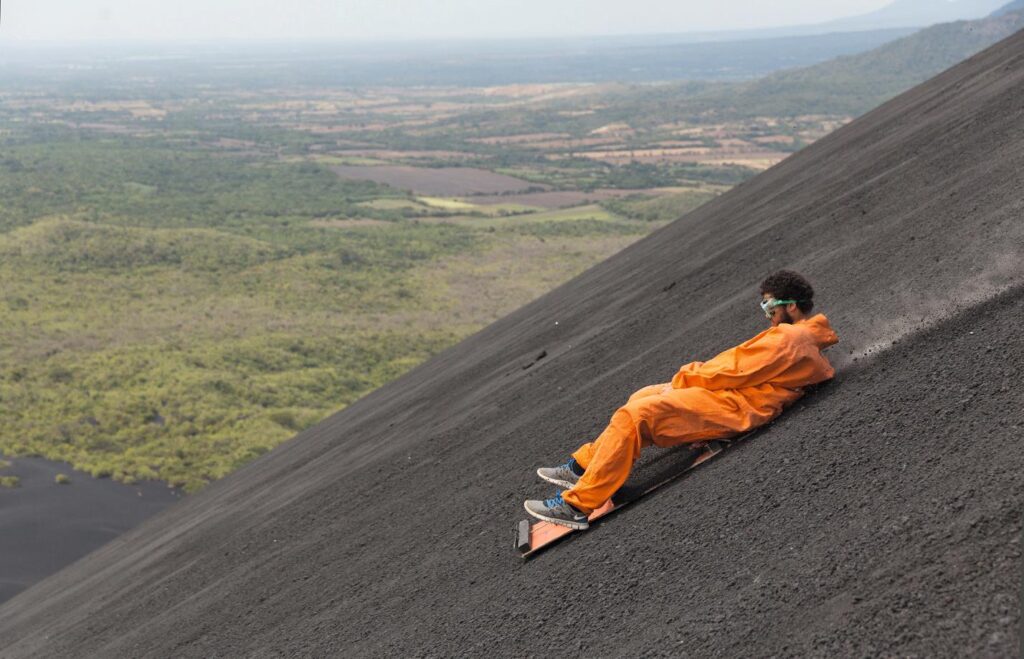 The gear
Ladies, your orange jumpsuit isn't a fashion statement. It's for protection and safety. Also makes it easier to spot you on your rapid decline slide. Goggles are a safety must, too, unless you want volcanic dust, soot, and cinders in your eyes.
Most just want to get to the action.
And don't forget those protective work gloves!
How to get to the top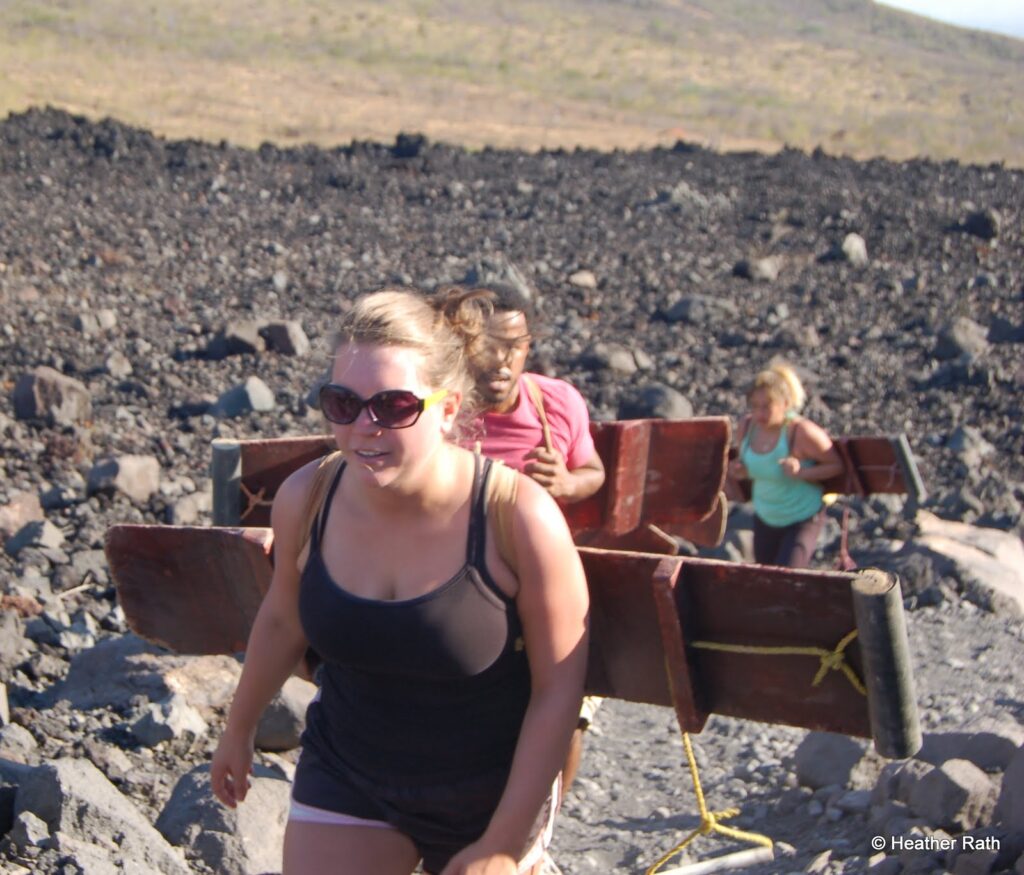 You carry your own board, gear, and adrenaline. It's a 45 minute, often hot and tiring walk to the top 2382 ft. (726 m) along a trail of loose black rock particles.
When you get to the top, the view is daunting, the wind is whipping, and you're wondering whether you should turn around and walk back the way you came. Only 1 minute slide to the bottom.
Our guide claims…
Alejandro is no stranger to volcano boarding. He's done it several times. Was even the guide for a 60-year-old European whose dream was to test his bravery at that age on his birthday.
The moral?
If a senior can do it, then so can you! Contact us for details on how to connect with Alejandro. He speaks perfect English.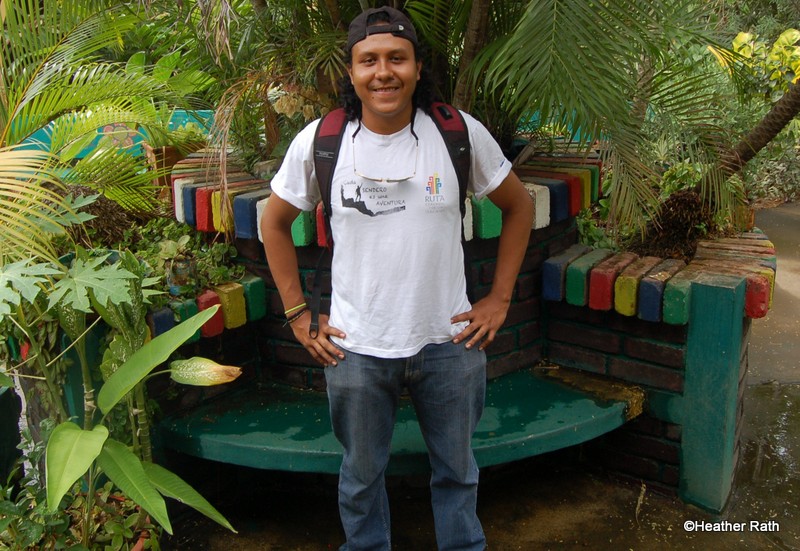 Travelled: March 2017
See more blogs here