Teaching English in Nicaragua 2022 Update
Teaching English in Nicaragua
Everything you need to know about teaching English in Nicaragua is in this blog. We are qualified TESL English teachers and were looking for an adventurous change in culture and customs in a hot climate with eager students.
Here is the information you need to succeed – jobs, qualifications, teaching tips and living comfortably in Nicaragua.
We were gobsmacked by what fun it was plus we learned more than teaching English. We discovered how eager the students were to learn about us! We met amazing people, made lifelong friends, and gained an appreciation of Nicaraguan sights and sounds and tastes. All because we decided to teach English in a university in Managua.
High Demand for English Teachers
English is one of the fastest spreading and most common languages worldwide. Usually when you explore a foreign country, someone somewhere speaks a smattering of English.
Nicaragua is one of the fastest-growing markets for ESL teaching jobs in Central America. The country is not yet a TEFL teaching hotspot, meaning that teachers can have an easier time finding a teaching job in Nicaragua than in other Latin American countries.
Jobs
ESL teachers can work in private schools, language institutes, or universities. A TEFL certificate is not usually required, but is strongly recommended; TEFL-certified teachers are in high demand and can earn much more than their unqualified peers.
Nicaragua is also home to international schools hiring licensed teachers in subjects other than ESL. Educators will need to hold teaching credentials in their home country.
The school year in Nicaragua goes from February to November, although language institutes typically hire year-round. You can check Teach Away's job board periodically for updates on teaching jobs in Nicaragua.
You can boost your appeal (and salary) by offering teacher training – more about this later.
Salaries and benefits
Salaries for English teaching jobs vary greatly depending on the institution as well as the teacher's qualifications and previous experience. Most teachers can expect to earn the equivalent of approximately $500-700 USD per month. Universities and bilingual schools pay higher salaries, but prefer to hire native English-speaking teachers with previous experience and a TEFL certificate.
Though salaries are low, the cost of food and housing in Nicaragua is also low. Most teachers find their salaries allow them to live a modest lifestyle without a problem.
Volunteering
Get your foot in the door by volunteering to teach English in Nicaragua. These opportunities are easy to get. Try smaller schools, universities, rural areas.
We can recommend 2 universities to volunteer for experience:
Martin Luther University UENICMLK
University Martin Luther (UML)
We volunteered at a Protestant university – UPOLI (Universidad Polytecnic de Nicaragua). (it is now under a new name, UNP – Universidad Nacional Polytecnic).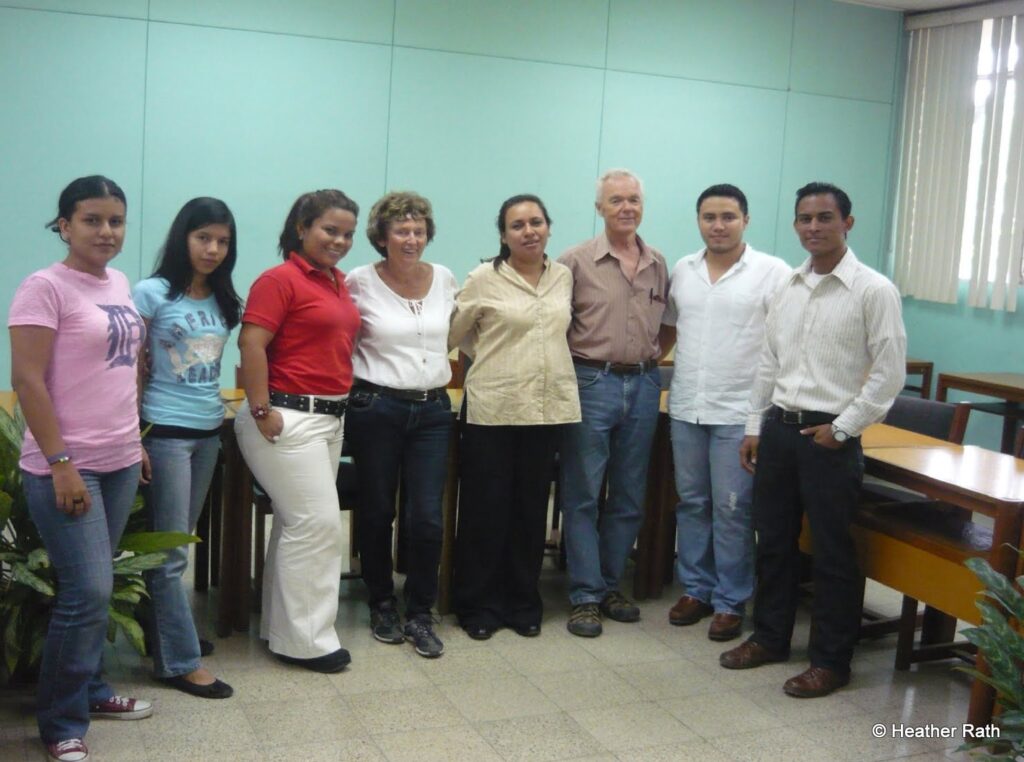 Job Search
Things to know about the hiring/interview process:
It is best to have an in-person interview – suggest you enter Nicaragua as a tourist. Once you have secured employment and have a letter from the employer, return home, or cross the border to Costa Rica and apply for an employment visa – see visa section in this blog.
Where to Look for the Jobs
Many jobs are posted through TESL programs. We recommend personal visits to schools, religious organizations, businesses, post secondary institutions. Social media is a good source to find jobs or advertise yourself.
Freelance opportunities exist for online, small group and private lessons outside the education system.

Some universities to check out for teaching English in Nicaragua are:
Thomas More University
National Autonomous University of Nicaragua (UNAN) – main campuses Managua, Leon
Central American University (UCA)
National University of Engineering (UNI)
Dave's ESL Cafe is a good place to look or post for ESL jobs worldwide.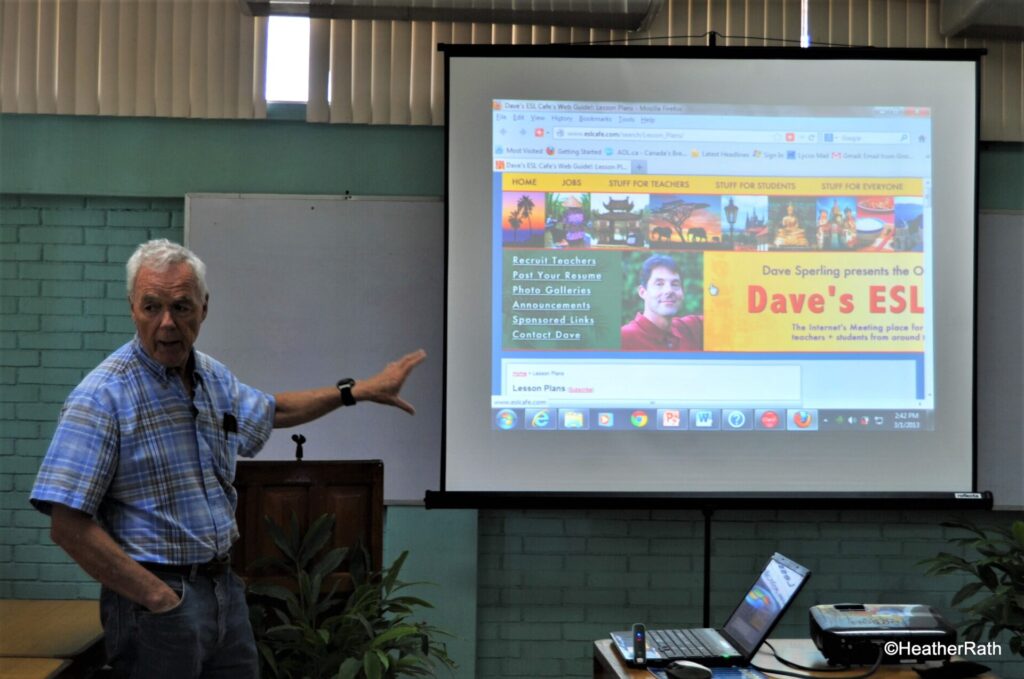 Teacher Training
You will enhance your winning strategy to secure a position by offering Teacher Training as part of your qualification for teaching English in Nicaragua.
You will need to have several years of experience teaching English as a Second Language, preferably in a foreign environment. A BEd would also be useful but not required, depending on the institution to which you have applied.
In our time teaching English in Nicaragua we did teacher training for a group of Nicaraguan university English teachers.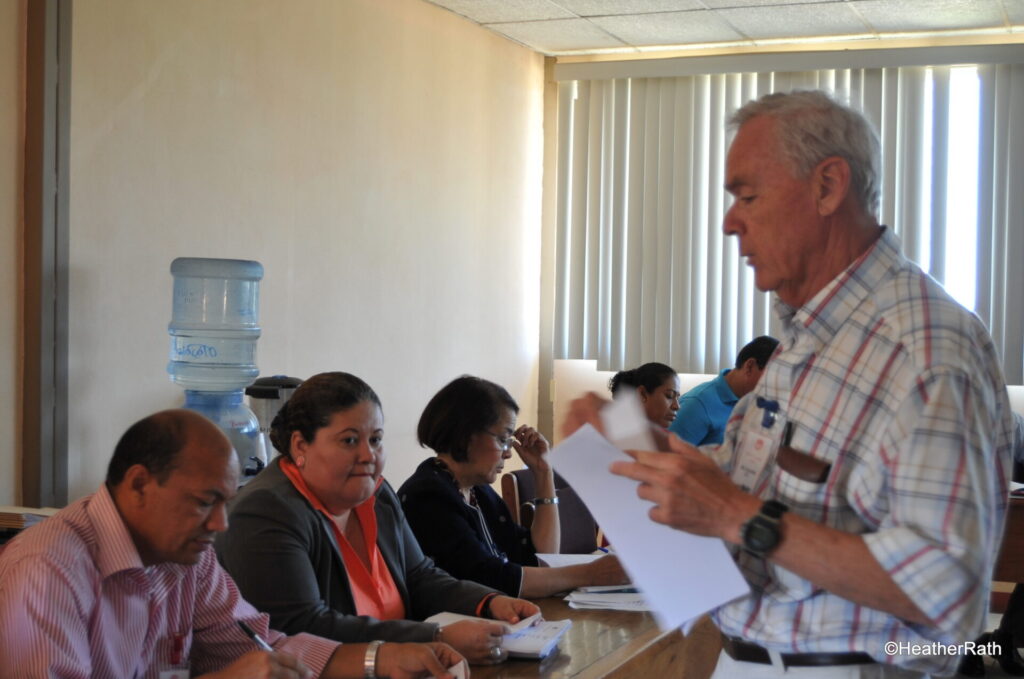 Qualifications for teaching English in Nicaragua
How can you qualify for teaching English in Nicaragua or any other country? It is easy since there are many institutions/schools around the world offering certification in person and online. There is a practicum required, usually arranged by the certifying program. Many of the certification programs offer job placement services.
But before you set off seeking English teaching adventures, it is worth noting that speaking English and teaching English are two very different skills. Being a native speaker will certainly give you some advantages, but in order to ensure an effective and rewarding experience (both for you and your prospective students), you'll need training and qualification.
The first step in getting paid to teach English in another country means certification in TEFL (Teaching English as a Foreign Language) or TESL (Teaching English as a Second Language).
TEFL Programs – Find the Right Course
After you've considered the time and money costs, you should shop around for a course that's right for you. Volunteer Forever has an extensive list of some of the best TEFL options, and it's updated on a yearly basis.
Your decision in choosing a TEFL certification course can have a big impact on your teaching abroad experience. So be sure to research specific programs, read reviews, and reach out personally to speak with specific providers regarding any questions or concerns you might have. How helpful or not a provider is during your research phase gives you an idea of how helpful or not they will be once you are their student.
Most hiring in Latin America is done face-to-face. Search for TEFL courses here.
Visas
Generally, teachers must apply for, and obtain, a work permit, which can be done with the help of your employer. The application package will require a number of elements, including a criminal background check, proof of job offer, fee, 2 passport photos and special request letter. Specific requirements will vary based on the teacher's nationality.
Those entering without a visa are generally permitted to stay from 30-90 days. Foreign tourists requesting an extension of stay should apply at the main offices of Nicaraguan Immigration. Up to 30 days is possible with application at the main office of Nicaragua Immigration in Managua. For the latest visa information for Nicaragua check here.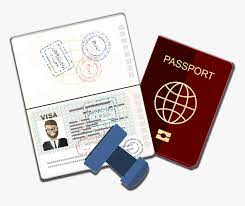 Learning Environment
Ah, here's where you may find a challenge. Be resourceful and creative.
Nicaragua is a tropical country. Average temperatures range from 21˚C-27˚C, and two distinct rainfall seasons: a 'wet' season' (May-October) and a 'dry' season (November-April).
So, it's hot.
Many classrooms (including the ones we taught at in Managua) are NOT air-conditioned. Adding a number of students in one classroom with only an overhead ceiling fan or two (sometimes one doesn't work) adds to the heat factor.
Naturally, we open the windows. Each classroom has open windows. This means all classrooms have open windows. Which means there is a cacophony of human voices intermingling in nearby spaces, threatening to lure your students away from your lessons.
Attendance can be an annoyance for the teacher – students not on time, absences, leaving or entering the classroom during the class. Nicaraguans do not always regard the clock as a way to regulate their behaviour.
Class sizes can vary, as few as a handful to a filled auditorium.
As a teacher you must recognize and accept the local environment.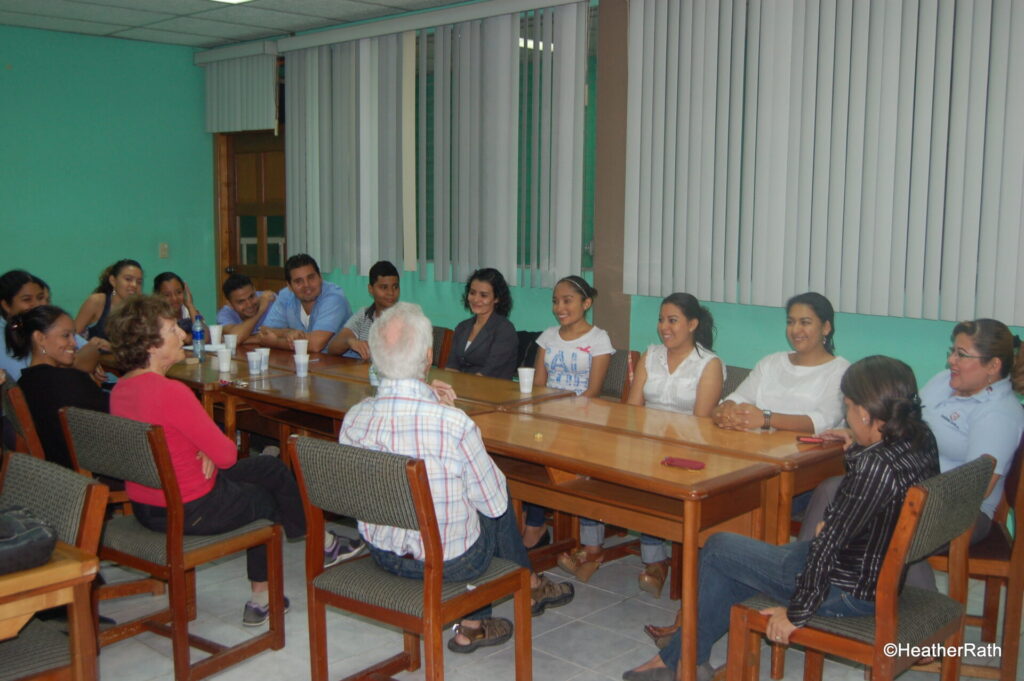 Nicaraguan Education System
Young people are becoming increasingly more interested in receiving a better education in Nicaragua. Currently 65% of the population is younger than 25 and both elementary and high school education are now mandatory and free. Several Nicaragua universities have formed an affiliation with various universities in the United States. To add to this, the Nicaraguan government is increasing funding to improve the education available in the country. Promotions have also gone a long way to increasing the level of enrollment in tertiary institutions.

There are many opportunities for those qualified for teaching English in Nicaragua.
Here is the structure of the educational system in Nicaragua.
Tips for Teaching English in Nicaragua
Ice Breakers
This is when your skills, imagination, determination, and ingenuity kick in. Your job is to teach BUT also to deliver your lessons in an absorbing way. The ambient noise is rising? You suddenly introduce an all-encompassing game. We used ice breakers often to maintain attention and perk up interest. Here's an example:
Like a snowball fight!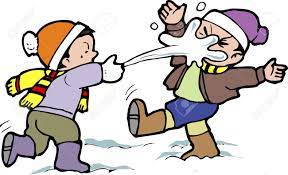 What?
Your class knows you are from Canada. In Canada, during winter, we have snowball fights. So, you explain (in English of course) that the class is going to have a snowball fight.
Suddenly, the noise outside becomes irrelevant as each student stares at you in disbelief and wonders whether they actually heard 'a snowball fight'.
You distribute blank pages of white paper to each student. You ask each to write something on that paper about themselves that others in the class may not know (again in English of course).
When this task is complete, you instruct each student to crunch up the paper into a ball. Then you invite them to throw these 'snowballs' all over the room…anywhere. A snowball fight for about a minute.
When the minute ends, each student picks up the 'snowball' nearest them. Each must uncrumple the crunched-up paper, read it aloud, then ask the class (or guess) to whom the paper belongs based on what is written (in English).
This 'game' produces lots of laughs and noise so that other classrooms are now wondering what's going on.
There are many similar 'games' you learn during your English language training courses that help you overcome a problem. In this case, an environmental one.
The 'snowball fight' also serves as an 'ice breaker'. Suddenly students feel open, engaged, relaxed.
They are eager to pay attention.
Some other ice breakers:
Who Am I – tape the name of a famous person to the participant's back – the participant asks questions of the group to determine the identity of the person
Two Truths and a Lie – each student writes on a piece of paper 2 truths about themselves and 1 lie. They read it aloud and the other students must determine which is the lie.
Once we had a professional dancer perform for the class. This was followed by a group discussion in English about the performance.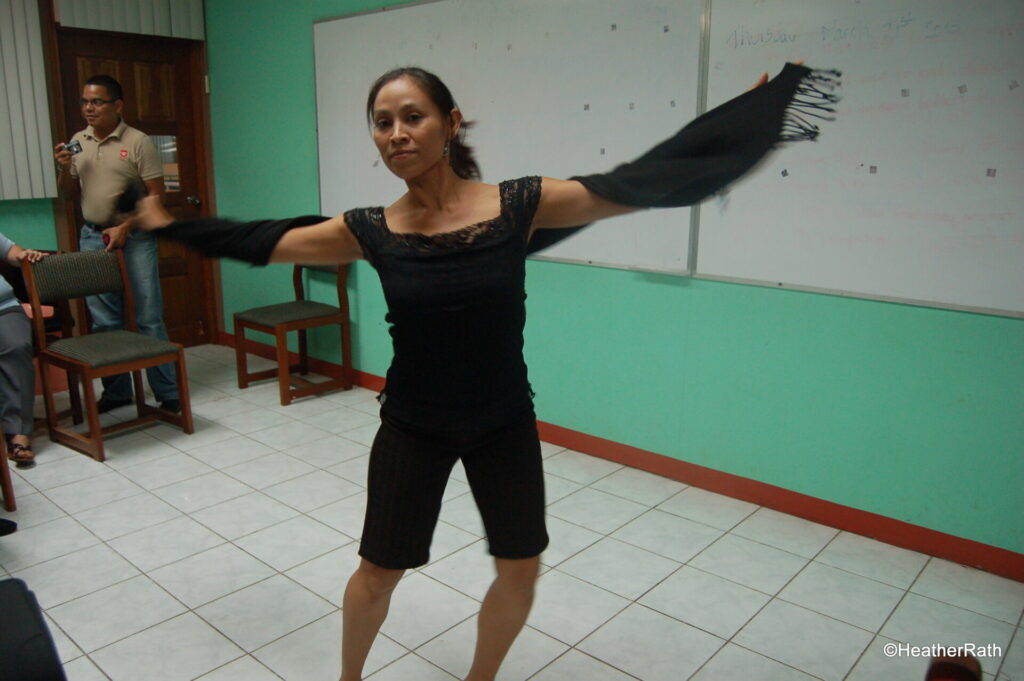 Remember as a teacher you are also in the entertainment business!!
Lesson Plans
You are trained to do lesson plans – so DO THEM. It is important that they are customized to the group – age, English skills, intellectual ability- these can all be assessed at your first meeting with some ice breakers.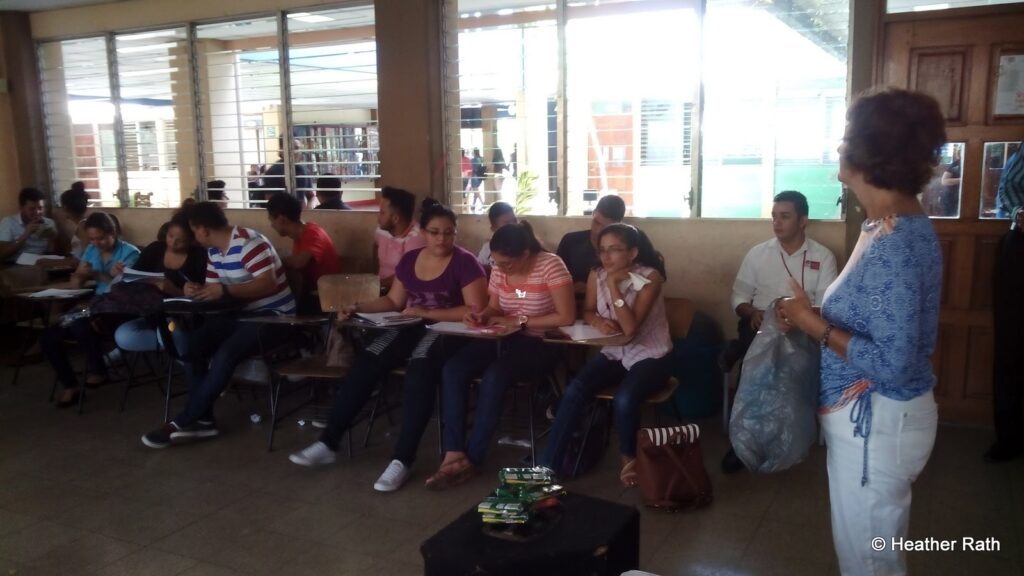 Pronunciation
One of the reasons a native English speaker is valuable in a foreign country is because we teach the correct pronunciation of a word.
Here's an example of what we mean:
Many Nicaraguan teachers have picked up English while living in the United States at one time. But they do not necessarily pick up the correct pronunciation. Understandably, they have a Spanish accent when speaking English.
In our experience, after being invited to sit in and observe an 'English' class, we recognized the shortcomings of not having a native English speaker as teacher.
The teacher whose class we visited prompted her students to repeat an English word after her. She introduced the word 'notebook' which, unfortunately sounded like 'nutbook' (naturally due to her Spanish accent).
That's when we realized being a native English speaker was valuable. These students, hungry to learn English, need – and want — immediate and correct pronunciation.
Teacher Training
When we taught ESL in Managua, many teachers who already spoke English, expressed interest in taking an ESL teaching course for personal improvement.
When teaching the teachers, we discovered a new level of challenges. Teachers are more attentive and eager to learn. They are also discerning because they are giving up their personal time to learn English from you, a native English speaker.
Teachers learn quickly, because of their maturity. If you think one prepared lesson is all you'll need, think again. Always have two prepared lessons and a third one churning beneath the surface.
Among the most successful tools we discovered with teachers were audio-visual and computer- generated lessons. Those online videos/songs with English subtitles were great with this group. One of their favourites was "Brand New Key"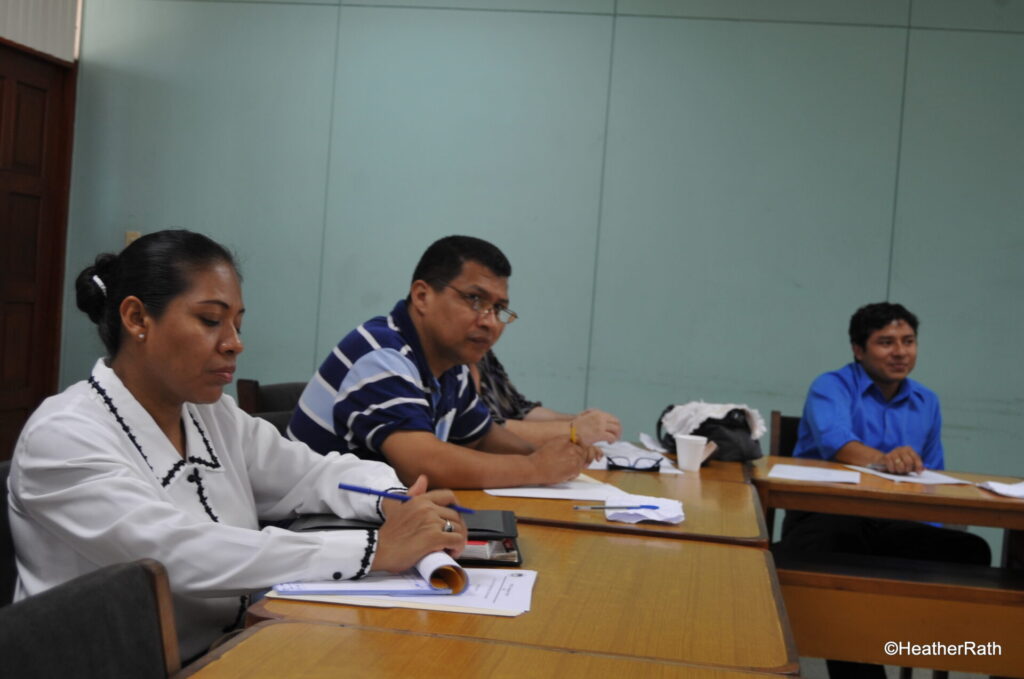 Pros and Cons of Teaching English in Nicaragua
Pros
lots of jobs, low cost living, eager students, wonderful people, great sightseeing
Cons
low salaries, hot climate, culture shock, limited imported food
Is Nicaragua Safe?
Nicaragua is one of the safest country in Central America. It has the lowest violent crime rate in Central America with far less violent crime than the more popular tourist destinations of Costa Rica, Belize, Panama, Mexico or Guatemala.

However, crime still happens, and tourists should be aware of their surroundings and be cautious when traveling. Some of the most common crimes against tourists include pickpocketing and petty theft.
These crimes are usually non-violent and can be easily avoided by taking simple precautions. Always keep your belongings close, and in crowded situations don't carry large amounts of money, cameras or flashy things with you. These are common rules for travellers anywhere.
Do not walk alone, go out alone at night, do not accept rides from strangers, and avoid isolated areas. In general, as long as you use common sense and know your surroundings, you will be safe while traveling in Nicaragua.
If you are living in, or visiting Managua, be cautious about entering the El Chureca, Barrio 18 and the La Modelo neighbourhoods. There is high crime and gang activity there. If you must go to these areas, be aware of your surroundings and take precautions. As in most large cities worldwide.
Since Nicaragua is an elected autocracy one must be careful when discussing the government in public.
Living in Nicaragua
In major cities, such as Managua or Granada, accommodation can cost as little as $300 USD per month. Choosing a neighborhood outside of the city center helps to keep rent prices low, as does sharing an apartment with a fellow teacher. Outside of urban areas, the cost of housing is even lower.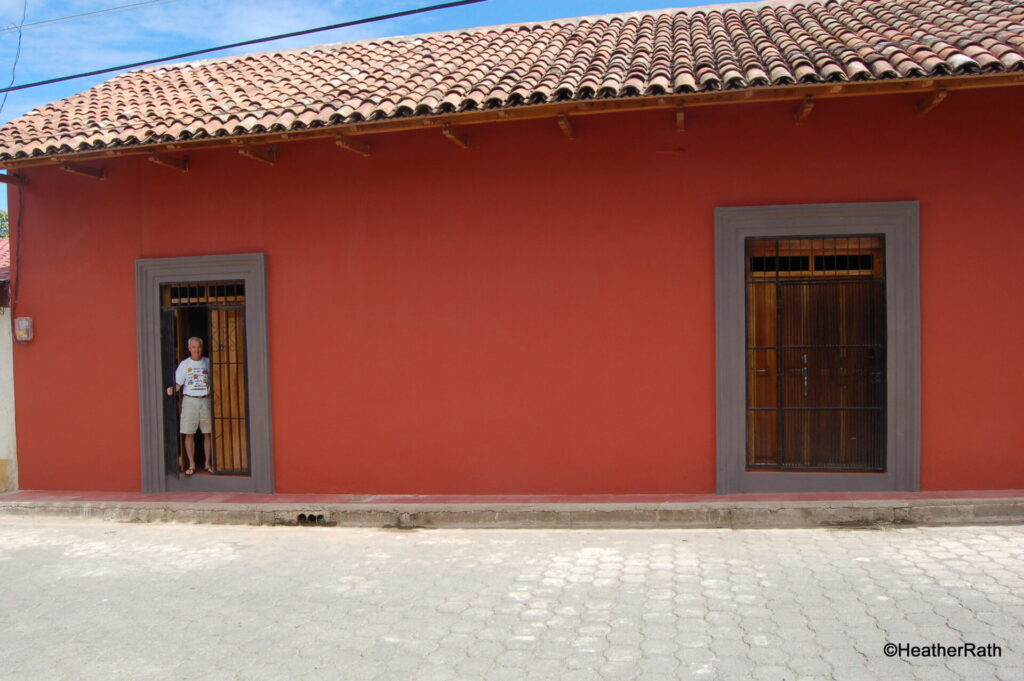 Fresh local food (fruits, vegetables, meat) are cheap. Imported foods are not. Learning to live like the locals can be economical and educational. Try new fruits and vegetables and learn how to prepare them. If you do you will have a healthy and economical diet. Many small local restaurants serve delicious and low priced dishes. So–you can live cheaply while teaching English in Nicaragua.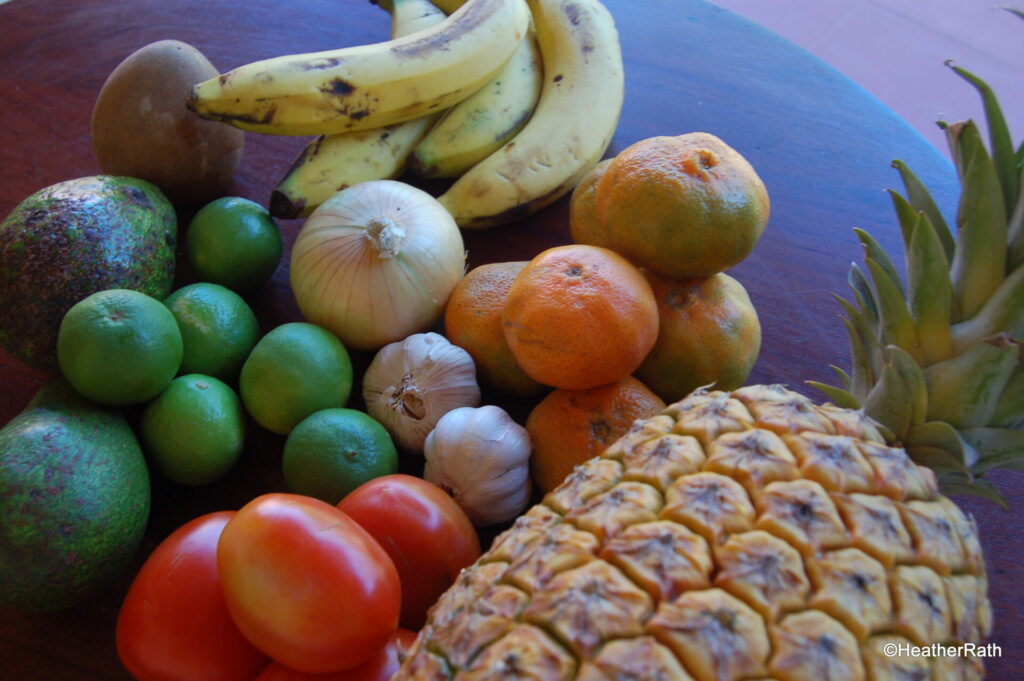 Regarding health – there are two health systems, public and private. The public system is overcrowded and equipment is limited. The private system is better equipped and not so crowded. The cost for private care is quite modest for most procedures. The same is true for dental care.
While we were teaching English in Nicaragua, we lived in Granada and commuted about one hour daily to/from Managua. Read about our adventures on the local bus commute.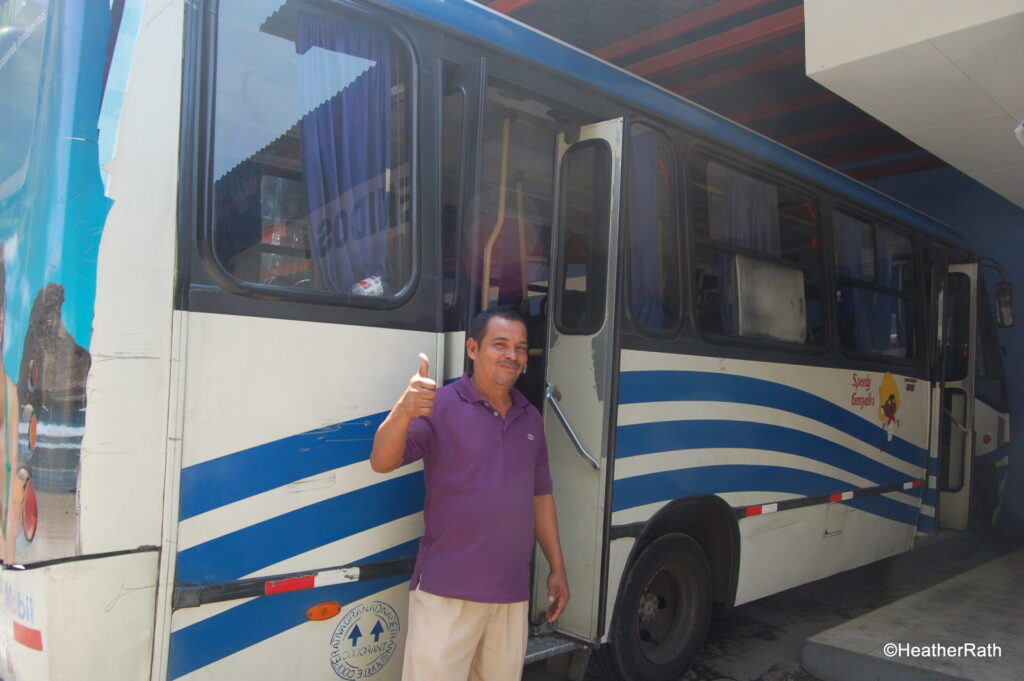 There were many surprises as we adjusted to a new country and environment.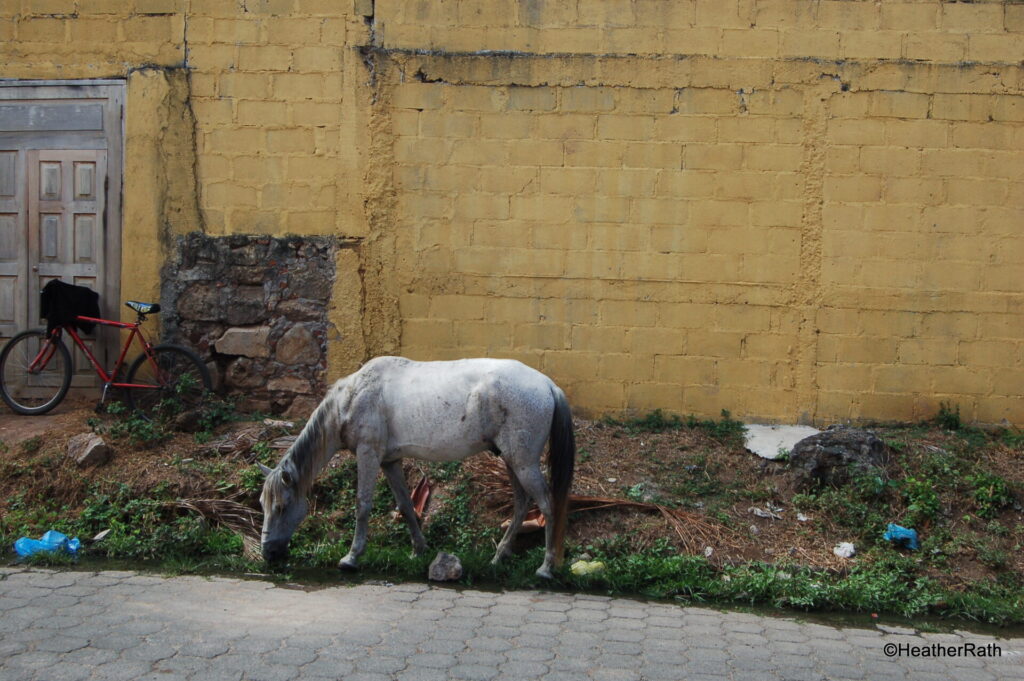 Sightseeing
The "Land of Lakes and Volcanoes" offers plenty for the curious. Both Managua and Granada sit on the edge of magnificent lakes, giving teachers the opportunity to appreciate their natural beauty. Explore lagoons resting in volcanic craters or zip line through mountaintop cloud forests.
Most countries have an established route of attractions for the visitor.

Nicaragua's popular path is Granada – Ometepe – San Juan del Sur. Plus her Atlantic coast. Top attractions
do not disappoint.

Unique only to this country is a fascinating extremist sport. Volcano Boarding on Cerro Negro, is increasing in popularity. Read all about it in another of our blogs.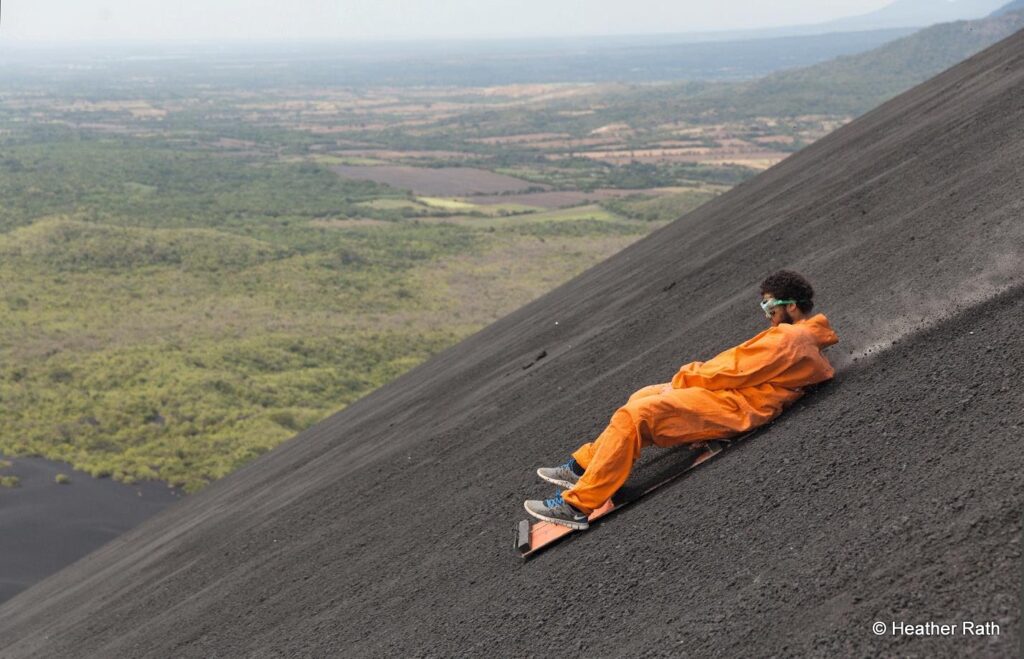 Book your day trip for volcano boarding by clicking here
If this isn't your thing (it wasn't ours…looked dangerous!), you can also hike around the country's various volcanoes.
Granada, one of the country's top tourist destinations, has maintained its colonial charm with beautifully preserved architecture, as well as parks, markets, and museums.
Book your tour of Granada by clicking here
Or head to the north country and visit a coffee plantation outside of smaller, sleepier communities.

Visit the historic city of Leon.

Hike to the active volcano at Masaya.
Book your day tour to the Masaya volcano by clicking here
Paddle to nearby isletas on one of the many lakes.
Try surfing at San Juan del Sur on the Pacific coast.
Then, from Managua, fly east to enjoy the soft, sandy beaches of Corn Island and Little Corn Island off the Atlantic coast. Diving here is popular.
While on the Atlantic side, explore the city of Bluefields with its own edgy flavour. It's like a Caribbean port town with its Creole accents.
Nicaragua has everything natural that Costa Rica and more: jungles, two coastlines, volcanoes, bird watching, diving, surfing, beaching, history, archeology, hiking…
For info about where to go and what to see click here
Map of Nicaragua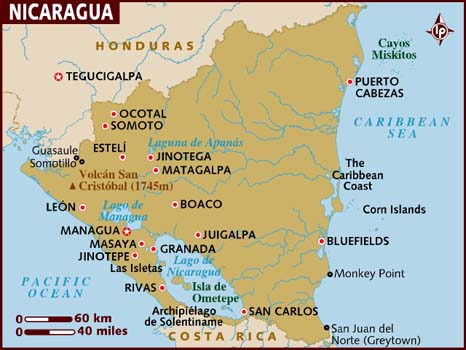 Conclusion
Teaching English in Nicaragua can be rewarding, enjoyable and stimulating. Qualified teachers have lots of job opportunities. What's stopping you?
More Blogs from Central America
Read more of our blogs from Central America.
Be a Guest Blogger
We welcome guest bloggers – contact us here with the tag 'blogger'.
Affiliate Links
This post may have affiliate links, which means we may receive a small commission (at no extra cost to you!) if you choose to purchase through them. Here's our privacy policy for more info.