Fernando de Noronha, Natural Wonderland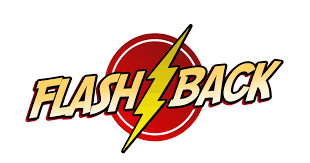 UNESCO recognition
This stunning archipelago of 21 islands lies in the Atlantic Ocean, 350 km (271 miles) off Brazil's northeast coast, 3 degrees south of the equator.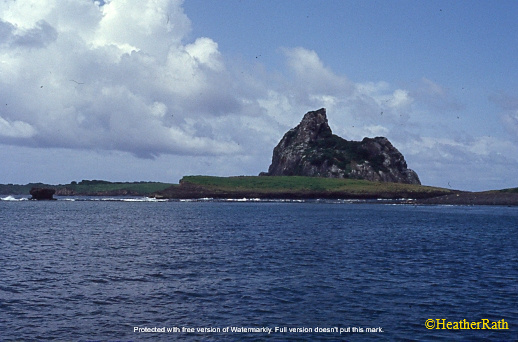 The islands have never been connected to the South American mainland. Thus, all endemic species of the archipelago have colonized the islands by flight or rafting over the sea.
Fernando de Noronha, located at the tip of this submerged volcanic formation, is the only island open to limited visitor access.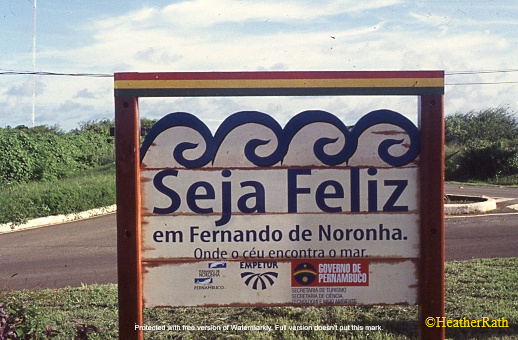 A natural wonderland, Fernando de Noronha features a delicate ecosystem. UNESCO designated the island a World Heritage Site in 2001. Tourist info here.
Diver's Dream
During our approved two day stay, my husband lived a diver's dream.
Excellent visibility during his underwater excursions is how he described the seas in and around the island. Delighted, he encountered multiple and varied species of marine life: sharks, sea turtles, barracuda, eels, dolphins, different types of rays, trumpet fish, queen angels, and colourful reef varieties.
As well, he noticed the sea's healthy and stunning coral formations.
These island waters are famed for their marine turtles and spinner dolphins.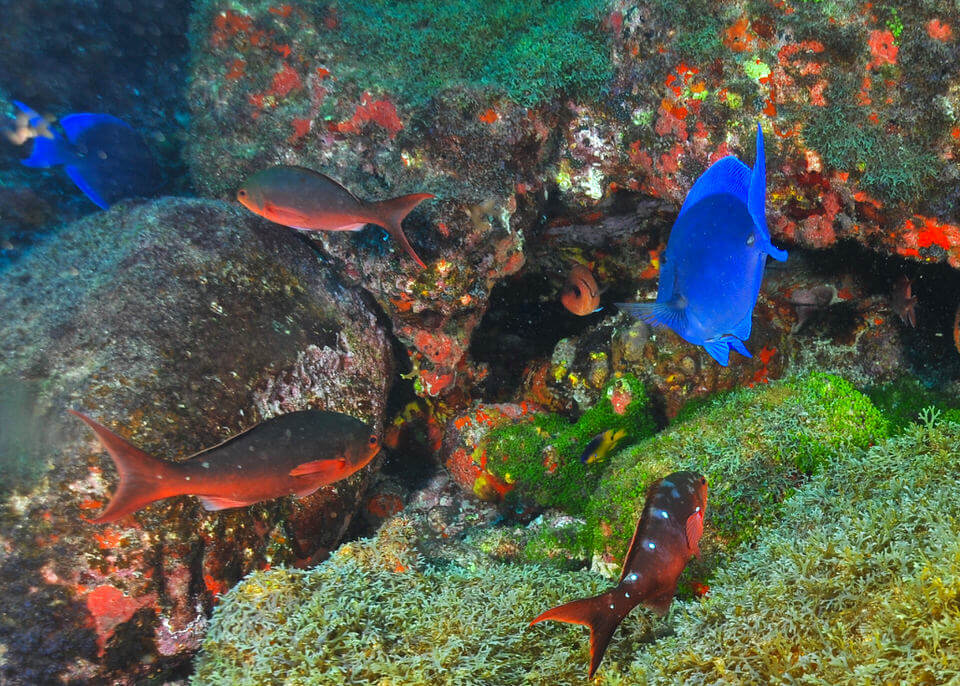 Low Tide
In some areas of the island at low tide, a limited number of snorkellers (lucky us!) could walk/crouch/float in a protected pool. Schools of reef fish in all shapes, sizes, and colours immediately surrounded us.
Their delicate nibbles on our exposed skin felt like little love bites.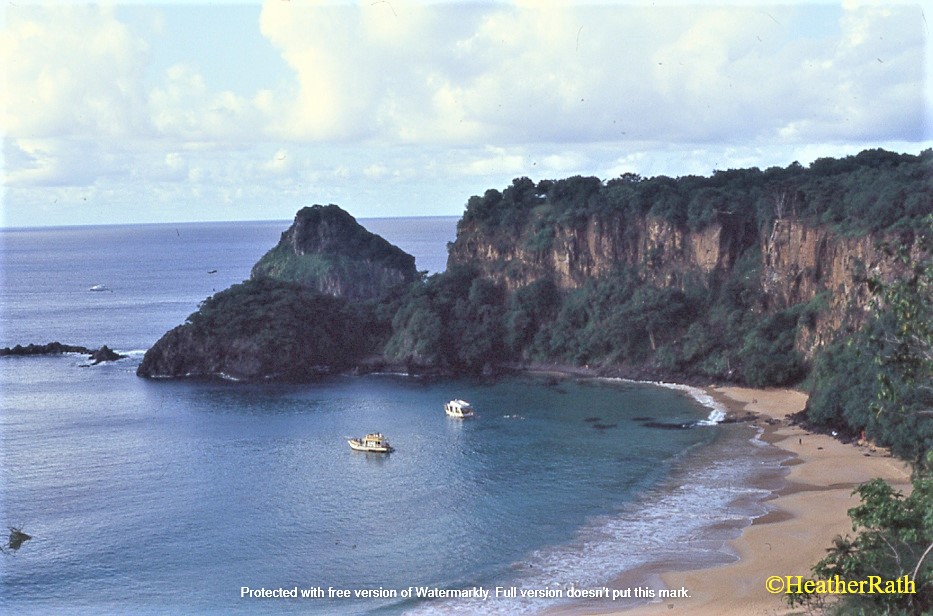 Birds and Animals
Many birds and animals on Fernando de Noronha are believed to have colonized the archipelago naturally. For example:
Noronha Vireo (Vireo gracilirostris)
Cattle Egret (Bubulcus ibis)
The Noronha Skink is also endemic.
Sea Birds
Among the many seabirds breeding in the Fernando de Noronha Archipelago are:
Red-footed Booby (Sula sula)
Magnificent Frigatebird (Fregata magnificens)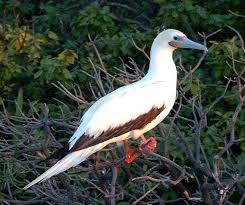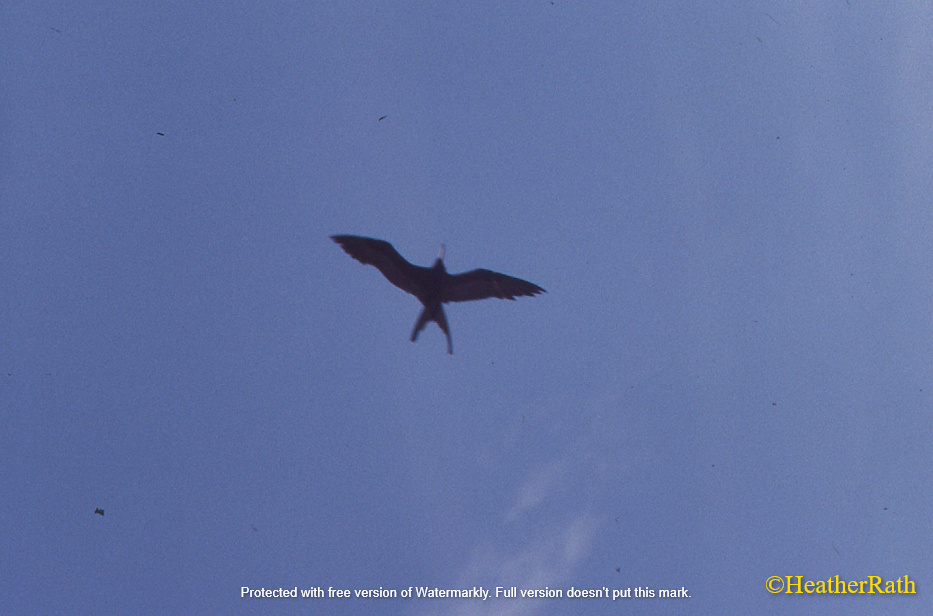 Beaches
Large and beautiful beaches border crystal clear water at various spots on the island. Sandy beaches, each with their own charm and natural beauty, show off magnificent rock outcroppings. Many stretch across a cove or bay.
Some favourite beaches: Baia do Sancho, Cacimba do Pedro, Conceicao, Atalaia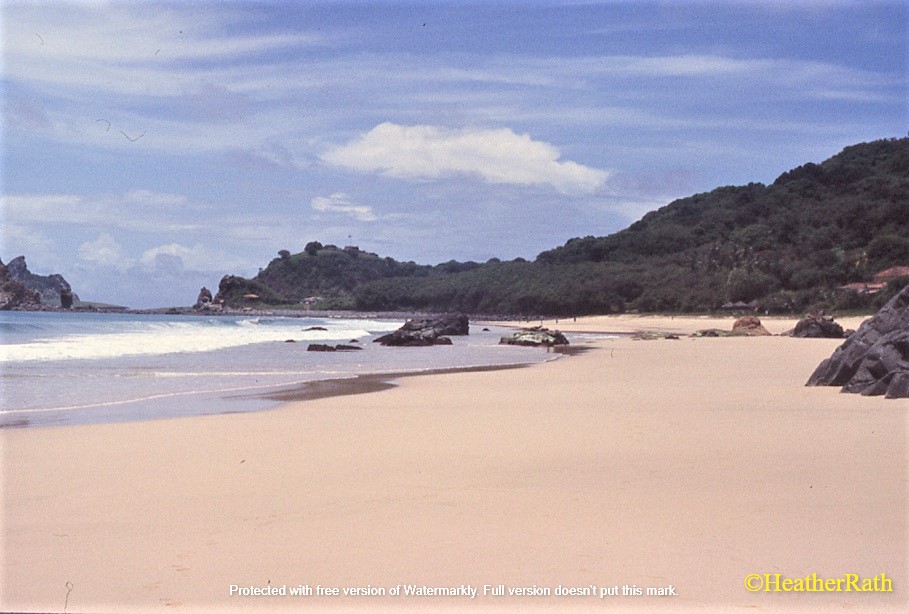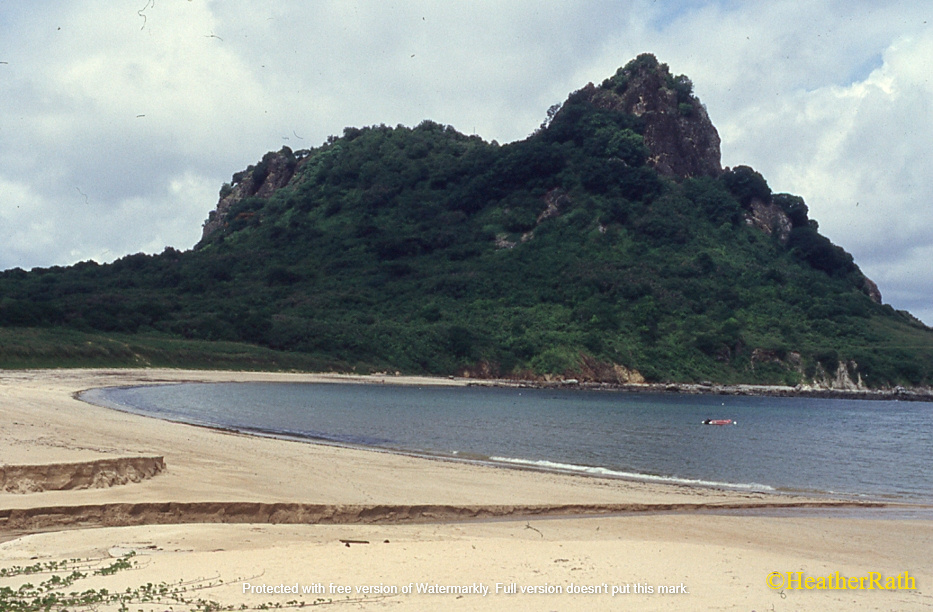 Hiking
Two main trails are linked to hiking heaven:
Costa dos Mirantes: an easy 2.5-km (1.5 mile) route, leads to the area's most famous lookout point, Dois Irmãos (Two Brothers). From there, ease your way down a steep, rocky, trail to Sancho Beach.
Emerald of the Atlantic: Begin at Cacimba do Padro, the well-known beach noted for its waves and great views of Two Brothers Hill. From there, head to the Baia dos Porcos (Bay of Pigs). Best beach in the area for free-diving.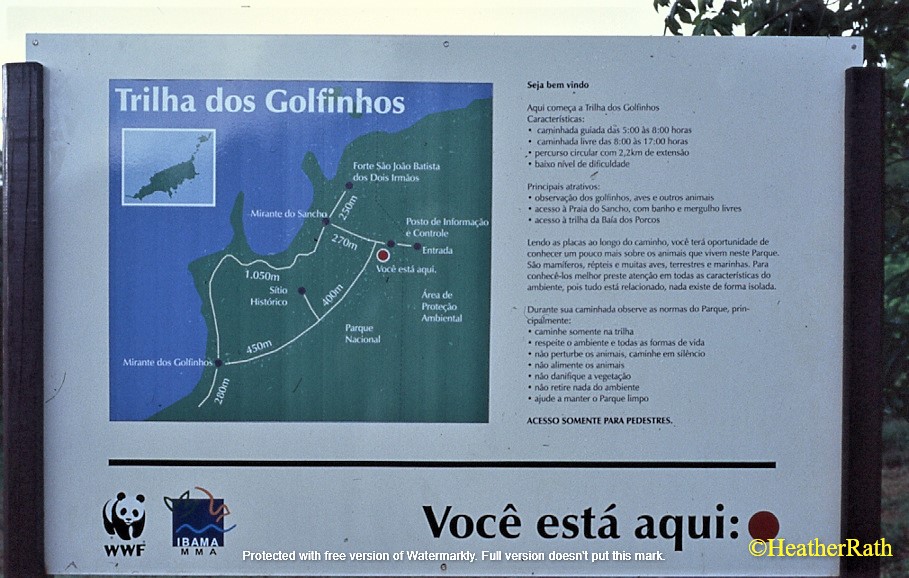 Wanderlust
Although there are commercially operated tours – both on land and by sea – follow your wanderlust. Experience your own undiscovered beauty. All you need is a rental buggy and your curiosity.
Origin of island name
Given in 1504 to its Portuguese discoverer, Fernando de Noronha, the island later became a dependency of the State of Pernambuco, Brazil.
Strategically important because of its relation to Brazil, the island was attacked several times by naval powers in the 17th and 18th centuries. The Portuguese successfully defended it.
The island was home to a penal colony in the 18th century. It was used (1957–62) as a tracking station for U.S. guided missiles.
Fernando de Noronha became a national park in 1988.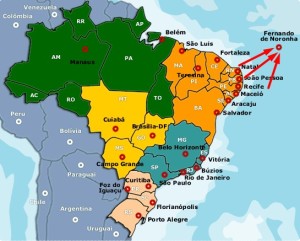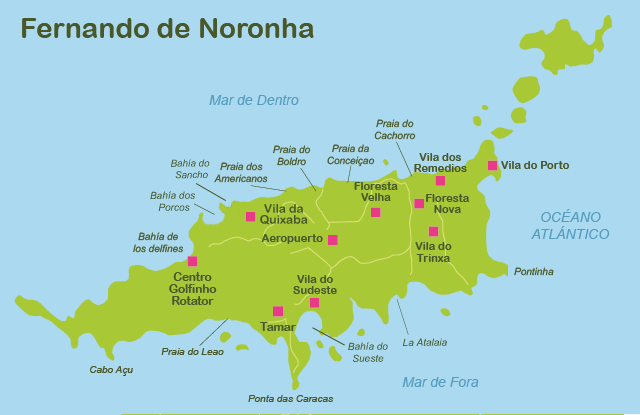 Need to Know
Since our visit to Fernando de Noronha, island life has changed. Be aware:
It's expensive.
Only a limited number of tourists (450 – 500) are allowed per day.
Each visitor must pay an environmental fee to enter. The longer the stay, the more the fee.
For more detailed information click here.
COVID update
Travellers to Brazil update here.
Sights and Sounds of Fernando de Noronha
How to get here
Accommodation
There are over 100 possibilities, from campgrounds and trailers to luxury hotels. We stayed in one of the many posadas with breakfast included: Posada Bela Vista. Located in the centre of town, it was within walking distance to a beach or two. Many restaurants nearby. Search for accommodation here.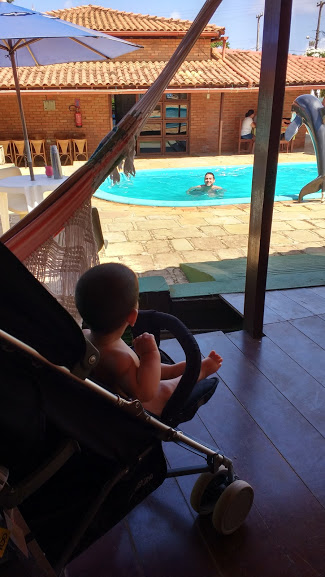 Getting Around
There are regular buses, many taxis, tours and rentals. We chose this: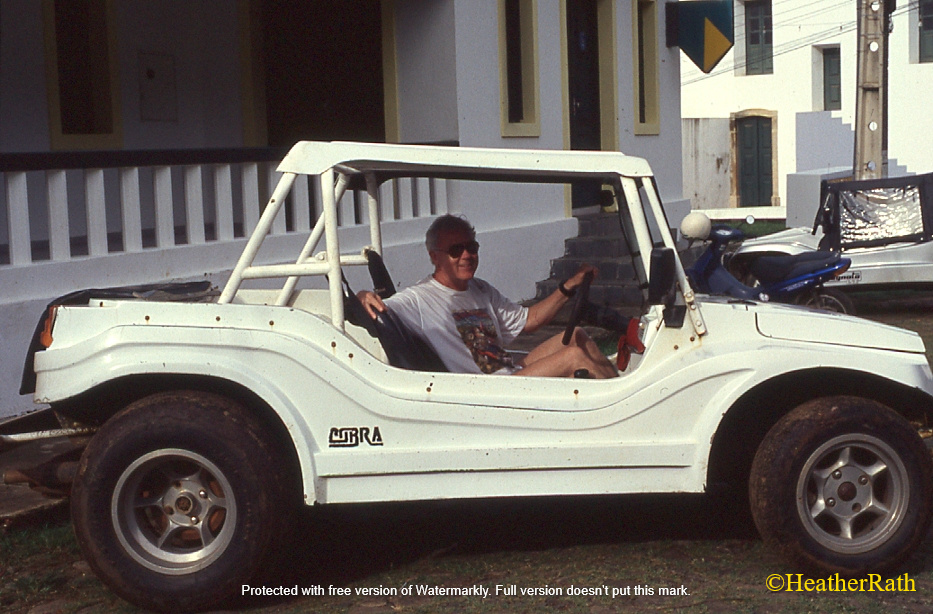 Visas for Brazil
Travelled: April, 2003
Read other blogs from South America
Be a guest blogger on our site. Use our Contact Us form