Ever been disappointed when you finally reach a travel destination that's been on your bucket list forever?
Happens all the time: a monument is not as large as you imagined. Trevi Fountain is smaller than you thought. The grand dinner in the oldest restaurant in France is not as great as you expected.
For us, it was The Bridge in Avignon, France, over the Rhône River. Or, as I knew it in rhyme in our French class in elementary school—
Sur le pont d'Avignon
On y danse, on y danse
Sur le pont d'Avignon
On y danse tout en rond
To be sure, the bridge is there. But it is only half a bridge!! Who would have thought?!
Shock was my initial reaction. This was a famous song about a famous bridge. But the bridge is only half a bridge? What kind of bridge is that?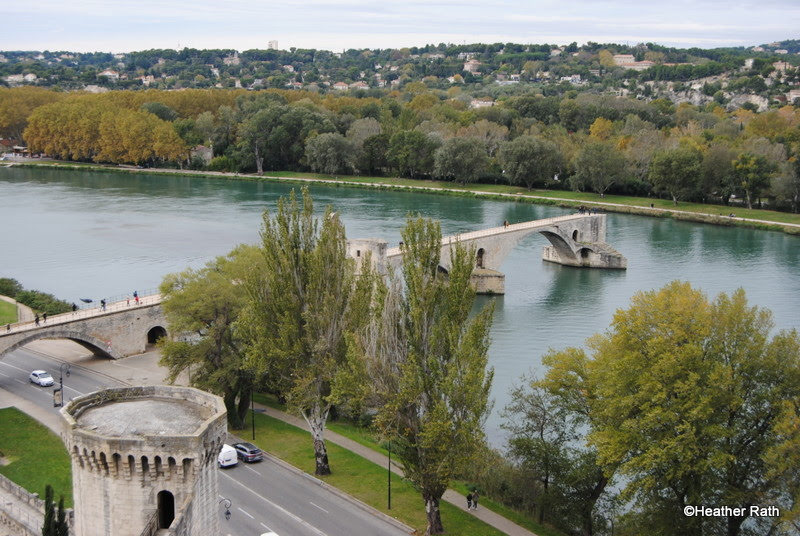 The story slowly unraveled as we listened to its history. It was, indeed, a construction marvel: 22 arches over 950 metres (3,000 feet) spanning the Rhône River. Yet it was only 2.5 metres (8 feet wide). So how could a circle of people even dance on it?
Construction of the bridge began in 1177, presumably due to a young shepherd, Bénézet, whose visions claimed he was sent by God to build a bridge in Avignon. Completed in 1185, the imposing landmark has since been named a UNESCO World Heritage Site.
But why only half a bridge?
In 1226, after a terrible siege the city suffered under Louis VIII, three quarters of the bridge was destroyed. A few years later, despite it being forbidden, the people of Avignon put themselves to the task and rebuilt it.
From the 17th century on, the city could no longer bear the costs of the bridge's maintenance and repairs. In 1603, following strong flooding of the Rhône, one arch collapsed, then three others in 1605. Due to the plague epidemic, repair work didn't start again until 1628. Finally, the bridge re-opened in 1633. Two months later, two new arches were swept away by the Rhône. That's when city leaders decided enough was enough and they left the bridge as it is today.
Is it worth a visit? Absolutely. There is much more history to this famous bridge in this famous city and you would cheat yourself if you didn't stop in Avignon. Explore this mediaeval city of marvels. You will not be disappointed.
…And watch for subsequent posts on this fascinating area of France…