Northern Thailand: The White Temple and More
This post may have affiliate links, which means we may receive a small commission (at no extra cost to you!) if you choose to purchase through them. For more information go to our Privacy Policy
Best Way to see Northern Thailand
If you're an independent traveller — and without a personal car — one of your best investments can be a one-day tour van from Chiang Mai. This gives you freedom to relax, take in the scenery, and leave the driving to someone else who knows the roads.
If our destination, The Golden Triangle, is the same as yours, you will enhance your experience with fascinating stops along the way.
Just outside Chiang Rai, a major northern Thailand city, you'll know you made the right choice of transportation. Perhaps, like us, you were dozing as the van passed peaceful green scenery.
Then suddenly, there it is before your eyes. The White Temple. A must-see beauty.
And as you approach the temple, a sense of awe awakens your senses.
The White Temple looks like a large and delicate lacy wedding cake. We could almost taste the frosting.
Delicately Decorated Jewel of a Wat
A delicately decorated jewel, this famous White Temple (aka Wat Rong Khun) is one Thai artist's tribute to the glory of his country's architecture.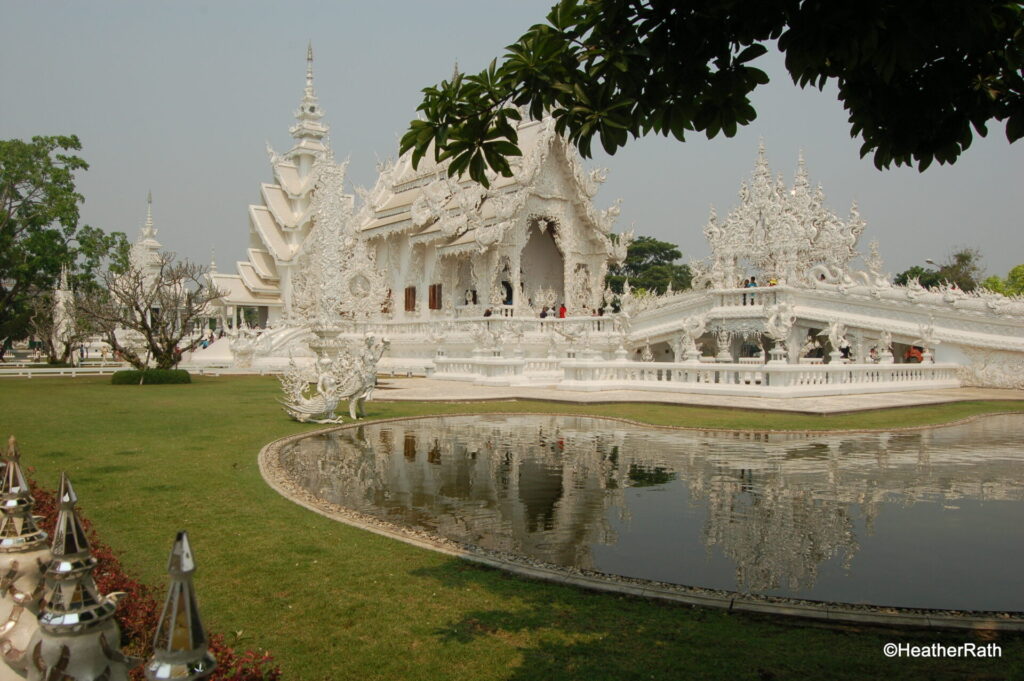 Artist
Well-known Thai artist Ajarn Chalermchai Kositpipat (say that quickly with a mouthful of pad thai!) declared he wanted to build the most beautiful temple in the world to show off the glory of modern Thai Buddhist arts.
In our opinion, he is successful.
Artistic purity
The White Temple project began in 1997 with 120 of the artist's followers. Completion date is set for 90 years hence (2087).
Chalermchai wanted to build a purist temple, with the utmost artistic freedom and without outside influence.
To achieve this goal he has not — and will not — accept any financial donations from any sources including 'government, politicians and millionaires'. He must raise funds himself.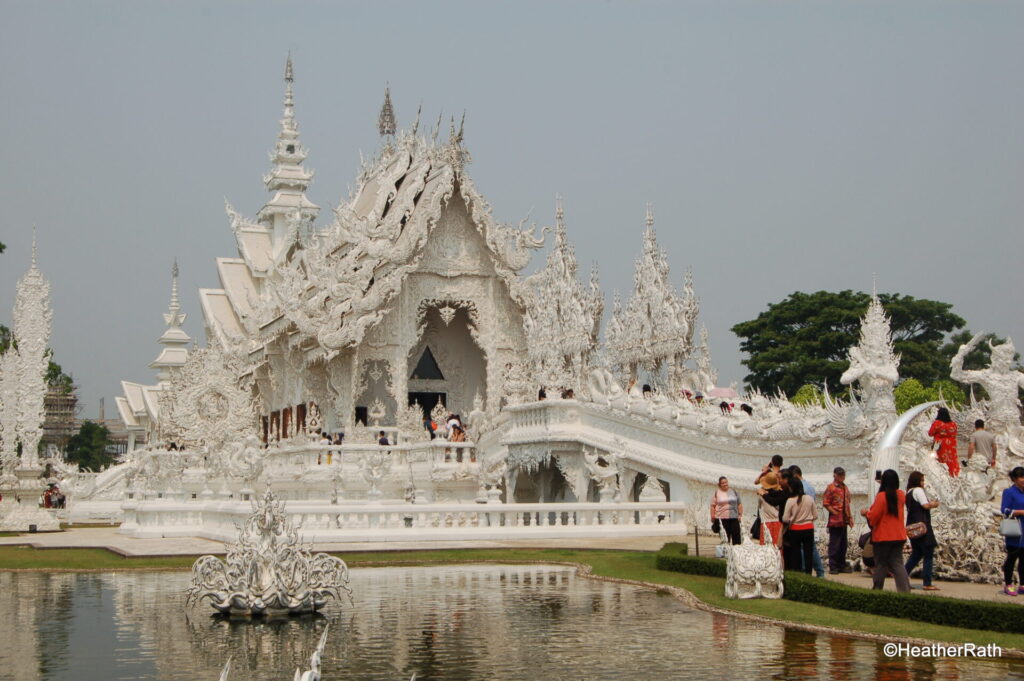 Inspirational
Aside from the temple's breathtaking aesthetics, we experienced a sense of inspiration.
The detailed décor and its meanings expand its physical beauty.
Eight reasons why The White Temple is a must-see:
Everyone of any religious denomination is welcome in the temple.
Colour of the temple is white, unlike other Thai Buddhist wats that are gold. (Gold is the colour of lust, claims the artist).
Chalermchai believes The Lord Buddha represents purity (white). He has escaped the world to Nirvana. Thus, the artist chose white for his stunning temple.
Use of small mirrors throughout the structure is a symbol of Lord Buddha's wisdom (Dhama).
The temple is constructed with whitewashed and clear mirrored chips over concrete. Its appearance is multi-sparkling.
The 'heavenly' garden surrounding the temple represents happiness. It is for the enjoyment of all.
The artist oversees everything from planting trees and collecting garbage to cleaning the grounds. So the compound is spotless. Three large architectural cleanings take place each year: after the rainy season, winter and Songkran (Thai New Year). This in addition to regular maintenance.
Even the golden toilet, "the most beautiful toilet", is open to all visitors. Admire it. Yes. But this invitation does not mean you can use it!
Three reasons the temple murals depict man's inhumanity to man
The artist explains the entrance murals with Lord Buddha is his way of inviting visitors to feel peace and happiness. To envision Lord Buddha's kindness to all beings.
One mural depicts Lord Buddha facing the demon (Mara).
Study the demon's eyes. They project the likenesses of George Bush and Osama Bid Laden. The artist explains, "I want everyone to know our world is being destroyed by those who crave to build weapons that kill." Which results, he claims, in the segregation of people and a destroyed environment. Ensuing violence due to this upheaval leads to war.
Chiang Rai – Home of The Golden Clock Tower – Worth a Visit
Nearby lies the northern Thailand city of Chiang Rai.
One of its famous landmarks is also by Chalermchai, The Golden Clock Tower took three years to erect.
The artist constructed this piece at personal cost as a creative gift to enrich Chiang Rai.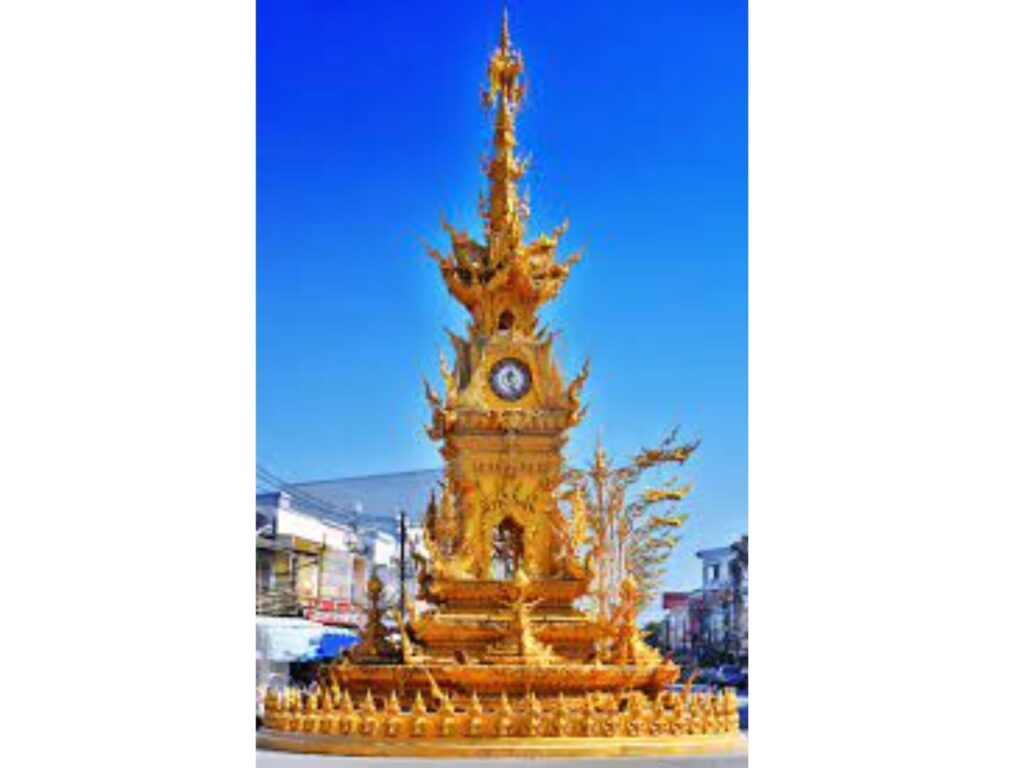 Only one stop
This is only one stop on our way to The Golden Triangle.
Hill tribe villages, The Golden Triangle
Watch for future posts featuring hill tribe villages in Northern Thailand and finally, The Golden Triangle.
Map Of Northern Thailand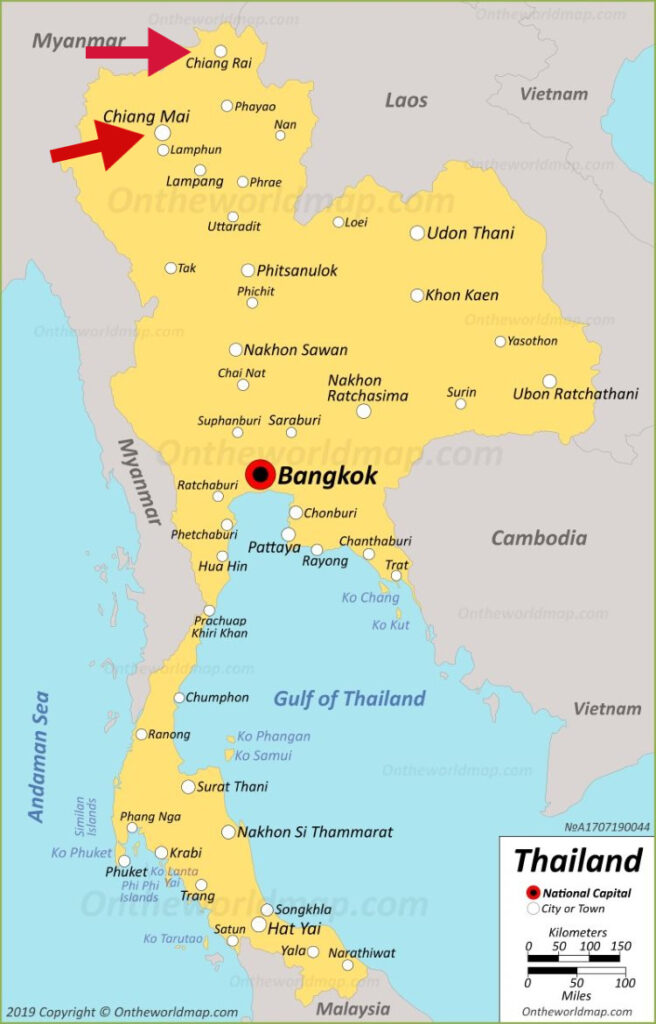 Sights and Sounds of Northern Thailand
How to Travel from Bangkok to Chiang Mai
From Bangkok one can take a bus or train; always car of course. We chose to fly from Suvarabhumi Airport on Bangkok Airways. There are many flights from both main Bangkok airports on a variety of airlines. Since there is much competition on this route, prices are quite affordable.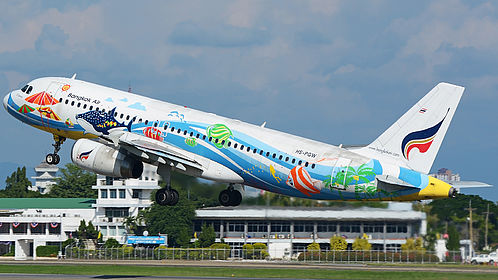 One Best Budget Hotel in Chiang Mai
The Chan Changmai House was a perfect small hotel for us – great location, excellent service and modest cost which included breakfast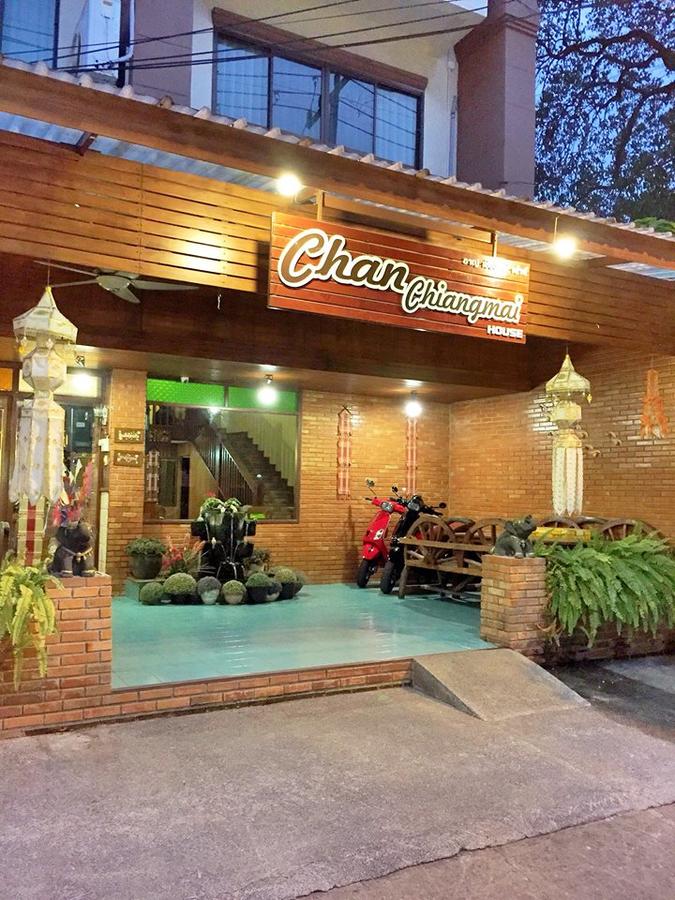 Where to Eat in Chiang Mai
We discovered an excellent Northern Thailand restaurant just steps from our Chan Chiangmai House hotel. It served authentic northern Thai food at very moderate prices. The Huen Phen restaurant was just steps from our hotel. Northern Thai food is unique and delicious.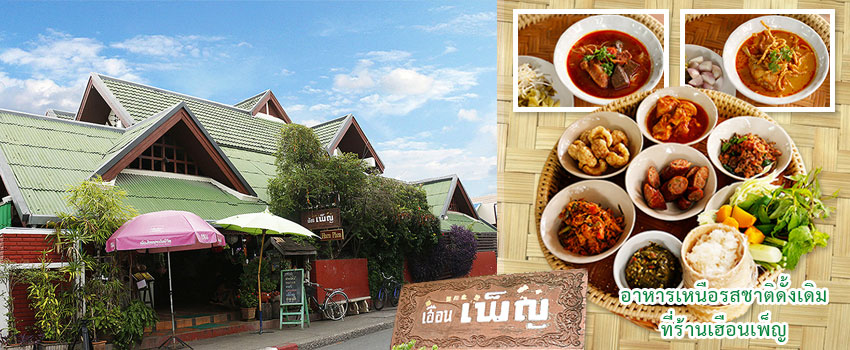 For street food in Chiang Mai, head for the north gate food market for evening goodies. The best stall there belongs to the Cowboy Hat Lady made famous by Anthony Bourdain as he sampled her food for his TV program. She serves Khao Kha Moo – slow cooked pork leg at this night food market. Servings for two with beer cost less than $10.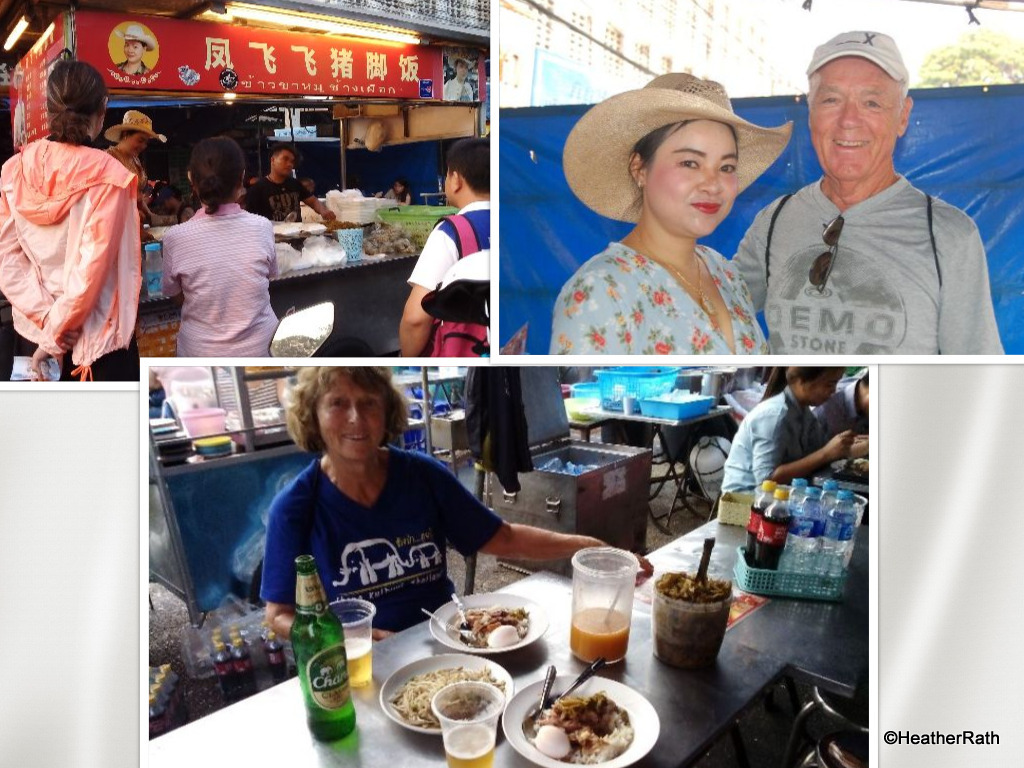 In Thailand now? Book your tour to Northern Thailand by clicking here.
Travelled: February, 2018
See our other blogs from Thailand