Eats 'n Treats in Chiang Mai, Thailand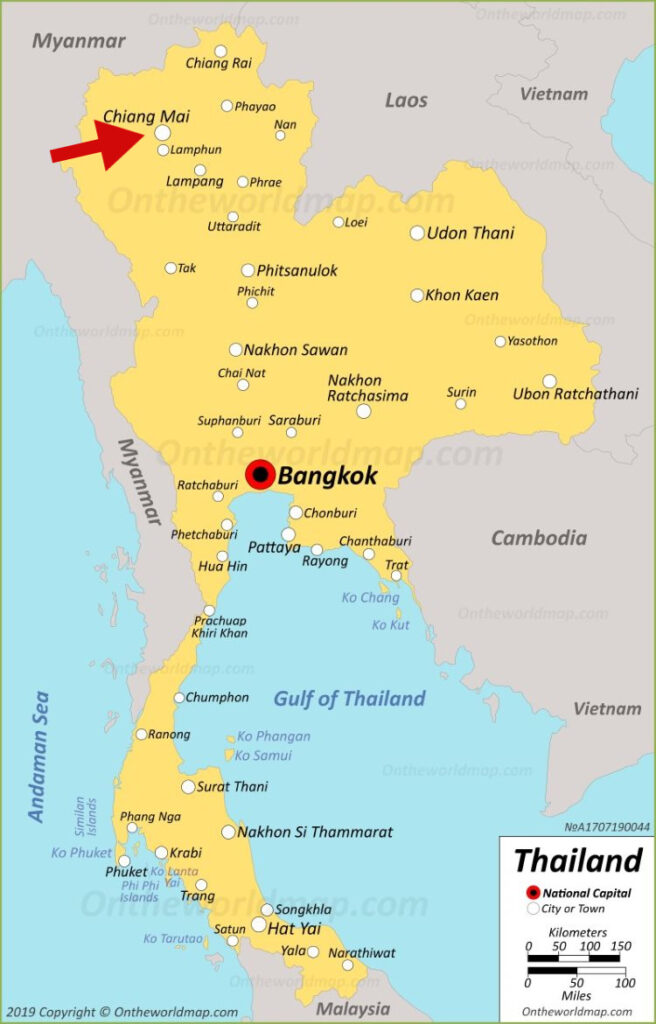 Street Food, Fine Food in Northern Thailand
From the Cowboy Hat Lady cook in a street stall to a more refined Northern Thailand restaurant, your tastebuds will find delicious rewards in Chiang Mai.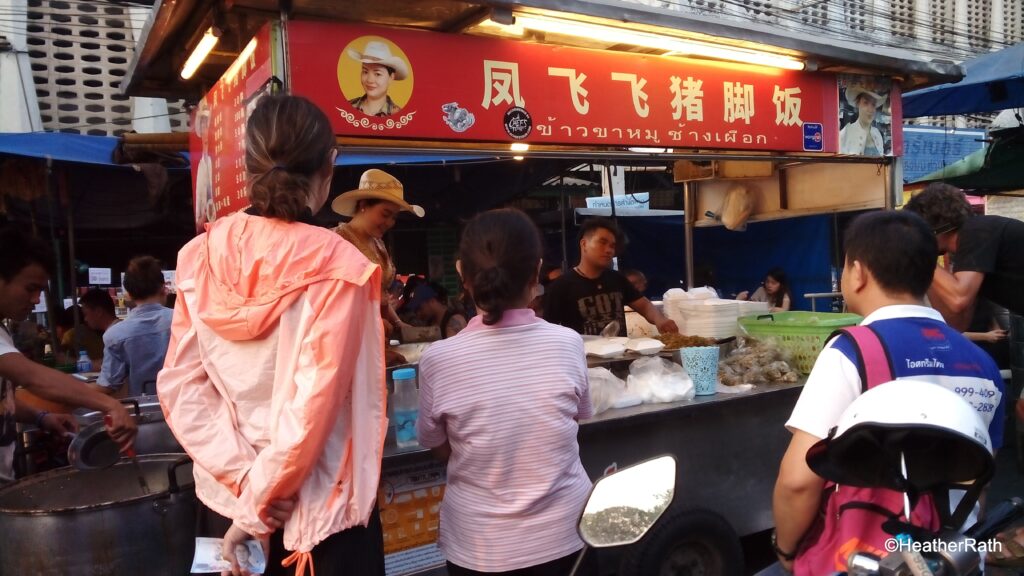 Spicier
Northern Thai food is known for its more fiery, hotter taste than its southern counterpart.
You are often invited to order your personal degree of peppery, spicier flavours, and still not feel like a flame-throwing dragon.
On a budget? Visit the Cowboy Hat Lady
Her fame for preparing Khao Kha Moo (stewed pork shank) is so legendary that the late Anthony Bourdain, TV's global food connoisseur, paid her a visit. After his show featuring her pork specialty, the Cowboy Hat Lady's stall was inundated.
We have since learned the Cowboy Hat Lady herself is no longer present to serve her signature dish. But her stalwart replacement, although not wearing the trademark hat, still works the magic of her stall. Tourists and Thais continue to flock to this famous trademark eatery near Chiang Mai's north gate. For budget prices you can sample one of Chiang Mai's most popular street dishes.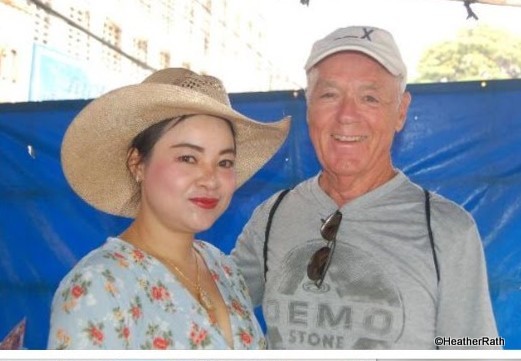 Of course we ate here!
And of course we stood in line.
The stewed pork leg is served on rice with a hard-boiled egg. There is a sour chili sauce and pickled mustard greens (on the table) to finish the dish. We had a side of fried bamboo shoots. With beer the total cost for two was less than $10 CAD. The stewed pork leg reminded us of pulled pork. Yummy!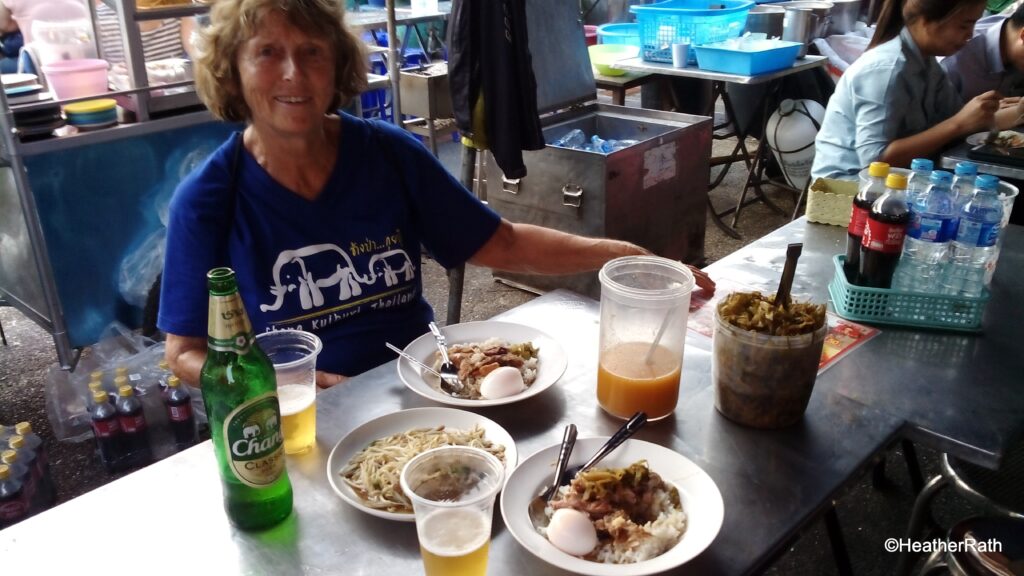 Variety
Hankering for an additional dish other than the Cowboy Hat Lady's tender pork?
Food choices are endless at this night market…pad thai and rice variations, noodles, seafood, chicken, duck, stir-fries with/without morning glory, fresh fruits like jackfruit, papaya, pineapple. The limit lies only in your imagination.
Eating here is easy on the pocketbook.
Location
From 5 pm to late in the night, eat, graze, guzzle, drink, dine at these no-frill stalls of Chang Puak Gate night market, located on the exterior side of the northern moat road, Sri Chum Road, immediately west of the North Gate.
This is one of a number of night markets in Chiang Mai. For more click here.
A Change in Dining Style – Huen Phen
We were temple tripping in the historic area of Chiang Mai. But we were also hungry.
Lucky us! Not only did we find ourselves a great, small hotel, ChanChiangmai House, but not far along the same street we indulged in fine dining at the Huen Phen Restaurant.
Huen Phen has two sittings: noon and evening, each located in two separate inhouse restaurants.
Noon: casual, relaxed
At noon in a more relaxed canteen style eatery, you can try this restaurant's famous Khao Soi noodle soup. During lunch, this is Huen Phen's main dish.
Lighter dishes
But there are also other dishes at noon. The menu offers a range of additional traditional snacks and Northern dishes. Like jackfruit salad, sticky rice, and 'Aeb Pla', fish grilled with sweet basil and wrapped in a banana leaf.
Evening: transformation to a romantic restaurant
First, we walk the landscaped path alongside the restaurant's exterior and step through an older entrance at the back. A delightful change from frenetic crowds!
From the casual streetfront eatery, we now enter Huen Phen's alter ego at the rear: a romantic restaurant with low lighting and unique wall decor.
The menu of Northern Thai dishes is dizzyingly different. Decisions are difficult because we want to try them all.
Best effect of this enriching dining experience: it is enhanced by peaceful, unhurried service, low voices, and attentive detail to food presentation. Plus, the fare is delicious.
Dining specialties
We had difficulty making a decision.
Among the dining specialties when we were there:
kaeng haeng lay, a thick pork and ginger curry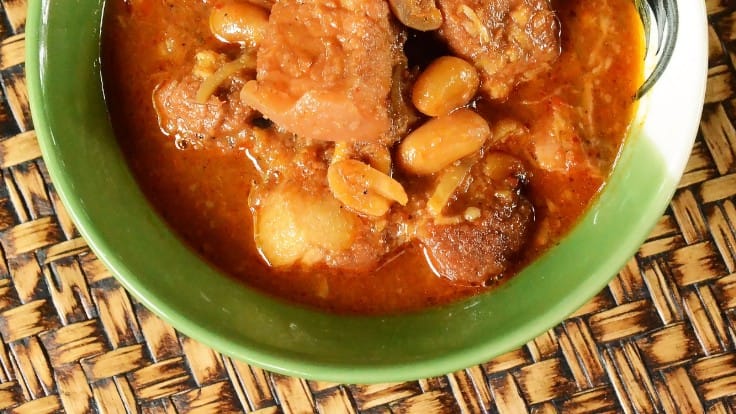 nam phrik ong, a delicious ground pork and chili dip served with raw vegetables and pork crackling.
In case you are wondering, there were other meat dishes, too.
Dine among antiques and art
The restaurant's decor is worth a visit in itself – antiques and art everywhere.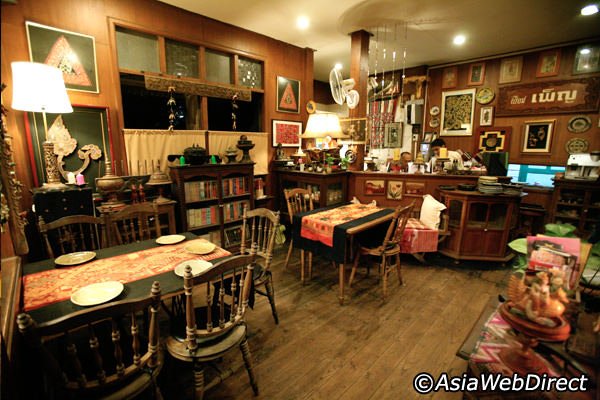 Modestly priced
Both of Huen Phen's inhouse restaurants are modestly priced. You won't go over budget in either one. Food is delicious and the dinner menu is extensive.
COVID

update
For the latest Covid-19 info click here; for arriving travellers click here.
Sights and Sounds
What to see in Chiang Mai.
Where we stayed (recommended) – Chan Chiangmai House.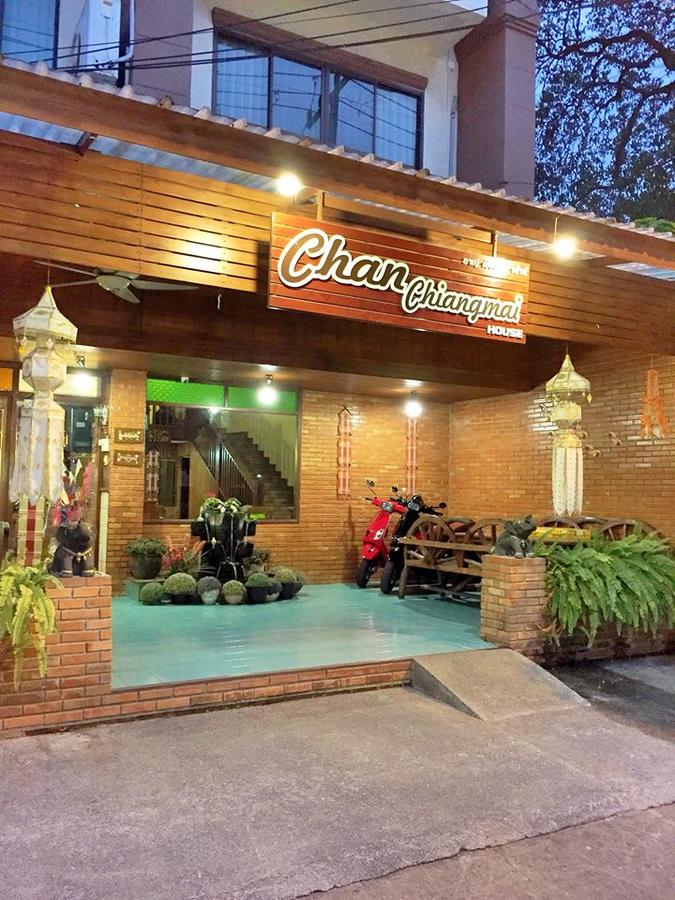 Travelled: February, 2018
See our other blogs from Thailand.