Petra – One of the Seven Wonders of the World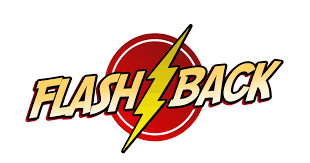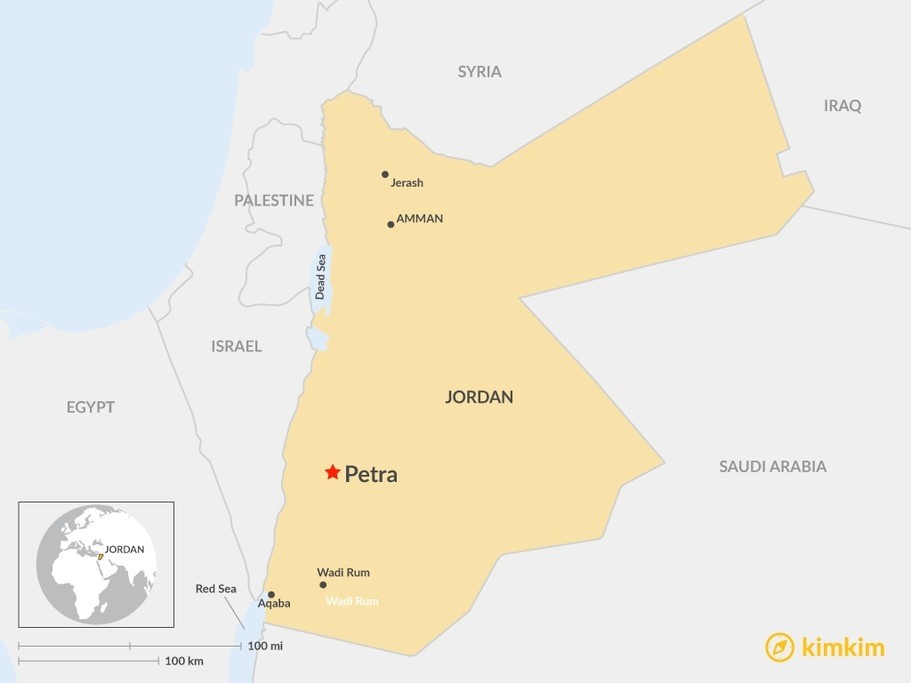 Why a Wonder of the World?
The ancient city of Petra in Jordan became one of the 7 New Wonders of the World when it was chosen in 2007 by a vote of 100 million people.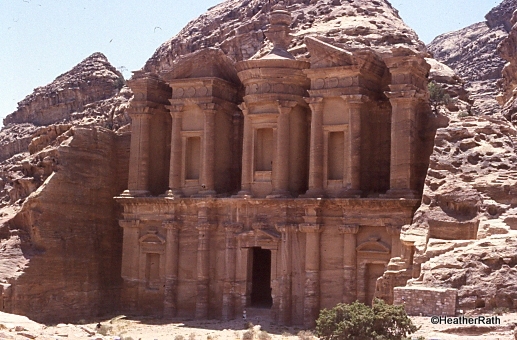 Petra was the capital of the Nabatean Empire, an ancient Arab state that grew rich due to its control of the Spice Road. The carved rock faces of Petra remain a testament to that civilization's wealth and grandeur.
Leave it to Indiana Jones…
In the film, Indiana Jones and The Last Crusade, actor Harrison Ford is looking for the Holy Grail. What better hiding place than in an extraordinary ancient hidden city built among rugged hills and narrow gorges surrounded by desert?
Jordan's one-of-a-kind marvels
Welcome to Jordan! shouts a tourist taxi driver hawker, his words ringing in our ears. Only he knows the best way to get to us to this fabled site. With car windows down to catch a whisper of circulating air, sand swirling through our dry nostrils, we head to Jordan's one-of-a-kind marvels: Petra!
Fabulous facades
Petra is famous for its fabulous sculptured tomb and temple facades carved into the soft Nubian sandstone about 2000 years ago.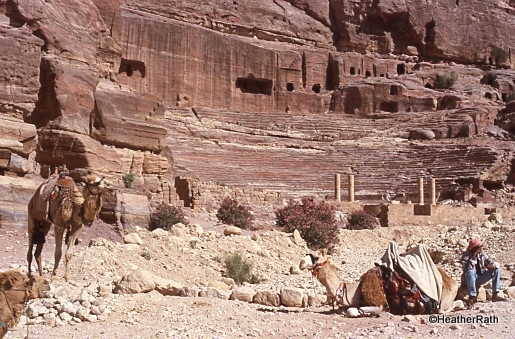 Remarkable City
Awestruck, we wander through winding narrow gorges. Suddenly, after our meandering, we come face to face with this remarkable city rising sharply before us. Like magic out of the sand.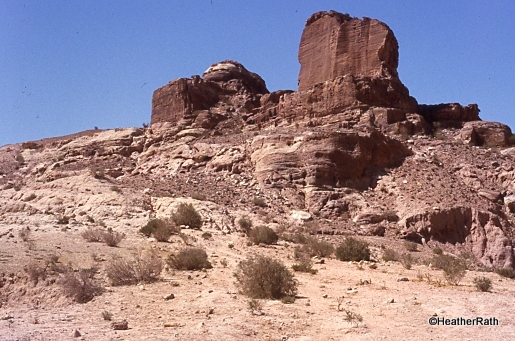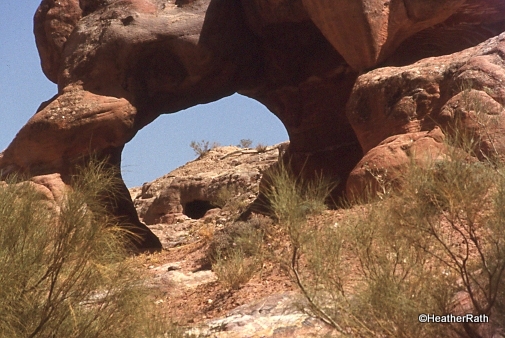 Many monuments
Explorers and scholars have identified over 800 individual monuments in the area. All but a few were carved into the pink, red and rose cliff faces.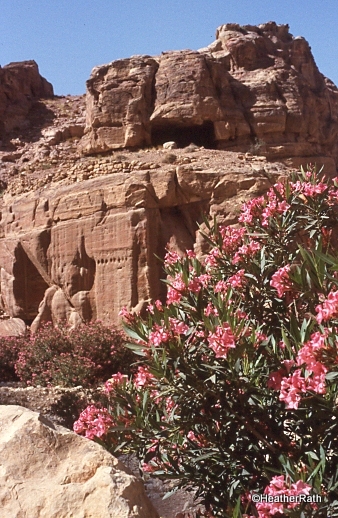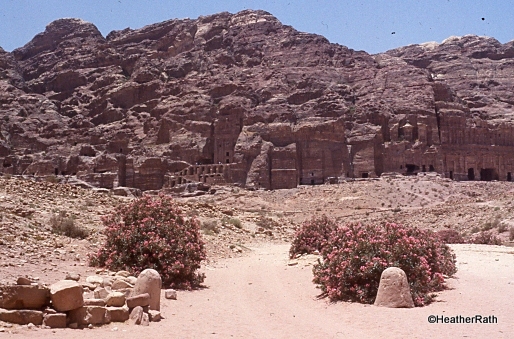 Original meeting place
Petra was, and remains, a dynamic, peaceful meeting place of people from the four corners of the world. Its importance in international trade grew as the city grew. A mighty, many-peopled oasis in the middle of the desert.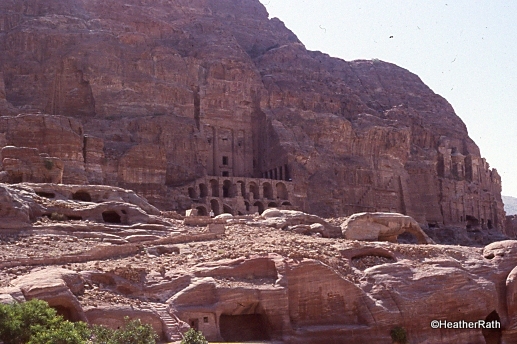 Today's Tourist
Visitors today are not only awed by the magnificent architecture and immensity of Petra. They are fascinated by the beauty of Nabataean tombs, temples, theatres, waterworks and other monuments.
Many structures have eroded into fabulous natural coloured striations of white, pink, red, blue and brown.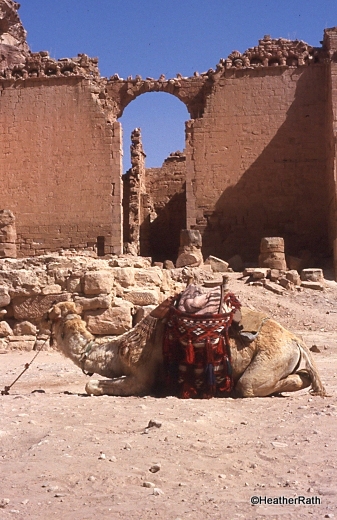 One Week Necessary
If you are an avid history fan, a full week is necessary to see/visit every important part of the Petra basin.
This area of almost 38 square miles is dotted with rippled limestone mounds, undulating sandstone heights, narrow valleys, broad plains, agricultural spaces.
Climbing Trails
While there, we climbed trails leading to overviews of valleys and faraway vistas. These side excursions emphasized the immensity of this fabled city.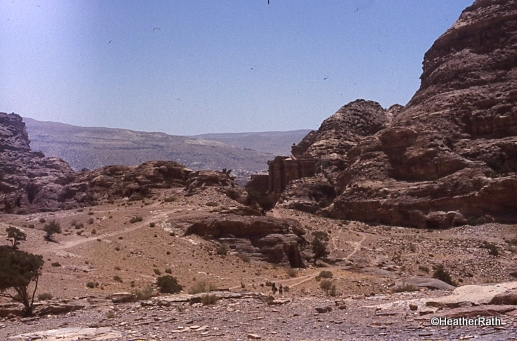 COVID

update
For the latest information on Covid for Jordan click here.
Sights and Sounds of Petra
Travelled: June, 1998
See our other blogs from Asia