Hoodoos, Badlands, Dinosaurs,Ghosts
Where can you find hoodoos, badlands, dinosaurs and ghosts in close proximity? Easy…
…Alberta, Canada!
Drive east for about one-and-half to two hours from Calgary to Drumheller. Get ready for a landscape surprise.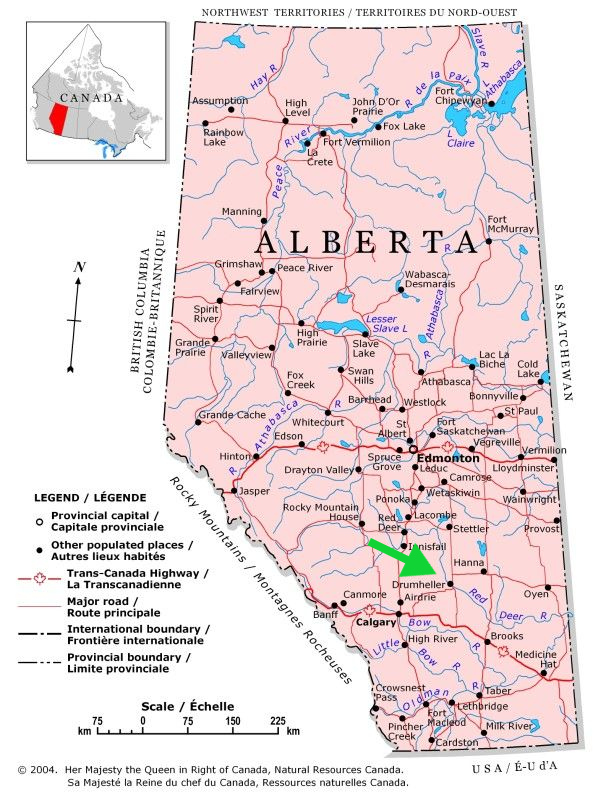 Hoodoos and Badlands
Hoodoos are fascinating geological formations in the Canadian Badlands. Outside of Drumheller, Alberta, large erect hoodoos gather like sleeping titans in this land French Canadian trappers called Des mauvaises terrains à traverser—"badlands to cross".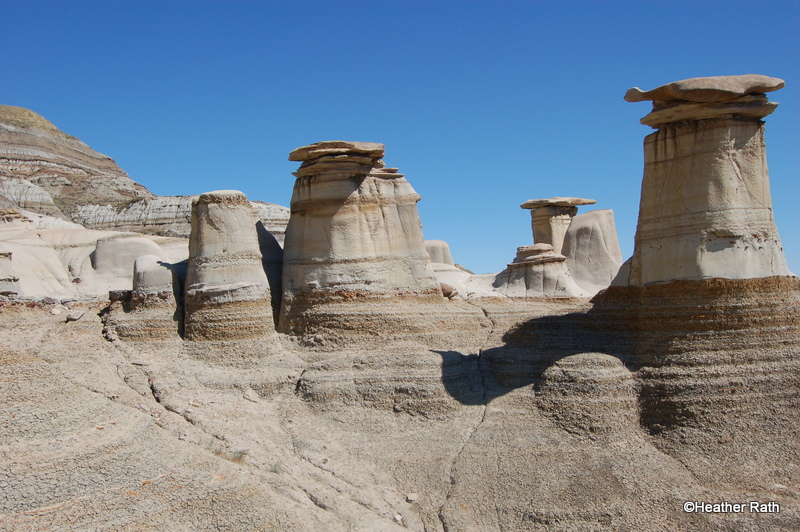 Hoodoo formations: Giants turned to stone?
Reaching towards the sky, hoodoo formations capture the imagination. Origin of their spooky name comes from the black magic practices of African Americans in the southern United States.
With their unusual shapes, their striations of rock and sand in different colours, hoodoos look magical. Indigenous people believed they were harbingers of bad luck: giants turned to stone for their evil deeds.
Dinosaurs in Drumheller
A giant 86-foot-high Tyrannosaurus Rex welcomes you to Drumheller's visitor centre.
Not far out of town explore and discover more about dinosaurs at the world famous Tyrell Museum. We thought we'd zip through this building but this is one museum where we wish time could stand still. Nothing boring here.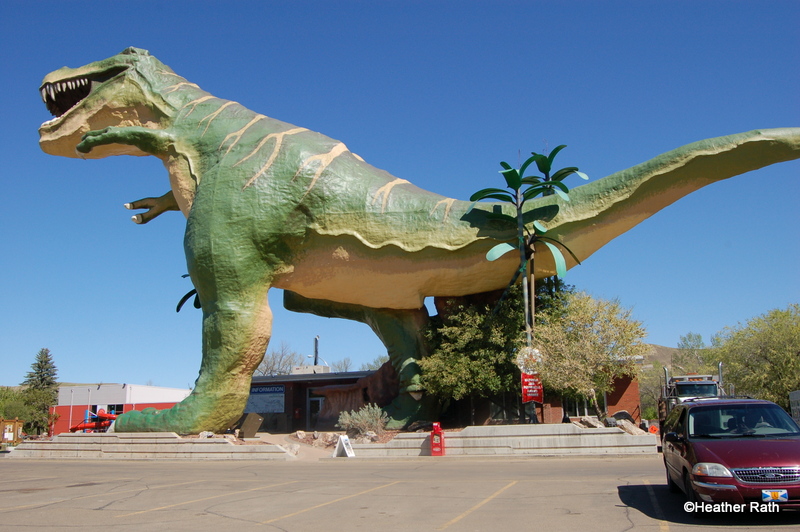 Ghosts in Haunted Hotel
Half the fun of finding the Last Chance Saloon in the haunted Rosedeer Hotel in Wayne, Alberta, is getting there. You'll find yourself meandering along a narrow valley dusty road beside the Rosebud River.
Locals call this the Eleven Bridges Road; all eleven are short, wood planked, and one lane. The Guinness Book of Records lists this unique road as having the most bridges in the shortest distance.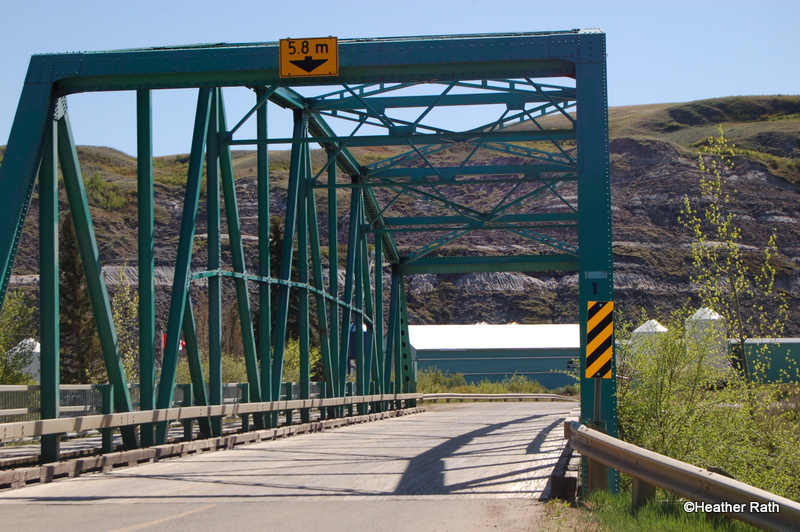 Rosedeer Hotel
A local guide tipped us off: Rosedeer. Haunted. 'Tween bridges 9 and 10. Murder. Last Chance Saloon, best buffalo burgers ….12.8 km southeast of Drumheller.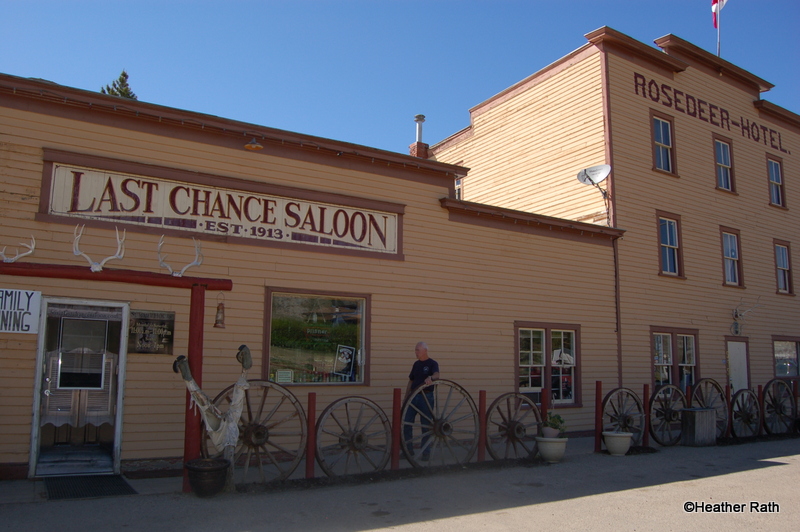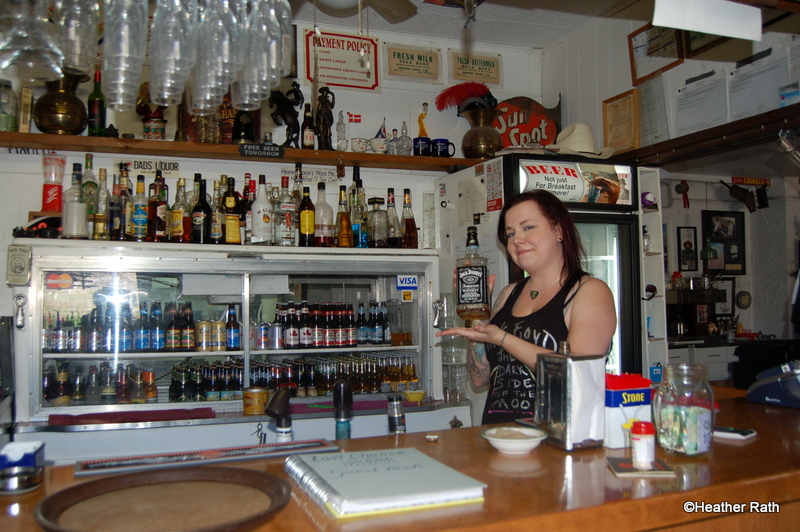 The Last Chance Saloon in Rosedeer Hotel
The Last Chance Saloon in the Rosedeer Hotel, over 100 years old, is a slice of the old Wild West. It is the background star in movies like Running Brave, Truman Capote's In Cold Blood, and Jackie Chan's Shanghai Noon.
Wayne, the village
Wayne, the village in which it is located, once boasted 3,000 inhabitants; 2,000 were miners.
Today, the population of Wayne is 28.
There are no other businesses in Wayne. There used to be a post office, store and a few others but only the hotel remains. Many young people are attracted by the village's unique reputation.
Haunted! How? Why?
When coal mining was in full swing some Ukrainian and Russian miners wanted to form a union. The company brought in several KKK union busters. They beat up a number of union organizers​, two of whom died in a room on the third floor of the Rosedeer. This ended the call for unionizati​on but created a haunted room still available for rent. At your peril, of course.
Ghostly Images
We did see a couple of ghostly images on the current owner's cell phone. For sure, they were there. Two ethereal outlines just behind the bar.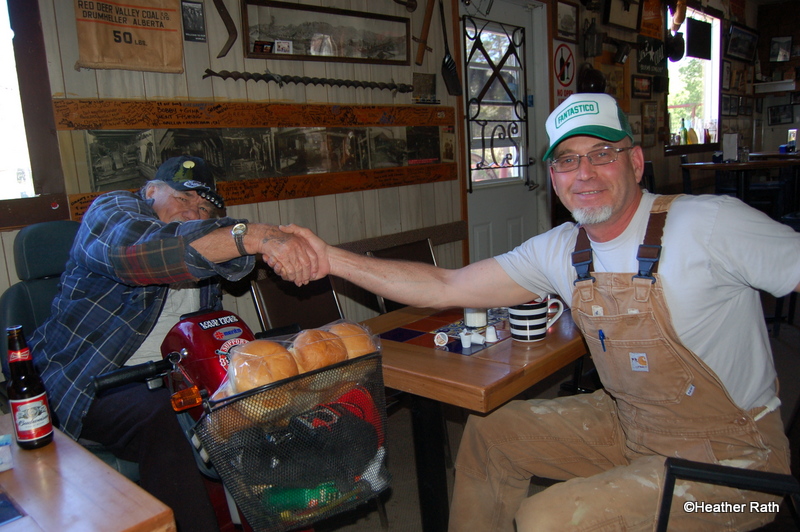 COVID-19 update
Alberta is beginning to open slowly. Best to contact Alberta's tourist bureau to check out destination opening details: https://www.travelalberta.com/ca/
Music of Alberta
See more of our blogs here
Travelled: May, 2015