Fairytale Town, Famous Pastels near Lisbon, Portugal
Two Must-Sees near Lisbon
Say yes to exploring the fairytale town of Sintra.
Say yes to exploring Belem. Then treat yourself to a pastel de Belem.
Sintra, fairytale town
A 40 min train ride brings you to this fairytale town about 24 km (15mi) northeast of Lisbon.
For centuries local aristocracy escaped the heat of Lisbon with a visit to Sintra, an oasis of cool air.
Sintra is a mix of natural and man made beauty – estates, castles amid craggy hilltops. A town nestled in green valleys.
Moor Castle
Intriguing ruins of a Moorish Castle are a major part of this landscape. Conquered by the Christians in 1147, the castle was restored in the 19th century.
If possible, stroll through the castle grounds in early morning when mists shroud the ruins in mysticism. The well-maintained ramparts would easily deter any modern-day marauders.
From atop the ramparts, visitors can see a fantasy palace in the distance.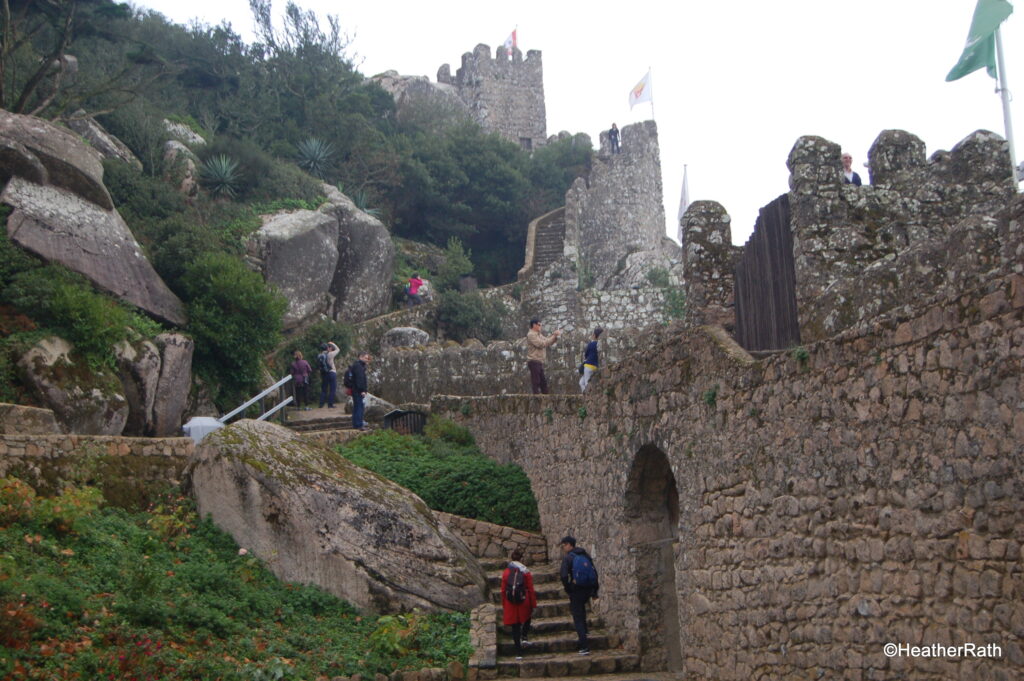 Pena Palace
That storybook palace is the fantastic Pena Palace. It's only a 15 minute walk from the Moor Castle.
Fantasy Castle
In the 19th century, German-born Prince Ferdinand, considered a romantic, ruled Portugal. His cousin was England's Prince Albert (Queen Victoria's husband).
Ferdinand hired a German architect to build a fantasy castle.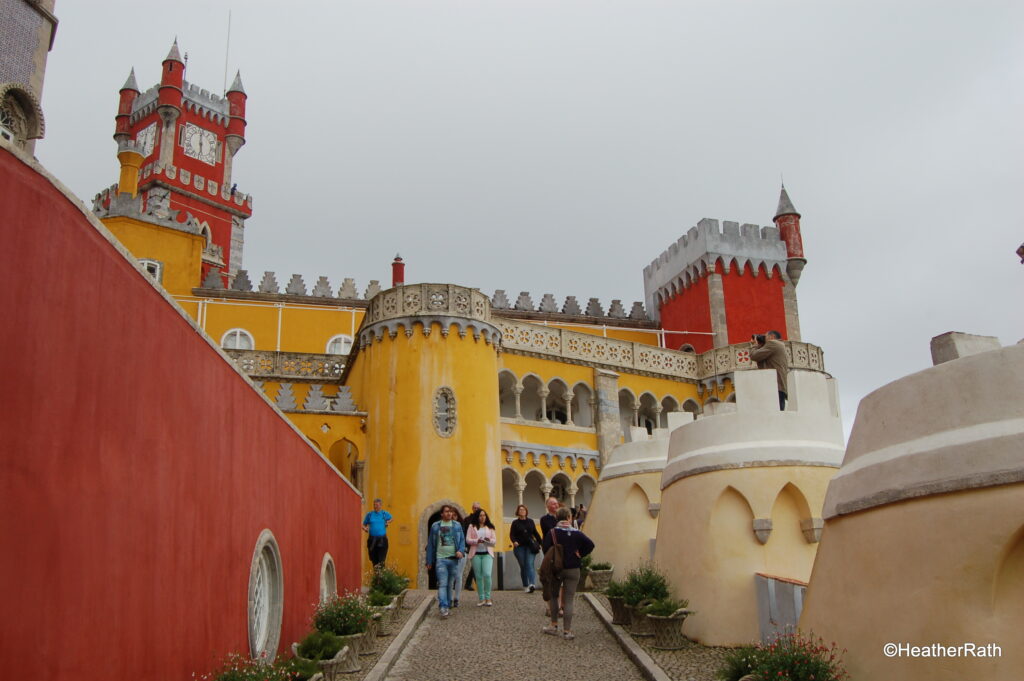 Tourist Attraction
The castle is quite the tourist attraction.
Many of its rooms, bedrooms, and living rooms look as if they have been only recently vacated.
Unfortunately, the 1911 revolution resulted in the banishment of the royal family. So the palace sat unused for a long time! To see more information on Sintra, click here.
A Royal Palace
Next attraction is yet another palace: the oldest surviving National Palace. This palace, inhabited by Portuguese royalty for over 500 years, dates back to the time of the Moors.
Today it is used for grand social occasions. King Joao I (King John) greatly enhanced the castle during his reign in the 15th century.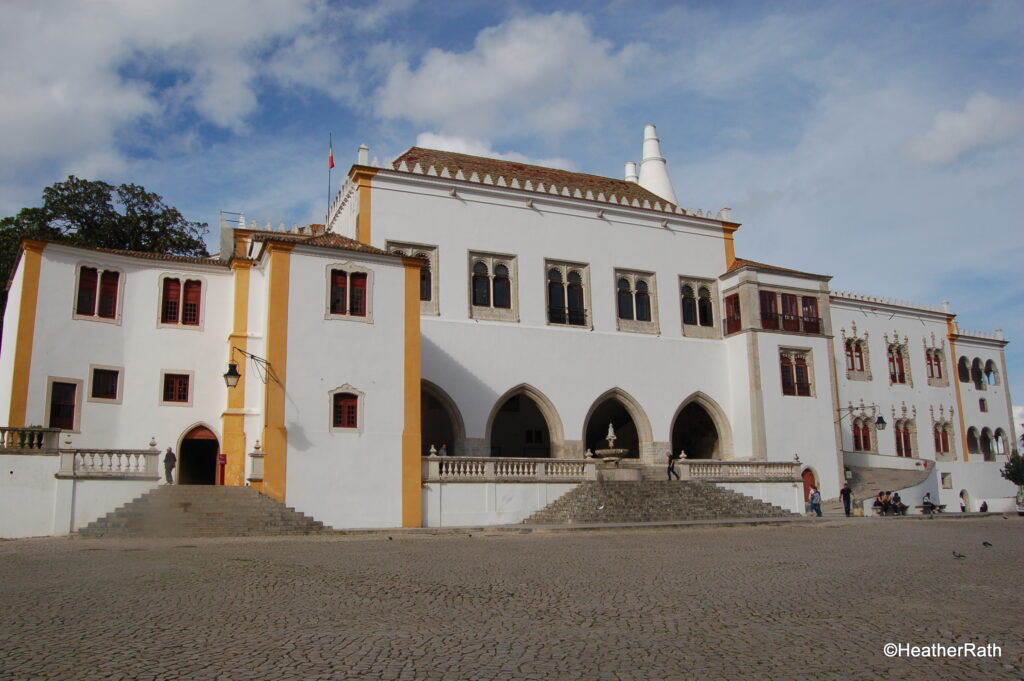 The Magpie Room
While wandering through the many palace rooms, watch for the famous ceiling in the "magpie' room. According to legend, the Queen caught her husband, King John, kissing a lady-in-waiting in this room.
Frustrated by a gossipy court buzzing with stories of his inappropriate behaviour, he ordered a change of scenery in the ceiling. So look up to see it painted with magpies!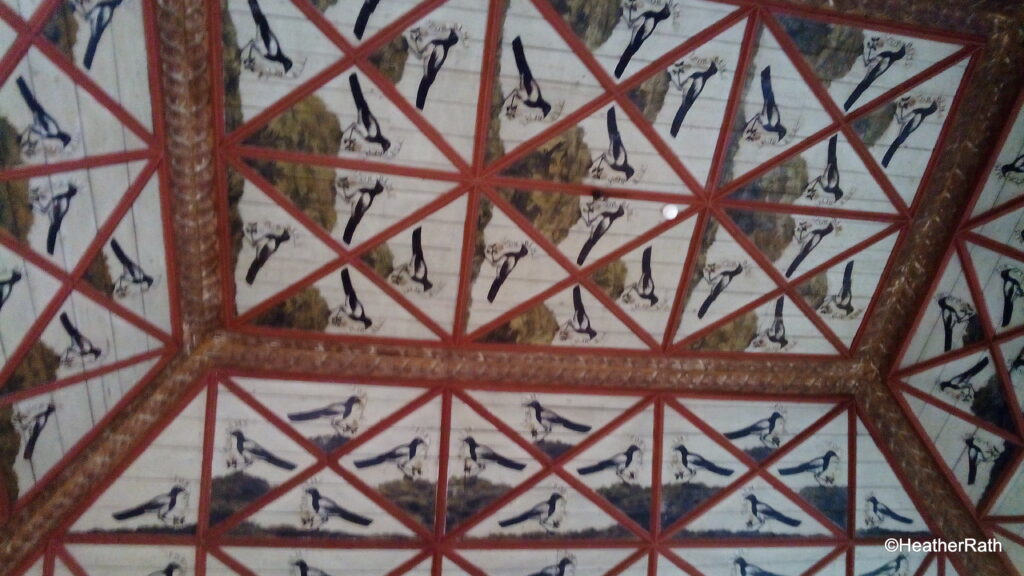 Belem, Portuguese for Bethlehem
Belem lies a short distance east of Lisbon.
It is from this town port that early Portuguese explorers left on their voyages of discovery around the world.
Limestone Church and Monastery
King Manuel (who ruled from 1495-1521) ordered the construction of an immense limestone church and monastery in Belem in 1501.
He dedicated the structure, called The Monastery of Jeronimos, to the early Portuguese explorers in honour of their discoveries. As wealth from the overseas explorers grew, so, too, did the monastery. Its inauguration was in 1604.
Resident Monks
King Manuel selected the Hieronymites Order of monks to reside in the complex. He chose this relatively small order as it guaranteed spiritual protection to the king once he died.
Later, the Hieronymites formed a close spiritual connection with the sailors of that era.
The Hieronymites Order was dedicated to Saint Jerome, hence the name of the monastery; Jerome was a 5th-century scholar who translated the original Bible into Latin.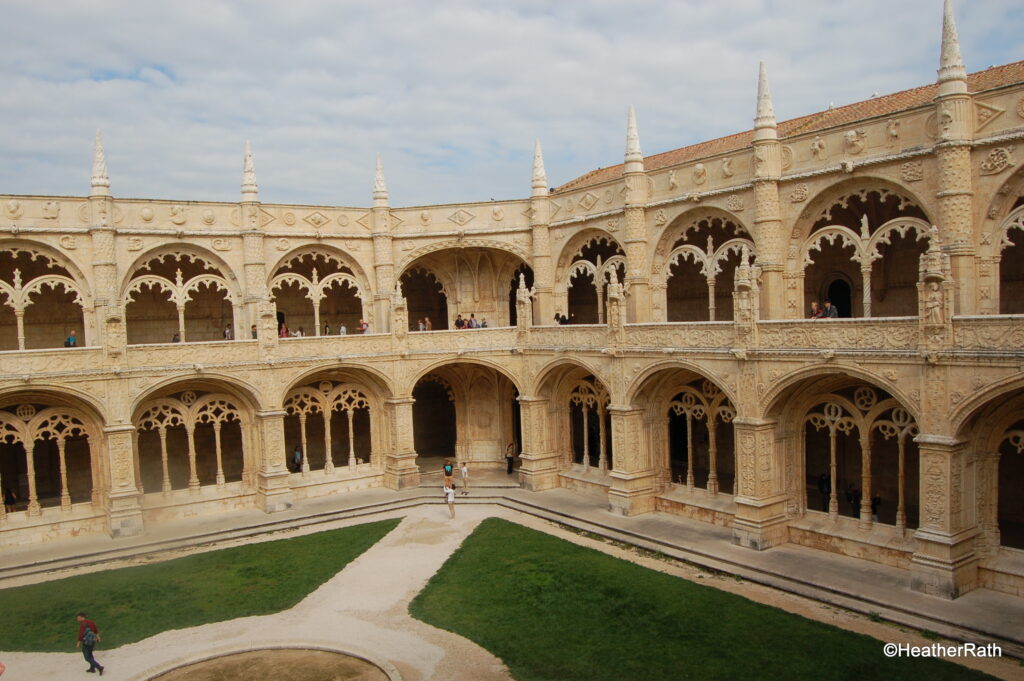 Earthquake
The Monastery of Jeronimos suffered only minor damage from the great earthquake of 1755.
Vasco da Gama
Visitors to the monastery are met at its entrance by the ornate tomb of the explorer Vasco da Gama tomb. He died on Christmas Eve in India in 1524.
Other explorers of the era
Among the famous Portuguese explorers immortalized with Vasco da Gama are:
Ferdinand Magellan and Henry the Navigator.
The Belem Tower
The Belem Tower, built in 1515 – 1520, protects Lisbon's harbour. Today it symbolizes the voyages that made Lisbon a powerful seaport.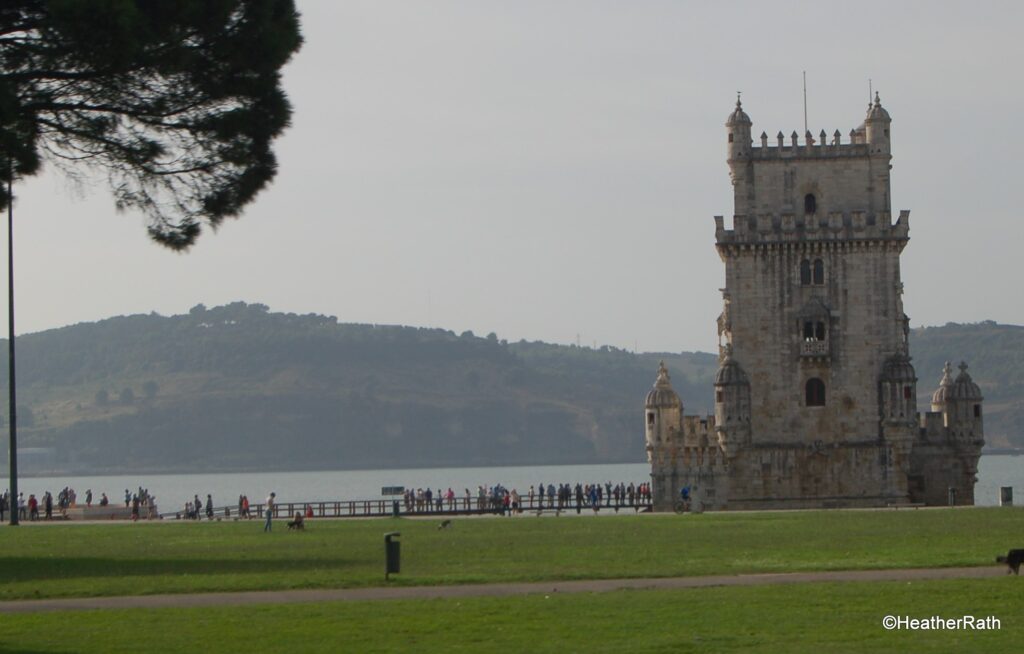 Current claim to fame: pastel de Belem
The traditional custard tart of Portugal is called pastel de nata. However, this same tart from Belem is known as pastel de Belem.
The Casa de Pastéis de Belém is the birthplace of this pastry. Since 1837 the fame of these tarts has grown.
These baked delicacies are found throughout Portugal. However, those baked in Belem are most famous because they are made from a closely guarded recipe, supposedly known to only three people. They are made by hand daily.
The Belem pasteleria produces 20,000 per day.
We bought only six and yes, we confirm they are delicious.
And among the best ever tasted!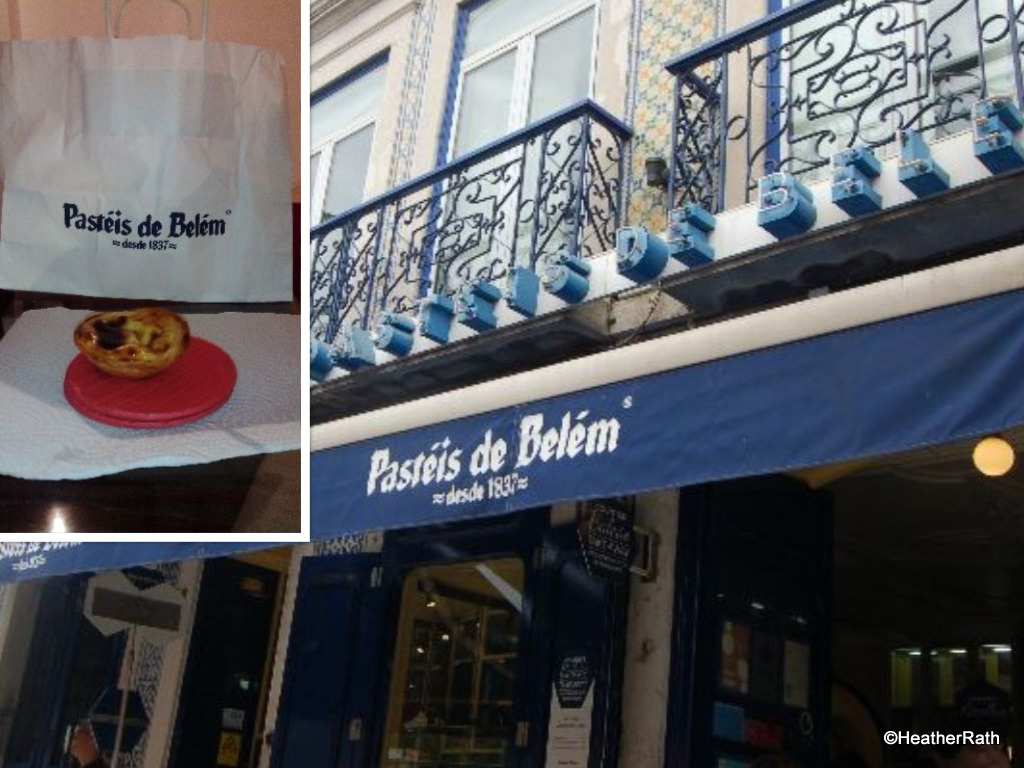 Tarts in Canada
You can purchase these famous tarts in Canada at Portuguese specialty stores. In standard grocery stores they are called custard tarts. Not quite as romantic sounding as Pastel de Belem or pastel de nata.
COVID

Update for Travellers

For the latest information on Covid for travellers, click here
Sights and Sounds
How to get There
To get to Lisbon, Portugal one can travel by TAP the national airline. Many other airlines have direct flights from many European, Asian and North/South American cities as well as from Australia and New Zealand.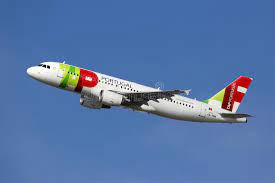 Sintra
The best way to travel to Sintra from Lisbon is by train from Rossio Station. There are 4 trains per hour for the 40 min journey. ON arrival pick up local tourist info before heading out.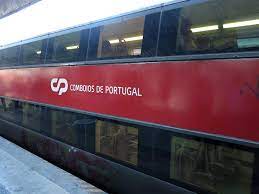 Belem
There are several ways to get to Belem from Lisbon – train, bus, taxi, car and walking (1-2hrs). The easiest is by train from the Cais de sodre station. Train takes 7 min and runs every 10 min or so. Cost is $1 CAD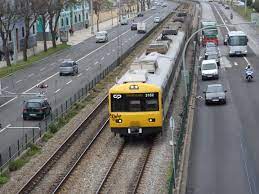 Where to Stay in Lisbon
There are many types of accommodation available in Lisbon – hotels, B & Bs, apartments, hostels. Just search on the common travel sites – expedia, hotels.com, airbnb, hostelworld.com, to name a few.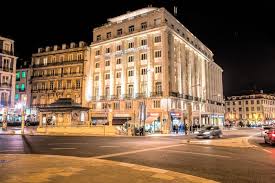 Where to Eat in Lisbon
There are so many choices. We preferred small locally run neighbourhood restaurants. Some will offer free Fado nights with locals performing on a volunteer basis.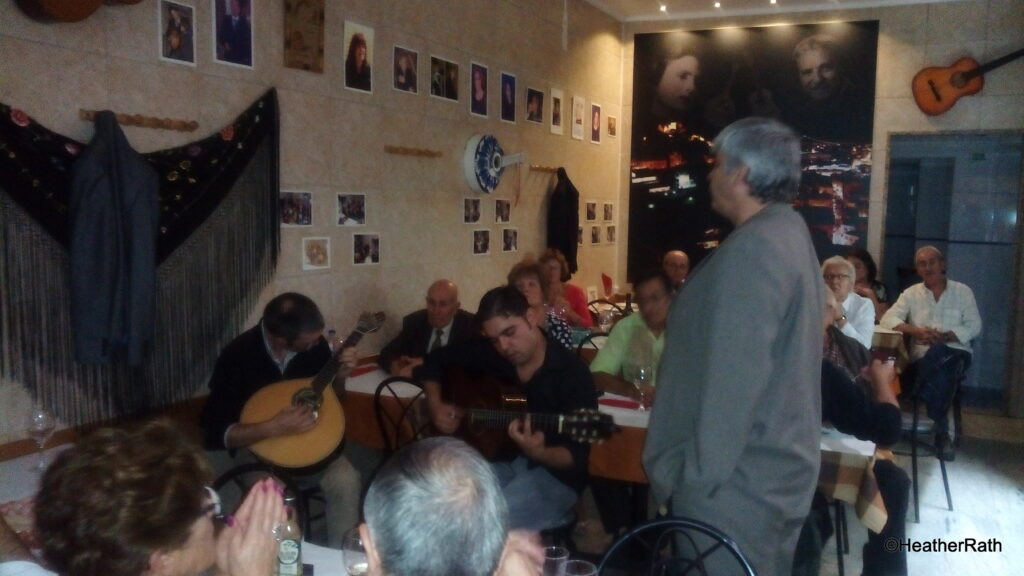 Travelled: October/November, 2016
See our other blogs from Portugal